Final day for early payment discount and updates on entry requirements for Antigua and Barbuda
A month ago we sent out our Notice of Race for ASW 22 and are delighted to let you know we now have 51 entries confirmed so far for Antigua Sailing Week.
The classes are starting to take shape and we are looking forward to some challenging and competitive sailing.
For boats who have entered and not yet paid, or those who haven't entered and are considering it, there is one more day left of the EXTRA early bird rate of US$11 per foot. If you would like to take advantage of the rate, enter here.
Payment options are:
Fill in details here: www.sailingweek.com/payment
Call the office on +1(268) 725-6651
Alternatively if you prefer to wire, please request details.
All visitors required to be vaccinated
The Government has announced that from October 1st, 2021, all incoming visitors to Antigua and Barbuda must be vaccinated and must be in a possession of a negative Covid Real Time PCR Test taken with four days of travel (if by boat from date of departure from the previous destination).
We have updated website with relevant links to advisories, protocols and restrictions and will continue to do so as we move towards the event.
There are currently restrictions in place on island which are being reviewed regularly. Currently the focus is on allowing government and front line tourism workers the time to get vaccinated as a mandate has been put into place from 1st October, 2021.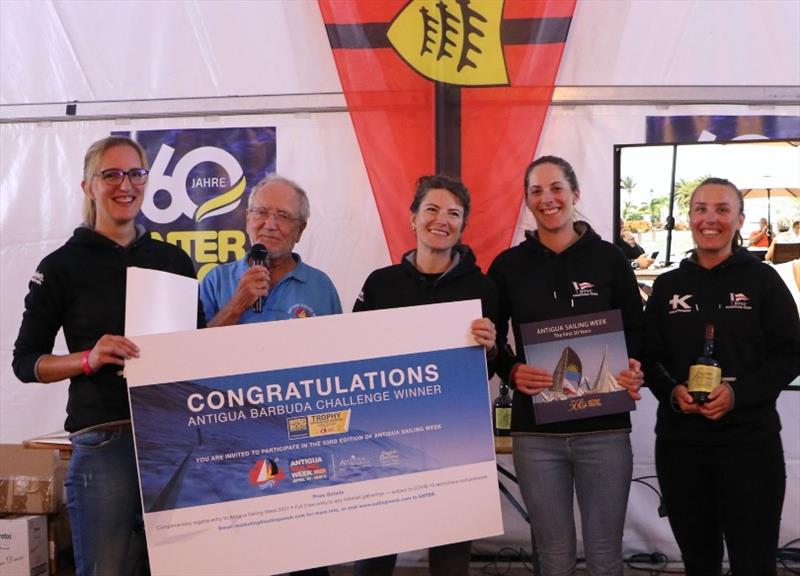 All women team skippered by Goebner – photo © Antigua Sailing Week
Congratulations to winners of a free entry in Antigua Sailing Week
Antigua Sailing Week has been on the road through our partners KH+P Yacht Charter who last week supported the Antigua & Barbuda Challenge in Friedrichshafen at the Wurtembergischen Yacht Club for the J70 Interboot Trophy. The winners of the Challenge was again the team skippered by Max Reiger (who won the trophy last year) and so passed on the prize of a free entry to the team who came second.
The team are an all women team skippered by Goebner who also won a 300 Euro voucher off a KH+P Yacht Charter and runners up won bottles of English Harbour 5 Year Old Rum and commemorative ASW books.
We look forwards to welcoming all of the winning teams to ASW 2022.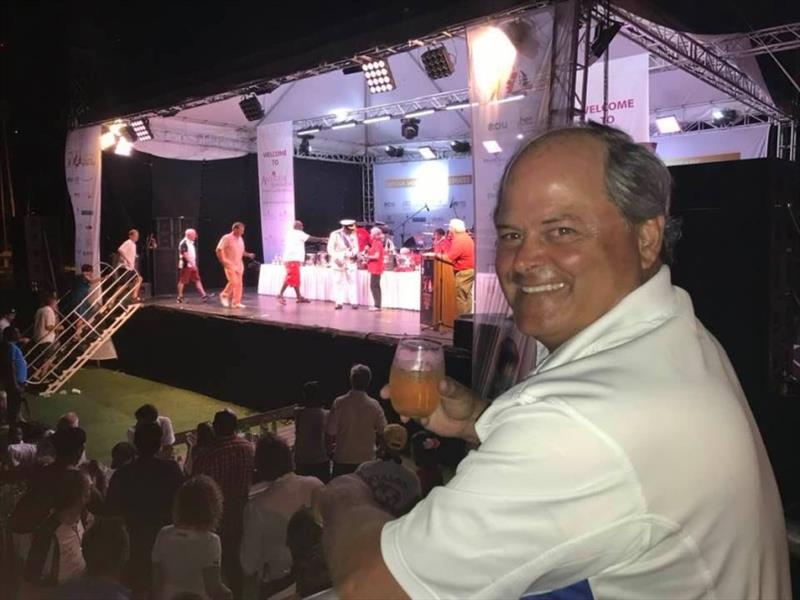 Luiz Kahl – photo © Antigua Sailing Week
Eight Bells – Luiz Kahl
We were this week devasted by the news that Luiz Kahl, a key member of our race management team passed away. Luiz has provided our entry and results system for many years and in fact is the one in place as we speak. Aside from the very specific technical role he fulfilled he was very much a part of our 'bigger brains' team that engage each time we want to brainstorm new ideas and challenge old ones. Over the last 6 years we have had a number of changes in our Race Manager Role and each time he has been a solid thread that ran through the team and helped ground our team.
He will be sorely missed by all of us, especially as the sun goes down. We will definitely raise a glass of English Harbour Rum to Luiz during ASW 2022. Rest in Peace Luiz and thank you for your years of service, friendship and huge smiles.
Scuttlebutt published a great bio of Luiz this week. Take a read.
Reserve your accommodation for 2022
In anticipation of significant demand for the 2022 event, we highly recommend participants and spectators, who have already decided to attend, look into booking their Covid-19 certified accommodation extra early. While most hotels and villas are no more than 30 minutes away from the racing venues off Falmouth and English Harbour – availability for the closest most convenient locations will go fast.
To assist you in your search, the Ministry of Tourism have listed the properties and businesses which meet the safety and protocol requirements here.
by Antigua Sailing Week