The 11th Bartercard Sail Paradise Regatta wrapped yesterday after four days of racing and seven races for the 33 boat fleet.
Local Gold Coast boat, Desperado, the Atkinson 24 owned by Graham Sherring won the IRC Gold Coast Championship after leading from start to finish in the regatta in dominating form.
Black Diamond, the RP42 skippered by Glenn Burrell held onto second in their first regatta on the boat and David Rose's Kerisma Gill moved up to third to round out the podium.
In PHS Division A, David Chadkirk's German Friers designed Cyclone took the top spot and overall honours, winning by the largest margin across all divisions. Andy Lamont's Impulse X won the final race to move up into second overall, and Graham Sherring's Desperado moved down to third overall.
In PHS Division B, Karlovic's Rumba continues to lead over Ball's Bad Influence and Chris Larsen's Wild Spirit, continuing the repeat of overall positions from day one.
Cruising Non-Spinnaker Division was won by Pole Dancer and the first multihull continued to be the Privilege 48′ Catamaran Plan B owned by Grant Scurrah.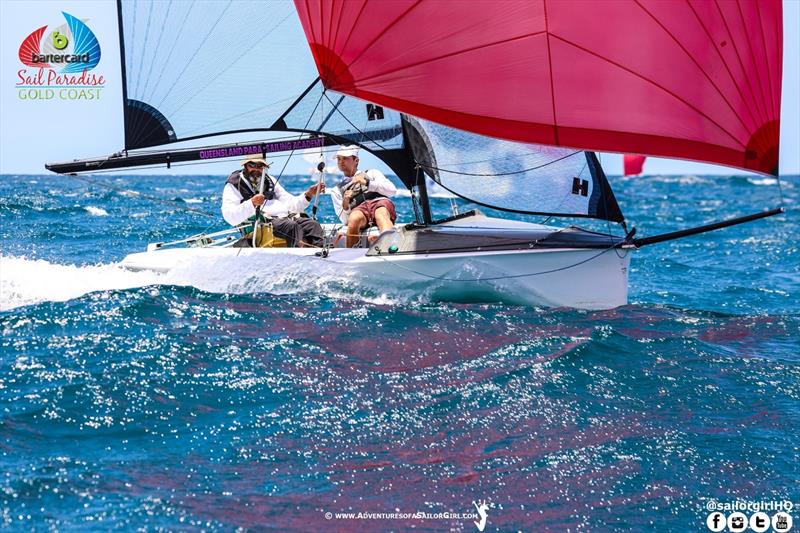 Wild Goats – Trailable Divsion – Bartercard Sail Paradise Regatta – photo © Nic Douglass / www.AdventuresofaSailorGirl.com
First in the trailable division is now Wild Goats owned by Ross Manning, with Kamikaze in second and favourite to many, Peggy moving up to third. RTL sailed by Neil Rowsthorn finished a close fourth, RTL – stands for "Reason to Live", and it was amazing to see all of the Skud 18 class, part of Southport Yacht Club's Disabled Sailing Academy taking part.
Live coverage of the final race
Nic Douglass, the Sailor Girl was live for the start of race seven, the final race all the way to the turning mar.
In addition to some great sailing, the sailors were completely respectful of the devastation that has been affecting the rest of the country, and raised close to $3000 for the Bush Fire Relief, which included $300 from Aramax, $500 from naming rights sponsors Bartercard, and $700 raised in an auction for Rob Mundle's latest book. Thank you to Lauren Clemett from the overall winner Cyclone for organising the fundraising effort on behalf of all involved with the Bartercard Sail Paradise Regatta!
Prizegiving and fund raising for Bush Fire Relief
Thank you to our sponsors for this regatta, including our naming rights sponsor once again, Bartercard, as well as Mercedes Benz Gold Coast, XXXX Bitter, Club Marine, and Flow Sails.
You can see the boats for yourself racing offshore until Sunday, drop into the Southport Yacht Club, or find out more online at www.sailparadise.com.au.
by Nic Douglass