As with all things involving our Fair Winds crew, the weekend began with a knock-out dinner and about thirty seven bottles of our finest.
The Event: Great Veterans Race, May 15, 2021
Location: Cruising Yacht Club of Australia – Rushcutters Bay, Sydney
Weather: 11 – 18 knots – South West – Gusting 30 – 35 knots
Eligibility: All boats must be Single Hulled, built prior to 1976 and have competed in a Sydney to Hobart (or at the invitation of the Organising Authority. AKA be friends of Fair Winds).
Competitors: Enough Classic Royalty to fill a commemorative tea towel.
When it comes to travel, we tend to move en-masse. We sail en-masse. Drink and eat en-masse. And sleep, well….in apartments and/or on the boat. So, with an Airbnb organised, literally as close as you can get to CYC without being arrested, the weekend began with G&T's, followed by a small, yet Sydney steep stroll up a hill to an Italian bistro where, even on a cold night, you can order pasta to be ferried out to your table on the street, under a Morten Bay Fig and put all that's wrong with the world, right.
Later, those who'd been up the hill were to discover that the CYCA bar happens to close unreasonably early, so additional bottles of plonk would need to be secured allowing the discussion to continue back on the mothership. Fair Winds is good like that and it was down below were attentions soon turned to tactics, a race the following day and a forecast for excessive and building wind.
It must be observed that standing on the deck shouting farewells across the marina at midnight found there to be not a breeze and the sky, completely clear. The strong wind warning for the morrow was playing hard to get.
In 2000 with a two year old in a pram and a four year old focussed on an ice-cream, I begged my way into CYCA to make sure I could be on the marina to cheer Jenny Armstrong and Belinda Stowell back in moments after winning their Gold Medal in the Women's 470's. Nothing was going to stop me getting my hat signed and shedding tears of joy along with everyone else lining the wharf.
If you cast your mind back to that time, do you remember the magic? We walked a little lighter, the sun shone a little brighter, the world was a different place and CYCA was on emotional fire. The buzz. The glory. The fizz of the place. It was so alive, so real, so electric. And yet somehow, CYCA managed to soak up and retain the vibe. The old girl still keeps the verve.
Perhaps it's the sight of kids racing down the pontoons after school and throwing on lifejackets and jumping in dinghys; or the fact the location is circled by the perma-fit and beautiful of the harbour town. Or perhaps it's the fact this is the club that hosts the world's greatest, most legendary event – The Sydney to Hobart Yacht Race. Just walking past the Rolex clock on the marina gives me a buzz. As does going into Sturrocks Chandlery – the ultimate lolly shop for sailors. Or watching CYCA boats get ready for a race – the detail, the professionalism, the serious passion they throw at….their passion!
So here we were, waking up aboard Fair Winds, in the middle of Sydney, prepping, waiting to sail and race against a fleet of Australia's greatest, ocean going, Classic Yachts. I've still got a smile on my face. It was fantastic. And yet as the day dawned even after eggs and avo – there was still no wind of which to speak.
The Airbnbers showed up, as did "Local Knowledge", down for the day from Pittwater. He's a good guy is "Local Knowledge". He's smart when it comes to weather, and he proved to be absolutely the right. He predicted that at 1300, 30 knots would hit us from the South West. And it did.
And so, we headed out of harbour. "Local Knowledge" advised us early on to play it safe and reef. Pussies? Maybe. Safety first? Always. And this close to Hamo who wants to snap the stick?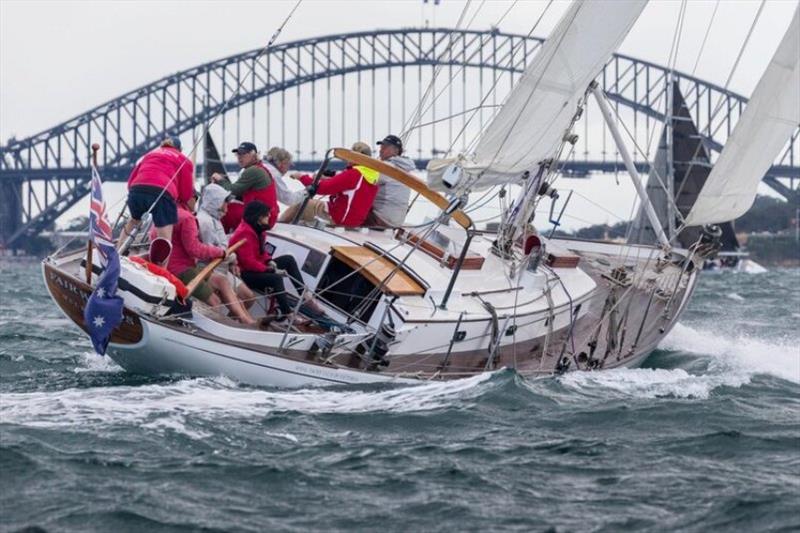 Fair Winds – Great Veterans Race 2021 – photo © Andrea Francolini
And then a large inflatable speeds past, a guy waves and we realise it's – Andrea Francolini of the awesome lens and the photographer of two magazine covers featuring Fair Winds back in 2016. A shout and a circle and he's back to work for the day. We'll catch up for dinner and sake on Sunday – time spent in preparation is seldom wasted. Lock it in.
It's one thing to cruise on the harbour – we've spent many, many years with kids and family and observing New Year's Eve exclusion zones. It's another to race around islands and use local landmarks as transits on the start line. This race would start under Point Piper.
And so, the wind built.
This was sailing as its meant to be, balancing survival against speed a Pursuit Race, roaring over towards Manly, using Clarke and Shark Islands as rounding buoys.
We were eight on board. Two forward, four in the cockpit, helm and tactics busy calling bullets as they rolled out of the west and knocked us down. Strange how on a keel boat, knock downs are relative – we were watching others wide eyed only to reflect, that to them, we must have looked the same. We had a blast. Boats were pulling out. Boats were passing us. The theory and practice of pursuit racing is to pass other boats. We didn't do a lot of passing but were delighted to simply get around the course and finish.
Later we'd discover water down below in the spice rack. We'd drunk all the wine the night before so that wasn't damaged.
But in all seriousness, the joy, the absolute pleasure of being out there amongst, so much beauty is hard to describe. Watching and learning from and admiring hundreds of collective years of boat design, construction and sailing mastery – It doesn't get much better. And so how does one possibly celebrate, share and debrief the experience? Easy. A four-course dinner for ten back on the Airbnb balcony where the ranks of the crew extend to having within us, our very own "chef and legend of food" – and that's another story.
To David Champtaloup and the organisers, our warmest, most appreciative thanks. We loved every moment.
The Boats
Caprice of Huon: First in Division One
Launch Date: 1951
Designer: Robert Clark
Builder: Vivian Innes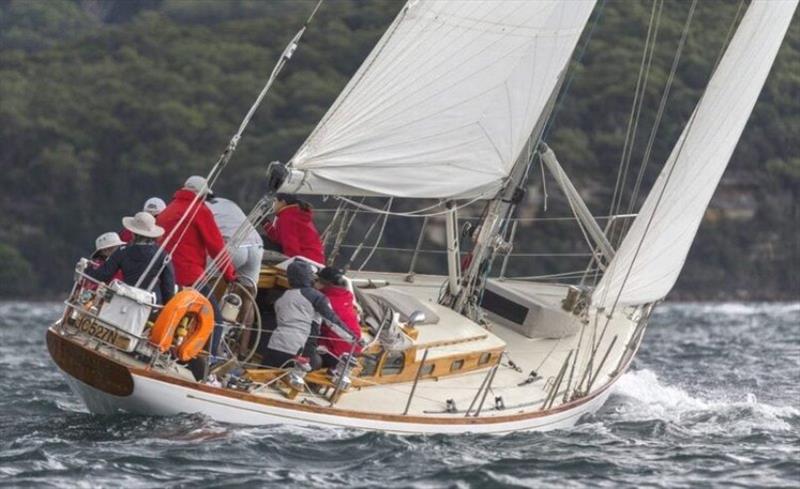 Caprice of Huon: First in Division One – Great Veterans Race 2021 – photo © Andrea Francolini
Launched in October 1951 from Port Cygnet on the Huon River. The builder Vivian Innes was once an apprentice at the famous Wilson Bros yard before setting up on his own in the same region. Innes was in his late 70s when he built Caprice of Huon. from plans supplied by UK designer Robert Clark who was one of the principal yacht designers in the UK at that time. It was designed to the RORC rule
Caprice of Huon was originally raced by Charles Calvert and his family including sons Hedley, Barry and Don who all became champion yachtsmen. They had a number of local wins and the yacht was one of the principal craft on the Derwent. In July 1962 Caprice of Huon passed into Gordon Ingate's hands and was converted to a masthead sloop with an aluminium spar that he fabricated himself. He campaigned her fiercely in all the eastern seaboard ocean racing events. Under its various owners it has been a 7-time winner of the Royal Sydney Yacht Squadrons' Gascoigne Cup, a short offshore race keenly contested each year.
She was part of Australia's Admirals Cup teams in 1965 and 1967 when Australia made an impressive entry into the international ocean racing arena. In 1965, Caprice of Huon was the highest placed yacht winning three of the four races in the series, and the team came second on debut. She returned to Cowes in 1967, under charter to Gordon Reynolds because owner Gordon Ingate was skippering GRETEL in the trial racing for the 1967 Americas Cup. Teamed with MERCEDES III and BALANDRA, the Australian team won convincingly, and the three yachts were the top individual yachts in the series, a feat never repeated again.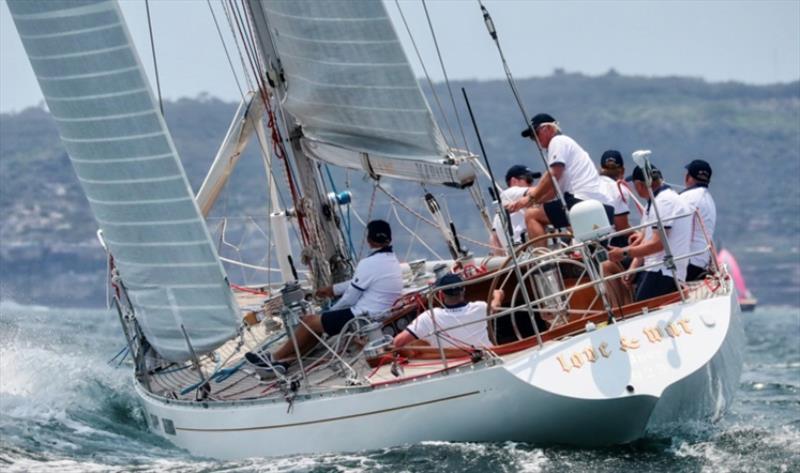 Love & War: Second in Division One – Great Veterans Race 2021 – photo © Andrea Francolini
Love & War: Second in Division One
Launch Date: 1973
Designer: Sparkman and Stephens
Builder: Cec Quilkey
Almost 40 years after drawing LANDFALL, his first boat commissioned outside of the USA, Olin Stephens designed Love & War. Built for Queensland businessman Peter Kurts by shipwright Cec Quilkey at Taren Point NSW and launched late in 1973. Quilkey had become one of the leading craftsmen for timber yachts and had pioneered cold moulded construction in the mid-1960s starting with MERCEDES III, RAGAMUFFIN and KOOMOOLOO, yachts that in their time were state-of-the-art internationally.
She was one of the last racing yachts to be built in four layers of Oregon in Australia. She had a slow start to her career, taking part in the 1973 Sydney to Hobart race but not gaining a place. She became one of the premier yachts for 1974 when she took out the Cruising Yacht Club's Blue Water ocean racing point score along with winning on handicap the 1974 Sydney to Hobart yacht race, the first of three wins in this prestigious event. 1974 was a light weather event, they finished eighth across the line and skipper Kurts praised the navigation skills of Magnus Halvorsen as one of the reasons for their victory. She then raced in the delayed selection trials for the 1975 Admiral's Cup team. Love & War came out the top scoring boat, and together with the aluminium BUMBLEBEE 3 and balsa/timber plank sandwiched hull MERCEDES IV made up the Australian team for the series in the UK in August. This event was a hugely disappointing series for the Australian team, finishing ninth overall.
Kurts continued to sail Love & War in Australia and decided to mount another serious challenge for handicap honours in the Sydney to Hobart race for 1978. He optimised the rig and trim further, bought new sails, and although the changes increased the rating, it was also eligible for an age allowance concession, which then took back some of the increased rating. Once again it was good tactical sailing that kept Love & War toward the head of the fleet, and along with seven other boats, they broke away from the rest of fleet off Gabo Island and kept light winds through to the finish, while the remainder were left for up to 15 hours with virtually no wind.
Love & War finished 6th overall and held its time on rivals MARGARET RINTOUIL II and CONSTELLATION to take handicap honours for a second time. Still owned by the Kurts family, she came back to win the 2006 Hobart under the IRC rule, with a crew led by navigator Lindsay May. He had felt the yacht sailed above its IRC rating in headwinds and knew that given the right conditions they were a good chance for a high placing. In 2006 the fleet sailed most the race until Storm Bay in just those conditions, moderate headwinds with a lumpy sea, which suited Love & War and its experienced crew. For a third time Love & War had taken handicap honours, and only one other yacht has won the race three times, the Halvorsen Bros FREYA.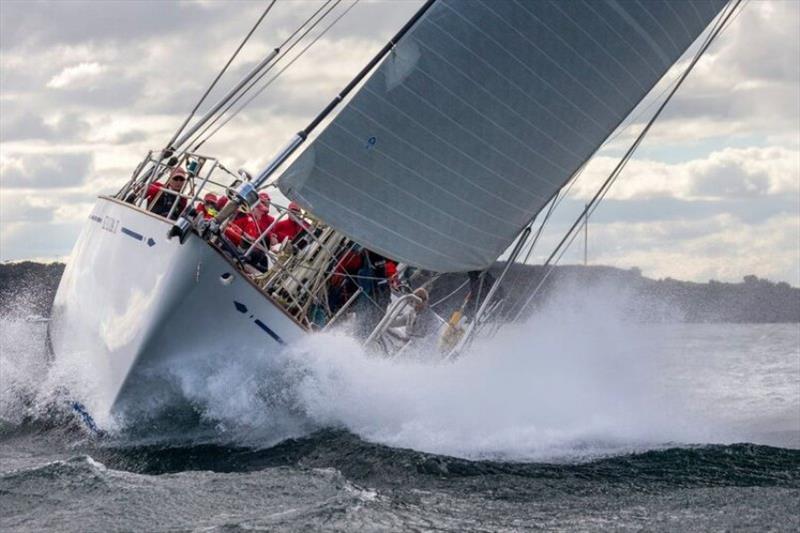 Kialoa II: Third in Division One – Great Veterans Race 2021 – photo © Andrea Francolini
Kialoa II: Third in Division One
Launch Date: 1964
Designer: Sparkman & Stephens
Builder: Yacht Dynamics, Harbour City, California
Kialoa II was designed in 1963 for Jim Kilroy is different from many earlier or similar vintage classics as she is constructed from aluminium instead of wood. The boat's design goal was to compete and win in the maxi ocean racing category. This she did fairly successfully, winning most major ocean races at least once during a racing career that spanned nearly a decade. One of her highlights was winning the gruelling upwind Sydney Hobart Yacht Race in 1971. She also won the 1965 Transpac Race (Los Angeles – Honolulu) in 9 days, 19 hours.
Patrick and Keith Broughton bought the 73′ yawl in 2016 with the view to compete in the classic ocean races as Kialoa II did under Jim Kilroy.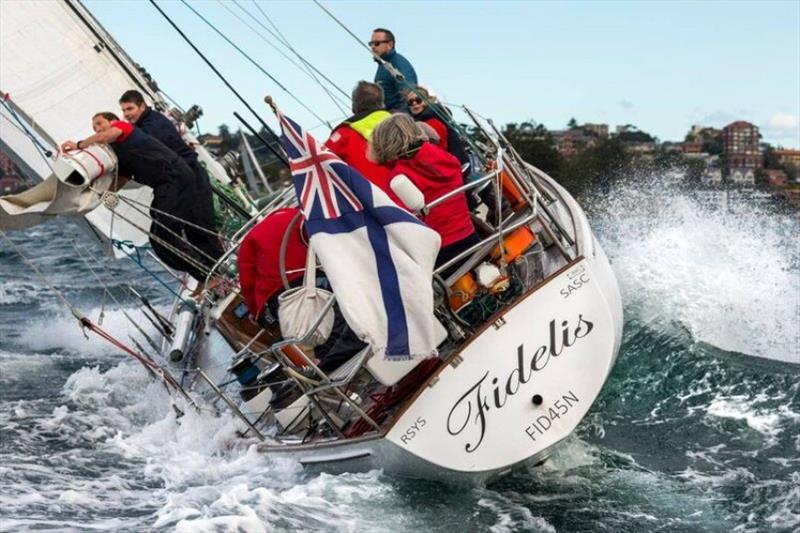 Fidelis: Fourth Division One – Great Veterans Race 2021 – photo © Andrea Francolini
Fidelis: Fourth Division One
Launch Date: 1964
Designer: Knud Reimers
Builder: Lidgard Boatbuilders
Fidelis, originally an out and out ocean racer from New Zealand, made a significant contribution to the continued rivalry between the two countries that started with RAINBOW and RAWHITI in the early 1900s.
Her racing career began with a line honours win in the Auckland to Suva Race of 1966. She then made her way to Australia to enter that year's Sydney to Hobart yacht race. Fidelis did more than just get the gun in her inaugural Hobart – she set a new race record margin with a time of four days eight hours and 39 minutes.
The February 1967 issue of Seacraft Magazine had the headline ' KIWI FLYER SHOWED US HOW. Splendid performance of Auckland's Swedish-designed 61-foot flyer Fidelis was a surprise to Australian yachtsmen and a great joy to her skipper Jim Davern and New Zealanders generally…". Fidelis won line honours in a rare light weather race, finishing 17&1/2 hours ahead of the next yacht, BALANDRA. Despite this large margin and having been over 80 nautical miles ahead at one stage, Fidelis was not able to win the rare double, the small Sydney yacht CADENCE came through under spinnaker over a day later to win on handicap.
During the eighties Fidelis was altered extensively with hours of shipwright labour transforming her from a stripped-out ocean greyhound into one of the fastest and most comfortable classic yacht passage makers. The additions of a roller headsail, self-tailing winches and up to date navigation equipment transformed the boat. Ten years ago, a further update refixed the keel, smoothed the hull and laid new teak decks. The addition a year or so later of a carbon mast completed the transformation but not the look or feel of the yacht.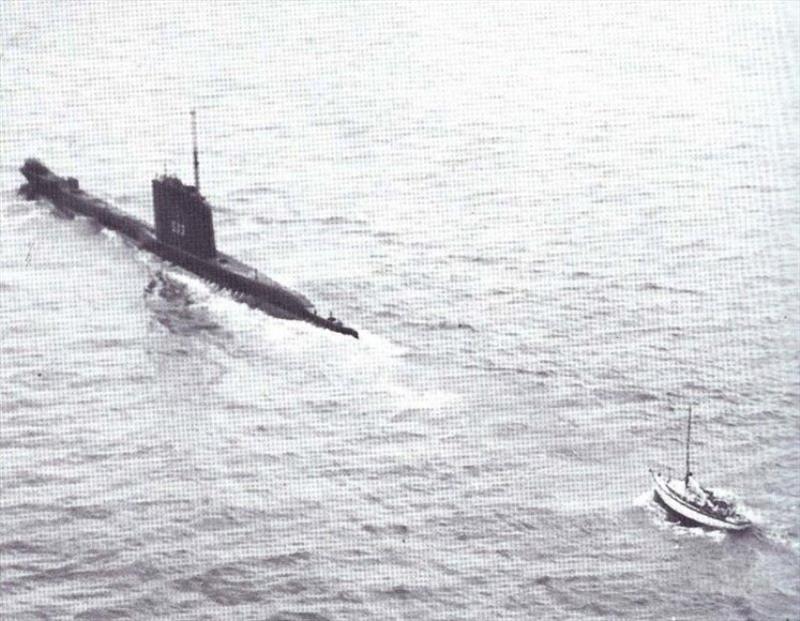 Lolita: First Division Two – Great Veterans Race 2021 – photo © Brian Curtis
Lolita: First Division Two
Launch Date: 1951(?)
Designer: Robert Clark
Builder: Les And Barry Steel
As an ocean racer, Lolita has a somewhat unique history in her seven Sydney Hobart races, which included two retirements. Nick Cassim, a member of the Amateurs since 1956, and the Cruising Yacht Club of Australia since 1959, has owned Lolita for over 50 years.
Designed by Robert Clark, the 10.4m sloop was built on Lake Macquarie for the another prominent Sydney yachtsman Tim Furber who won his first 19 races with the boat. She was a sistership to Hobart Race winner Struen Marie, which won the 1951 Sydney Hobart. Back in 1963, Lolita was the first boat ever to be rolled 360 degrees in the Sydney Hobart. She lost her mast and HF radio communications but somehow skipper John Farren-Price and his crew managed to get a signal out advising of their plight and position in Bass Strait. The Royal Australian Navy submarine Trump heard the SOS, located Lolita and towed her safely back to Eden, a strange sight was captured by Hobart photographer Brian Curtis.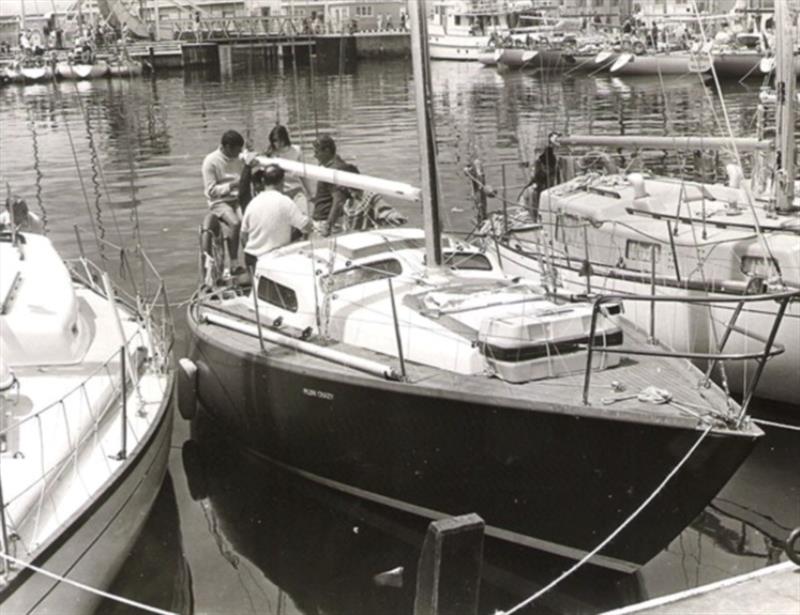 Plum Crazy: Second Division Two – Great Veterans Race 2021 – photo © CYCA Archives
Plum Crazy: Second Division Two
Launch Date: 1971
Designer: Ben Lexcen And Joe Adams
Builder: Douglas Brooker Custom Yachts
Plum Crazy was built in 1971 by Douglas Brooker Custom Yachts for 'Tig' Thomas and Max Bowen, with credit for the design being shared by Bob Miller (Ben Lexcen) and Joe Adams. The ¾' cold moulded Oregon skin is on 1 half' square laminated Queensland Maple. The backbone is laminated Queensland Maple, and the deck is Mahogany plywood sheathed with a deck beam on each frame.
Affectionately known as "The Plum" she was launched just 10 days before the 1971 Sydney Hobart and caused a sensation by leading American Jim Kilroy's maxi yacht Kialoa II in the race to the Heads. She went on to win Division 2B in that race, in what was an auspicious beginning to a distinguished racing career.
She has held since 1975 the Sydney Hobart Race record for a yacht less than 9.5m LOA of 4 days, 1 hour, 18 minutes and 16 seconds. That same year, Kialoa III set the overall race record that was to stand for 21 years.
Racing with Royalty by Sal Balharrie, Boats by Mark Chew
This article has been republished by permission from southernwoodenboatsailing.com.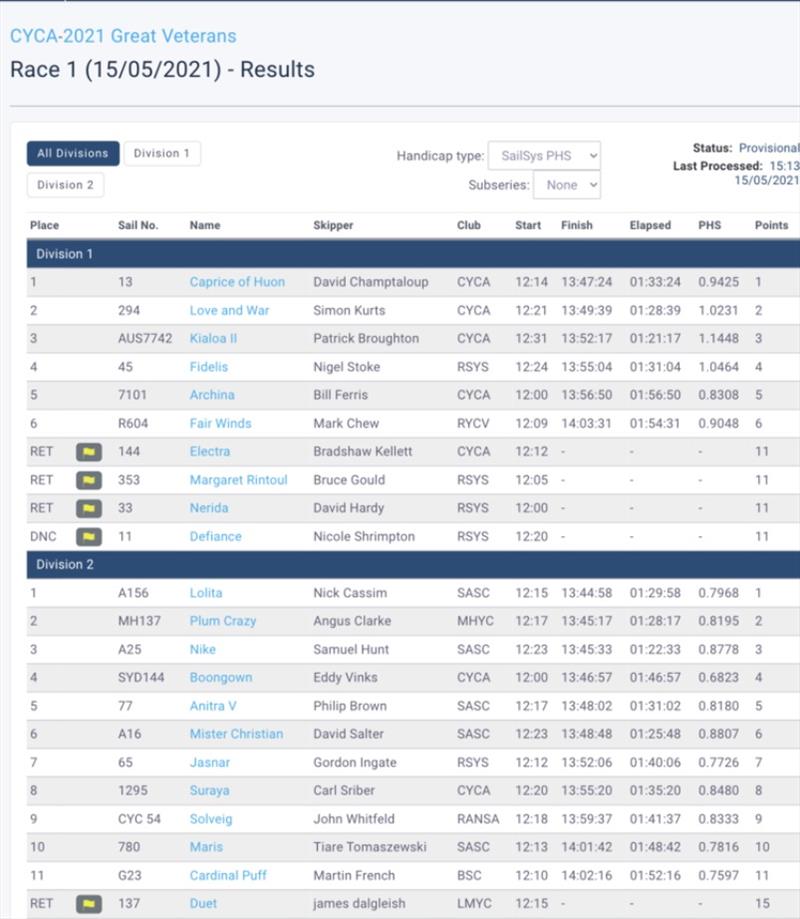 Full results – Great Veterans Race 2021 – photo © CYCA
by Southern Woodenboat Sailing