The 2020 Australian Contender Championships, hosted by Royal Queensland Yacht Squadron during the second week in January have been won by Queensland's Geoff Fisher representing Darling Point Sailing Squadron.
A small but quality fleet from Western Australia, Victoria, NSW, ACT, far north Queensland and south Queensland came together for the 10 race championship and enjoyed champagne sailing conditions with warm northerlies that peaked at 16 knots. Unlike the rest of the eastern states, the skies were clear of smoke haze and the waters of Waterloo Bay clean and refreshing.
The championships got away with three races on day one with Fisher setting the pace with scores of first, second and first. Local RQYS favourite Josh Moretensen had a stellar day winning the second heat to post fourth, 1st and 2nd for the day while Andre Webster from ACT was also very much on the pace in the 8-12 knot winds posting a second and two thirds. These three enjoyed extremely close racing with many lead changes throughout the day and final places only being decided in the very last approach to the finish line.
Queensland Contender Association members were able to provide beers with BBQ dinner and even a pizza night each evening to help competitors revel in the on shore camaraderie. Daily performance awards were provided by our sponsors Contender Sailcloth and Selden Sailing as well as bottles of wine.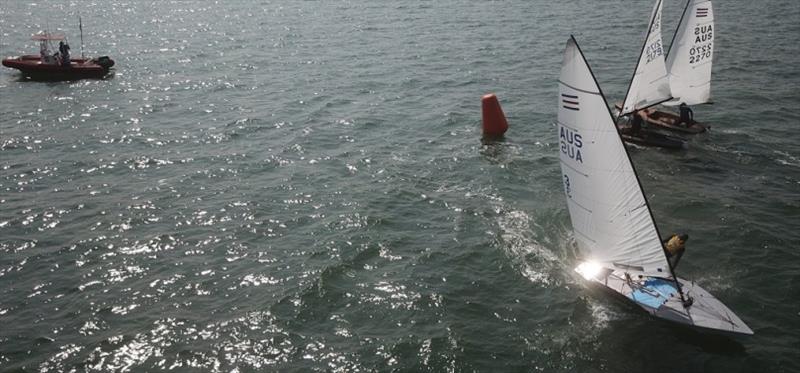 Bottom mark rounding – International Contender Class National Championships 2020 – photo © Will Martineau
Webster showed his class the following day sailing a perfect race picking the left hand side of the course to win heat 4 while Moretensen and Fisher paid the price of going right up the first windward to be well back in the softer 10 knots. Rob Branch, another local RQYS sailor sailing his first Contender nationals was the stand out performer in this race to finish second, keeping fellow Queenslander, Ian Bowman displaying his new golden North sail in third. Of interest here was that none of these five helms were using the popular Wavelength dacron sail.
Fisher has a custom North laminate sail which he also used to come second in last year's nationals, Moretensen and Webster are both sail makers and made their own sails while Branch sails with an Irwin dacron sail and Bowman used a new North laminate he received the day before racing.
With the change of tide, the breeze strengthened for races 5 and 6 to allow the fleet to properly stand straight on their trapezes and Fisher and Moretensen paying particular attention to the shifting breeze and sailing very close to each other and with Webster. Adam Linton from NSW was very fast upwind in the fresher breeze for race 5 to lead around the first windward mark however he was not able to hold out Fisher or Moretensen down the reaches. Fisher won race 5 with Moretensen 2nd and Webster collecting another third.
The star performer was Thomas Young, one of only two Juniors in the fleet, who sailed his best race to claim fourth place. Young picked up a new boat just before the regatta and sailed very well to be in the top 5 around the first windward mark in many races however, suffered by not being able to spend time to set up his new boat as well as breaking some gear. He was able to win the Junior division, adding to his collection of wins.
Race 6 became a fascinating affair with Webster, Moretensen and Fisher clearly holding a speed advantage over the rest of the fleet, but the challenging conditions and closeness of these three saw their positions changing constantly with no one able to claim a decisive break. Up the last beat it looked like Fisher had done enough but Moretensen out-played him to close and then pass Fisher just 100m from the finish line. Fisher was clearly behind on the approach to the finish, both boats on starboard tack Fisher to windward, both helms working as hard as they could for speed.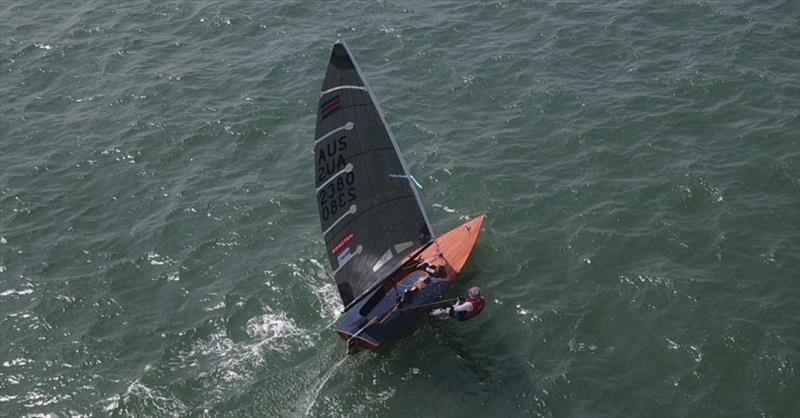 Geoff Fisher 1st overall – International Contender Class National Championships 2020 – photo © Will Martineau
Moretensen was not able to pinch sufficiently to block out Fisher who was able to dip and then spear up right on the stern of the finish boat to come back into contention. Neither skipper knew the outcome. Webster finishing immediately behind this pair to post another 3rd. It was only back on the beach that Racing Officer John O'Brien announced a dead heat for race 6!
At the close of the second day of racing and with six races successfully completed, the fleet was awarded their first drop allowing Fisher and Moretensen to jump ahead of the super consistent Webster. Fisher held first overall with a four point gap to Moretensen who held a 1.5 point gap over Webster. Fellow Canberrian, Paul Cohen held fourth overall sailing very consistently and holding down the Grand Master division.
Day 3 dawned looking for all the world to be exactly like the previous days, however contrary to the forecast, the wind was fresher, more consistent and frankly perfect for fully powered up Contenders.
Race 7 continued the close battle up the front with Fisher and Moretensen rounding the first windward mark side-by-side just ahead of the pack. Fisher is known for being fast downwind and with the pumping flag flying, was able work his boat low and fast to open a four boat length gap to Moretensen at the gybe mark and extend away down the second reach. From there Fisher controlled the race to post his fifth win, Moretensen in second, Webster third and Richard Whitaker, who hails from Perth having a brilliant race to post fourth.
Race 8 was a repeat except Fisher was blisteringly quick to convincingly beat Moretensen by a minute and Webster collecting yet another third.
So into the last day of racing with two final heats and Fisher needing a sixth or better to secure his fourth Australian Contender Championship. Starting under the first black flag of the regatta, Fisher got away conservatively but then put the pedal to the metal to round the top mark first and with his downwind speed, open out to a series winning gap.
Thomas Young sailed a brilliant first windward to round in second and leading a tight pack of six boats while Moretensen, who didn't have his best first beat, rounded in fifth. Moretensen was able to sail cleverly to climb to third at the gybe mark and then second by the next windward mark. This allowed him to secure a thoroughly deserved second place overall. Paul Cohen posted his best race result to finish third, denying Webster who finished this race in fourth but untouchably third on the overall standings.
With the podium decided, family and friends were able to enjoy a stunning Queensland day out on the course soaking up the sun and the racing aboard a number of spectator craft. The final race of the regatta got away cleanly in a spanking 12-15knots with both Moretensen and Fisher being a bit subdued.
However Moretensen found excellent pressure on the left hand side to hold a convincing lead at the first windward mark ahead of Webster, Young, Linton and Fisher around in fifth. Moretensen was able to establish a winning lead down the reaches with Fisher again showing excellent downwind speed to sail into second place by the bottom mark rounding.
With the top three placings decided, it was an opportunity for a glorious sail and for Moretensen to end the regatta on a high, however, he left the door ajar and Fisher came back impressively to close to within five boat lengths up the last beat, ensuring that Moretensen had to sail hard right to the finish and claim the sweet race win.
As anticipated, the RQYS race management was excellent and efficient. A huge thanks to Race Officer John O'Brien, Susy Jones and her team of volunteers, Rebecca Ellem for her efficient regatta office management and most importantly our regatta sponsors Contender Sailcloth and Selden Sailing.
Next years Nationals shall be hosted by Blairgowrie on the Mornington Peninsular and building to the following year with combined Nationals and World Championships being hosted by Perth's Royal Freshwater Bay Yacht Club.
Full results can be found here.
by Queensland Contender Association