For today's tricky Round the Island race at Les Voiles de St. Barth Richard Mille, local knowledge paid off for the race veterans that knew how to successfully navigate the challenges and opportunities on the 24 – 32 nautical mile courses around St. Barth's rocky cliffs and surrounding volcanic rock landmarks.
The 12 – 15 knots and northeast direction also provided 30-degree wind shifts to further challenge the nine classes.
"Sailing in St. Barth's is never easy," said Luc Poupon, Race Organizer. "There is much to navigate around with the rocks and it's not as simple as it seems to negotiate. Clearly, knowing the nuances of sailing around St. Barth helps, and today is a perfect example especially as competitors had to deal with the large wind shifts."
Sergio Sagramoso, skipper of the Melges 32 Lazy Dog in CSA 3, agreed that having been around the island a 'few times before' definitely helped them today. Sagramoso and his Puerto Rican team are very familiar with Les Voiles, having done the event many times.
Lazy Dog continued their first-place streak across the CSA 3 class, just like Greg Slyngstad's Fujin in Multihull ORCmh; Peter Harrison's Sorcha in Maxi 1; and Claude Granel and Marc Emig's Crédit Mutuel – SGS in CSA 5 — all of whom are Les Voiles de St. Barth Richard Mille regulars.
One exception to race veterans owning the day came from Les Voiles first-timer Andrew Berdon and his Summer Storm team in CSA 2. Not only was it Berdon's first time around the island, they also overcame an over-early penalty to win their class today.
Another first-timer to Les Voiles is Franco Niggeler on Kuka 3, who did not fare as well as Berdon. Kuka 3 ended their first-place streak today in CSA 1 when they scored 3rd, which may provide the opening for Pata Negra, who is now only one-point behind in the overall standings.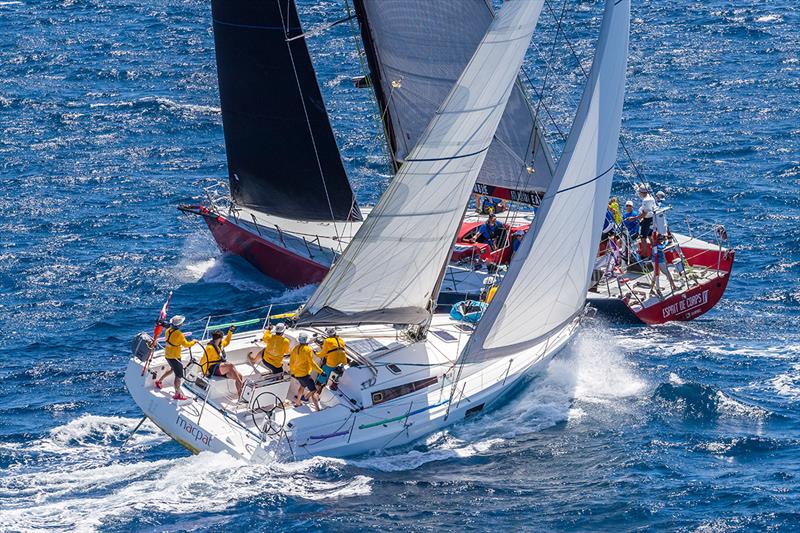 2019 Les Voiles de St. Barth Richard Mille – Day 3 – photo © Christophe Jouany
A similar story over in CSA 2 for Sir Richard Matthews' Holding Pattern, finishing today's race in an uncharacteristic 6th place. Matthews, who obviously enjoys sailing with his long-time team that includes the 2012 British Olympic silver medalist Saskia Clark as tactician and Andy Green, two-time America's Cup and World Match Racing competitor.
"The past two days we started strong with a first and a second," said Matthews, "But today we just felt continually off the pace. We just didn't have that 'sparkle'."
Their finish provided an opening for Pamela Baldwin's Liquid to take the overall CSA 4 lead, who finished first today and is consistently sailing well.
Multihulls
Beginning the day, Xavier Dhennin, boat captain of Guyader Gastronomy was a bit concerned about the lighter forecast. "At first, the boat felt under powered, but once we turned downwind we were launched," he said.
Like Lazy Dog, St. Jean Bay was a key point in the race for the Frenchman and where he felt they took control of the race. Right as they finished, their spinnaker exploded, but it didn't impact their first place today finish and first overall in Multihull IMRR.
2019 Les Voiles de St. Barth Richard Mille – Day 3 – photo © Christophe Jouany
Equipment issues also plagued last year's Multihull ORCmh champion Flow, a Gunboat 60 skippered by Stephen Cucchiaro from Boston. "The webbing at the top of our mainsail failed," he said. "There was no way to repair on the water and so we had to retire. But, thankfully tomorrow is the scheduled Day Off, so we are crossing our fingers that they can make magic happen and we can be back racing by Friday."
For more information visit www.lesvoilesdesaintbarth.com/us
2019 Les Voiles de St. Barth Richard Mille – Day 3 – photo © Michael Gramm
by Laura Muma