Day 1, 18 August 2020: RHKYC Team Agiplast completed two races on the first day of the Persico 69F Revolution Cup, racing against the Italian YAC challenger Young Azzurra and two other Italian teams – Batope and WeArep.
A good start, and a race lead, was spoiled by a spinnaker retrieval problem that allowed Team Batope's 49er sailors from Italy back into the game, and a race win.
The next round proved to be an exceptionally tough draw: RHKYC Team Agiplast up against Nacra 17 World Champion Ruggero Tita, both the Dutch YAC challengers. After a long wait for breeze, the race started after 17.00h in non-foiling conditions. RHKYC won the start, and accelerated away from the fleet, leading the race from wire to wire.
Day 2, 19 August 2020: Just one race on day 2, to allow time for repechage races. RHKYC Team Agiplast started in the second row, but worked up the fleet in light breeze. Then the wind filled in. "After gybing on mark two, we managed to get a nice high lane off the Dutch Sail team and got back on the foils early. Reaching at 30kts, a metre above the water, three boat lengths to windward of another team was both exciting and scary! This is why we go sailing! The wind built from 6 to 16kts as we went across the lake, leading to some 'exciting' moments for team as we were very high on foil lift and the rudder was ventilating quite often, not ideal when being luffed by the boat to leeward at 27-30kts of boat speed. Arriving at mark three we had mark room on the Dutch, and were in the lead!"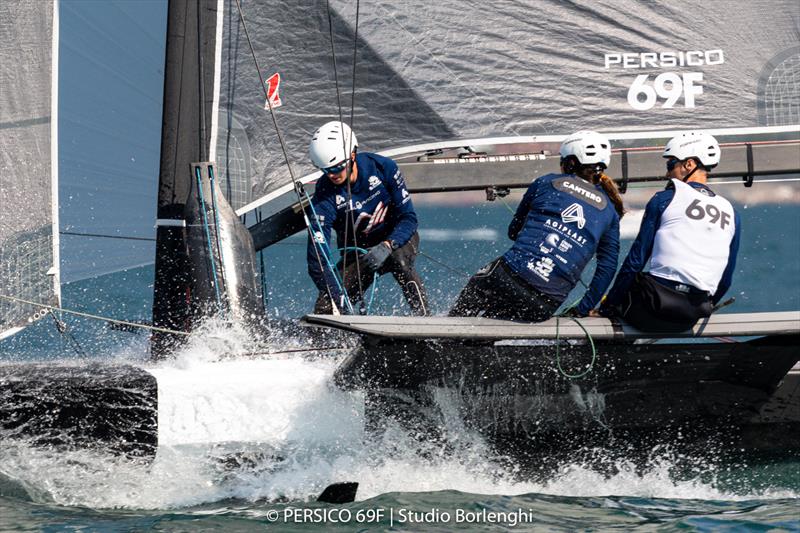 Persico 69F Revolution. RHKYC Team Agiplast, Lake Garda 2020 – photo © Persico 69F / Studio Borlenghi
However, a poor kite drop, a trawl, a near-capsize, and touching the mark put paid to a promising race. "Not our finest hour. On the positive side, one of the more memorable races in our combined sailing careers, and lots to take out of it. This result puts us into the repechage final, and we are still in with a chance of winning the event."
Day 3, 20 August 2020: Repechage finals. RHKYC Team Agiplast's crack at getting back into the 'real' finals. 13-16 kts and building, and some caution was going to be called for! RHKYC overtook race leader Young Azzurra after the first mark with a 25kt run, and successfully held the lead with a foiling gybe. Rounding the last mark, Team Agiplast had a 45s lead to second and 60s to third. "All we needed to advance into the final was to stay in the top two." But it was not to be: Young Azzurra held out RHKYC Agiplast on the layline at the last mark, and the all-stars Top Gun team also snuck in by half a length at the finish and take the last finals' berth. After finals had been raced and the numbers crunched, RHKYC Team Agiplast were 5th overall.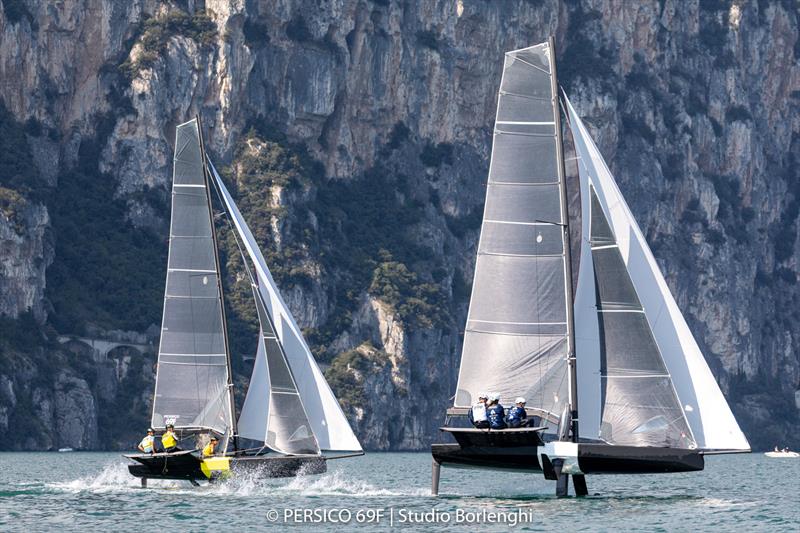 Persico 69F Revolution. RHKYC Team Agiplast, Lake Garda 2020 – photo © Persico 69F / Studio Borlenghi
"Yes we are disappointed not to have made the finals, being in the position we were. But as a team, we feel we have come a long way in the past two weeks, and are really excited by how competitive we were compared to the other cup teams this early on. Now we go to Malcesine for a 5 week training block where we are aiming to really lock down our boat handling, as well as work on boat speed. We have two more events this summer which we will use to gauge how successful our training block has been, before getting back to our boat in Hong Kong to keep pushing towards Auckland.
A huge thank you goes to both the RHKYC and our title sponsor, Agiplast, for getting us to the point we are now. We are trying our best to do you all proud back home!" RHKYC Team Agiplast.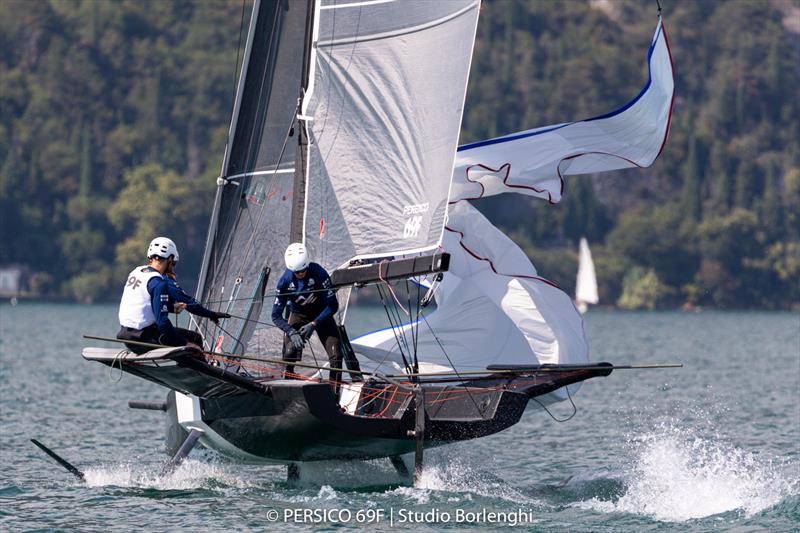 Persico 69F Revolution. RHKYC Team Agiplast, Lake Garda 2020 – photo © Persico 69F / Studio Borlenghi
by RHKYC Team Agiplast