While the eyes of the world are firmly riveted on the coronavirus pandemic, the less-than-convenient truth is that the world is also facing a significantly bigger long-term problem involving ocean health.
This global menace comes in many forms, ranging from acidification issues stemming from agricultural run-off (read: Australia's Great Barrier Reef), to oil spills, to plastic pollution, the latter of which could prove to be the most insidious problem of all.
As most Sail-World readers know from the great work done by various organizations, including the Volvo Ocean Race (VOR), plastics break down into much smaller bits (known as microplastics), rather than biodegrading. Case-in-point: In 2018, VOR competitors Team AkzoNobel and Turn the Tide on Plastic collected water samples at Point Nemo, which is located in the South Pacific Ocean some 1,400 nautical miles from the nearest landmass, that contained between nine and 26 particles of microplastic pollution per cubic meter.
Worse, plastics and microplastics are already finding their way into the food chain and are killing marine species at an alarming rate.
That's the bad news. The better news is that humanity isn't blind to this issues, and work is being done to try understand—and start to curb—this pollution.
One such organization is Pure Ocean (www.pure-ocean.org/en), a Marseille, France-based non-profit that's dedicated to supporting research into protecting the fragile marine environment, while also supporting events that are aimed at raising the public's awareness of this impending environmental disaster.
The inaugural Route Saint-Pierre Lorient Pure Ocean Challenge (July 14-29, 2020) will stretch from St Pierre & Miquelon (near Newfoundland and Labrador) to Lorient, France. Two crewed boats are racing, with the parallel goals of besting Eric Tabarly's record of 10 days, 1 hour and 31 minutes for this passage and of recording ocean-health data en route to France. The first yacht, The Kid, is a JP 54 skippered by Jean-Pierre Dick (of IMOCA 60 fame), while the second is UP SAILING, unis pour la planète, which is a Class 40 skippered by Morgane Ursault-Poupon.
I checked in with David Sussmann, founder of Pure Ocean and a crewmember aboard The Kid, via email, to learn more about this exciting new distance race.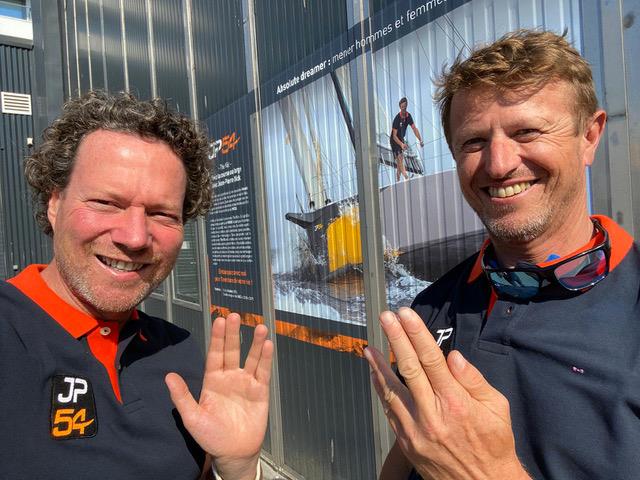 JP Dick and David Sussmann will sail together aboard `The Kid` – photo © Image courtesty of the 2020 Pure Ocean Challenge
Can you please give us an overview of the course? Also, what are its toughest challenges, from a tactical perspective?
The Route for the Pure Ocean Challenge covers around 2,150 nautical miles from the archipelago of St. Pierre and Miquelon to Lorient. At this time of the year, we should be sailing downwind but will have to find the right weather window to start with the best conditions – the starting line will only be open for 14 days, from July 14th to 29th.
From a tactical point of view, we must ensure we don't go too far north because there are still icebergs and other obstacles present. In the first part of the race, hopefully, we won't be trapped by the strong depressions that crisscross the great banks of Newfoundland.
From [there], we should be in line with the natural path of depression and the game plan will be to position ourselves to follow these and travel at the highest possible speeds to beat Eric Tabarly's time.
How hard has it been to organize an event like amidst the coronavirus pandemic?
The vast majority of onshore and offshore sailing events have been cancelled due to the pandemic but, despite a number of challenges, we have been working hard with Philippe Paturel, Founder and President of Route Saint-Pierre et Miquelon, to ensure this new ocean challenge goes ahead.
The pandemic has forced us to scale back on our ambitions in terms of hosting race fans but we were determined to press ahead as the time for action is now – we can't afford to wait to tackle the many threats our ocean faces!
A distance race with just two boats is fairly unusual—is this more about sailboat racing or about raising environmental awareness?
Our aim is two-fold. Pure Ocean is partnering with Route St Pierre et Miquelon to create an annual event whose goal will be to beat the best time for this crossing and we want to increase the number of entrants for the next edition, set to take place next summer. This is combined with Pure Ocean's mission to increase understanding of the problems the ocean faces and support ambitious and innovative projects to protect fragile marine ecosystems and biodiversity.
I think the pandemic has brought into sharp focus our connection with nature and how our future health depends on a healthy ocean.
What is Eric Tabarly's record for the Route St Pierre Lorient? Also, how good do you think the odds are the odds that either Jean-Pierre Dick or Morgane Ursault-Poupon will break this record this year?
Tabarly's time for making the crossing, in 1987, was 10 days, 1 hour and 31 minutes on the maxi Côte d´Or and this hasn't been surpassed in the intervening 33 years. The boats we are using are smaller than Tabarly's but with technological advances over the years. We hope that Jean-Pierre Dick's JP-54 and Morgane Ursault-Poupon's Class 40 can eclipse this long-standing time for the transatlantic crossing.
What kind of scientific data do you and the crew of "The Kid" intend to gather? Are we talking about the kinds of water-sample collections to determine the number of microplastics in the water that the last few editions of the Volvo Ocean Race collected, or will this be different data? Also, how will this data be different from other ocean-health data that's already been collected?
I'll be collecting data on ocean pollution—in particular lost or discarded fishing gear—and identifying marine species using participatory science applications developed by Ifremer (wwz.ifremer.fr/en).
This data will add to the global knowledge base on ocean pollution and biodiversity. To raise awareness of this issue I'll also be producing video content during the crossing to help bring to life the scale of the problem and the need for solutions to our followers on Facebook. This will include topics such as climate change, pollution, overfishing and marine protected areas.
Pure Ocean funds a number of projects (www.pure-ocean.org/en/2020/05/06/overview-of-the-6-projects-funded-by-pure-ocean) to help achieve our goals including Polaris (www.pure-ocean.org/en/polaris), who have developed a mobile application for amateur scuba divers to input data on marine biodiversity to empower this community to help protect Mediterranean marine ecosystems.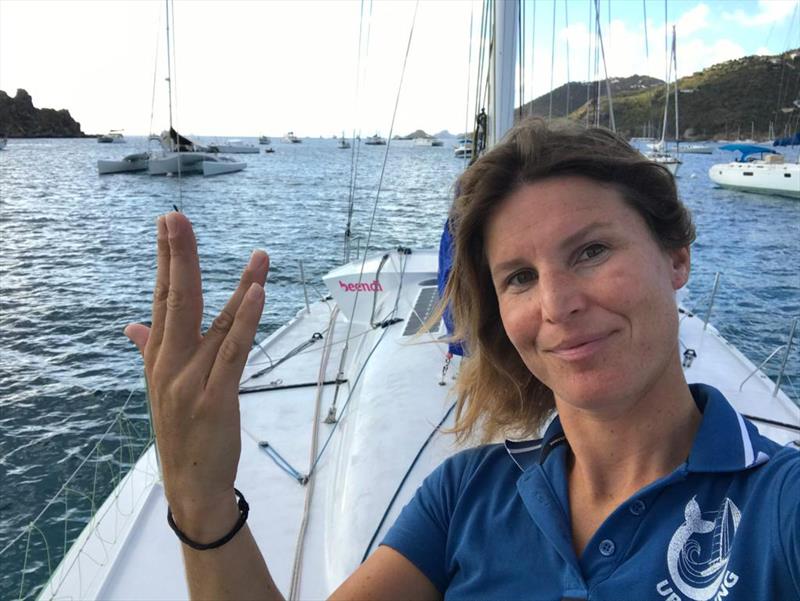 Morgane Ursault-Poupon, skipper of `UP SAILING, unis pour la planète` in the 2020 Pure Ocean Challenge – photo © Image courtesty of the 2020 Pure Ocean Challenge
Can you tell us more about the week of events that will take place once the boats arrive in Lorient? Will this be aimed at the school kids, general public, serious scientists, or all of the above?
Through our outreach during the race we want to increase public understanding of the threat and solutions to restore ocean health. During our time in Lorient, the Pure Ocean Foundation will be meeting with key marine stakeholders and business leaders to talk about Pure Ocean's mission and explore new funding streams for our vital work.
Moving forward, what are your goals for the Route St Pierre Lorient? Do you see it growing into a highly competitive race for Class 40 and IMOCA 60s (and maybe even Ultims), or are you more interested in it becoming an event that helps educate shore-based fans about ocean health? Or, could the race simultaneously achieve both goals?
We'd like to attract a wide-range of classes to take part in future events and, from a competitive perspective, to attempt to beat the record we hope to set, delivering messages connected to ocean health and attracting new funders to help us continue our work.
As we've seen with other offshore events, it's absolutely possible to use the sport of sailing to create awareness about the threats our ocean faces and engage and inspire fans to be part of the solution. I believe we will be able to achieve both goals.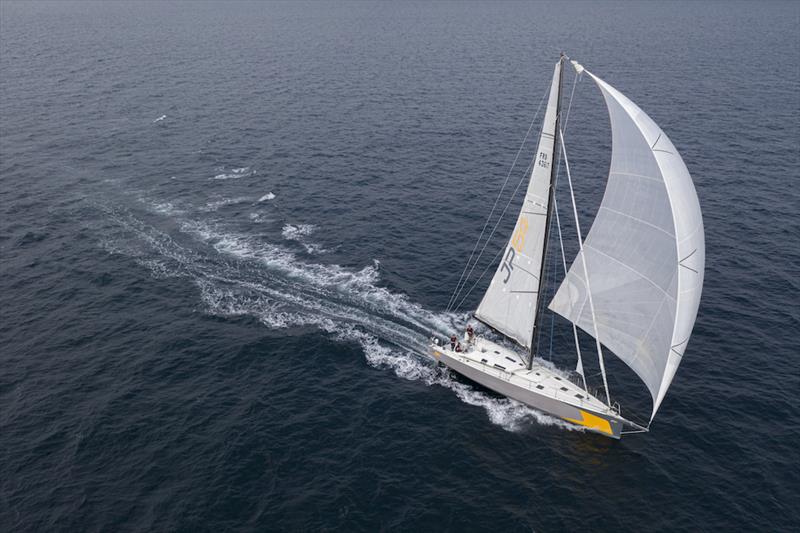 JP Dick's self-designed JP54 is a favorite to set a course record in the inaugural 2020 Pure Ocean Challenge – photo © Image courtesty of the 2020 Pure Ocean Challenge
Anything else that you'd like to add, for the record?
Pure Ocean has started a petition (www.change.org/p/sign-this-petition-the-ocean-a-hope-for-life?fbclid=IwAR06PPnwV5hjmH3UKR473UoL-CHNkPLmSS097SZNbwVx40SX2HXB8uxENA8) calling on the French Government, European Commission and other funders to finance ocean research projects. The ocean is a precious resource that could provide solutions for human health and future treatments for a range of illnesses.
We need all the help we can get to finance this extremely important work so any donations (www.pure-ocean.org/en/donation) would be gratefully received.
We'd also really like to hear from any like-minded sailing enthusiasts who are interested in joining Pure Ocean's mission to protect the future of our threatened playground – the ocean – so please get in touch (www.pure-ocean.org/en/contact-us)
by David Schmidt