Sunrise wins Royal Western Yacht Club's Lonely Rock Race
1000hrs on Sunday 16th August and the first gun fires on the RWYC lonely Rock Race. The Royal Victoria Yacht Club's race starting officer Martin Bedford calls 'line clear' and the race begins.
The first start included multihulls, non-handicap class, provision for the Class40's and IMOCA. Pip Hare on 'Medallia' had 2 crew members, Paul Larsen and Mikey Ferguson, with her on this her shakedown for this year's 'Vendee Globe' race. She quickly took the lead and that's where she stayed for the entire race.
The start line was set as Motherbank and Liam. Cowes United sat to the North of Motherbank and there was a 'line split' mark, 'B&G', to provide the space for 'Medallia' in what were quite tricky, starting conditions.
1015hrs saw the second start, the IRC class. Notable entries being Tom Kneen's 'Sunrise' and Ed Bell with his crew on 'Dawn Treader'. Both JPK1180's are level rated so this was set to be the fleets focal battle and that didn't disappoint.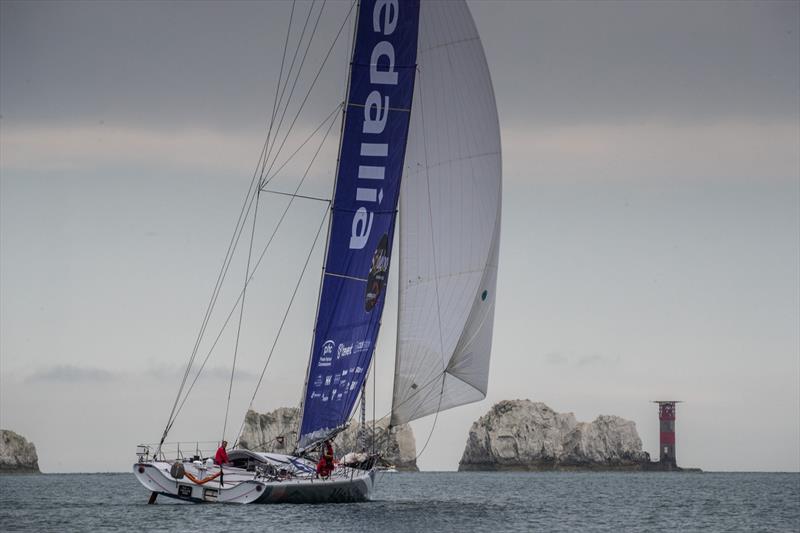 Medallia starts the Lonely Rock Race – photo © Richard Langdon / www.oceanimages.co.uk
This was the first time the fleet had met, as all build up was conducted in a COVID-19 safe way. Both race and weather briefings were conducted on social media with 2 hours available after each for live questions to be fielded by race director and RWYC Commodore Chris Arscott, and professional navigator Miles Seddon respectively. The crews had completed their self-isolation instructions and notified Race Control of this, that there were no symptoms within the team, that this has formed a 'bubble onboard' and that they were safe to race.
Conditions for both starts was very light with an ESE breeze of no more than 5 knots but the following tide ensured the entire fleet was washed out of the Solent before the tide turned foul.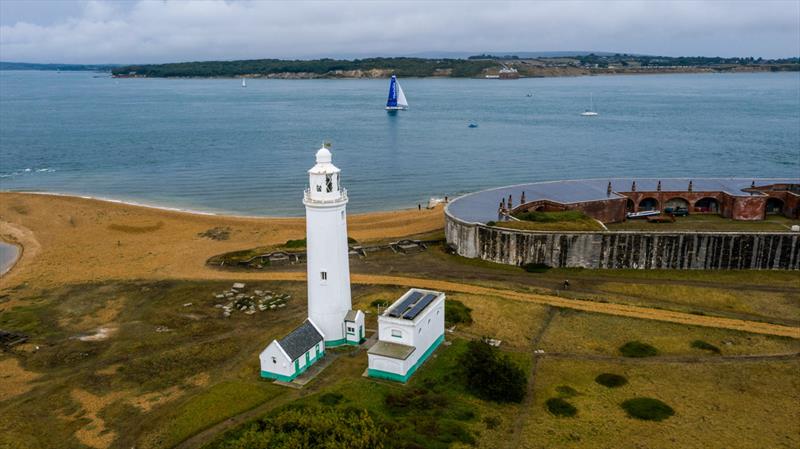 Medallia starts the Lonely Rock Race – photo © Richard Langdon / www.oceanimages.co.uk
Soon into the race, Ian Whittaker's 'Falcon' developed a hydraulic problem with their Kiel and were forced to retire.
The first night saw very light breezes, with many of the fleet suffering with negative VMG for sustained periods of time. One boat, 'Sunrise' navigated by Tom Cheney, snuck literally underneath Portland Bill to avoid the tide and make considerable gains over the fleet but the curse of Lyme Bay was soon to strike and 'Sunrise' found all those gains being eroded as they struggled to get out of the bay. Once at Start Point they saw 'Dawn Treader' cross their bows and take the lead in IRC. Chris Edwards on his Trimaran, 'Chimera' also took a tight line in around Portland Bill to extend on Matt Theobald's 'Nemo' but managed to break free of the 'bay of doom' and hold their lead approaching Start Point.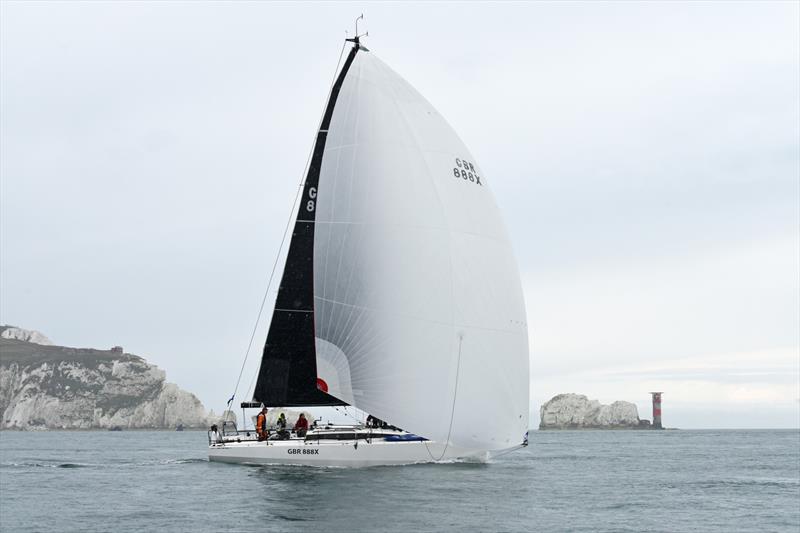 GBR888X passes The Needles in the Lonely Rock Race – photo © Rick Tomlinson / www.rick-tomlinson.com
Meanwhile, the 2 handed yacht Arcsine skippered by Kathy Claydon was pressing on into the race and soon became the leading IRC overall boat as well as the leading 2 handed boat.
The Bavaria 50 'Sue Zolica', sailed by Plymouths C.J. and Jody Smith, were establishing a very competitive position as the deepest boat south. The non-handicap class is a new format for the race, which proved to be very popular.
Monday afternoon saw the wind strength build. By now Medallia was approaching the Lizard with the tail enders still approaching Start Point. Now focus was starting to turn on the 2 lows developing in the Atlantic with the expectation of them merging forming a storm of 1979 proportions. At 1500 notice was given to all competitors that by 1800 a call would be made by the race office to shorten course or not. It duly was and the fleet were informed that for the first time in the courses 47 previous races the race would operate a shortened course, using Wolf Rock as a turning point and as such enabling everyone the chance to have a safe return leg back in its finishing home of Plymouth.
Just after the announcement, Matt Theobald's trimaran 'Nemo' was forced to retire due to a damaged headboard car as she was approaching Plymouth on her way west.
Pip Hare and team on 'Medallia' crossed the line on Tuesday morning at 0345 to win the Line Honours trophy. As 'Medallia' crossed the line, both JPK1180's where rounding the mark literally together. This made for a fascinating downwind return from the rock, as Sunrise was set up for Asymmetric sails and Dawn Treader with symmetrical sails. 9 hours after 'Medallia', it was RWYC and RORC member, Tom Kneen's 'Sunrise' who would cross the line just over 20 minutes ahead of his race-long rival and eventually take the IRC Overall title With 'Dawn Treader' taking 3rd on the water and 2nd in IRC.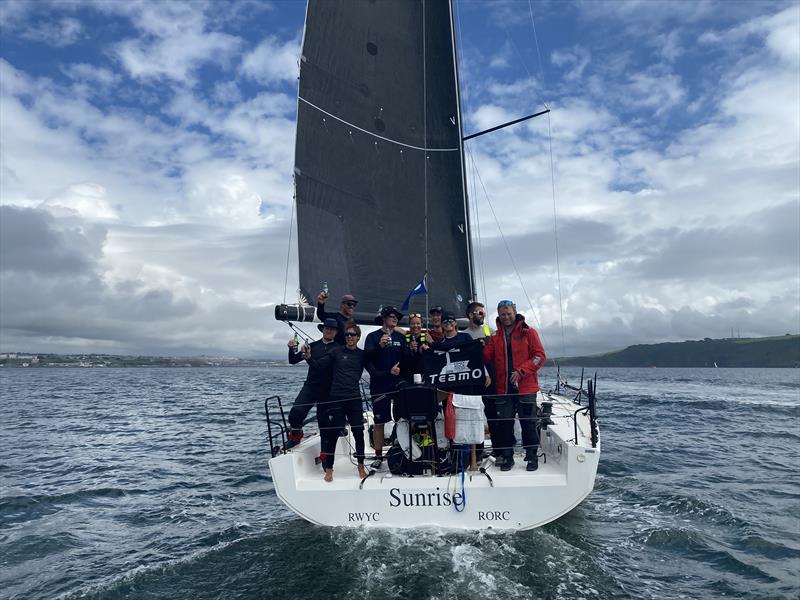 Sunrise wins the Lonely Rock Race – photo © Jim Deheer
3rd place in IRC and winner for the 2 handed class went to Kathy Claydon Arcsine, with Steve Andrew and team finishing 4th in his Sunfast3200 'Sunfire'.
The prize-giving was split in order to allow each category winner the chance to have their prizes awarded whilst complying with the COVID-19 restrictions and self-distancing rules still in operation.
The RWYC Lonely Rock Race will be held again in 2022. Before that, a new race will be launched. The 'Midi Lonely Rock Race' will start in Plymouth, round the Fastnet Rock to port and will finish back in Plymouth. This shorter format has already attracted significant interest and will be announced formally within the coming weeks. With its first edition in 2021, this race will also be held biennially.
First though the RWYC turns its sights to the OSTAR and TWOSTAR which will set off in May 2021. This 60th Anniversary edition was unfortunately postponed this year due to COVID-19. The RWYC is expecting a bumper entry following such a long time ashore for everyone.
The RWYC would like to thank their starting partner and host, the Royal Victoria Yacht Club, as well as their very generous sponsors, B&G, Spectra Watermakers, Zhik, Teamo, Ullman Sails, Crew Kit, Trek n Eat and Allspars.
Results:
Line Honours – Medallia – Pip Hare
IRC OVERALL – 1st Sunrise – Tom Kneen, 2nd Dawn Treader – Ed Bell, 3rd Arcsine – Kathy Claydon, 4th Sunfire – Steve Andrew
2 handed – 1st Arcsine – Kathy Claydon, 2nd Colombus Circle – Matt Smith, 3rd Tarantella – Will Claxton
MOCRA – 1st Chimera – Chris Edwards
Non-handicap class – 1st Sue Zolica – CJ and Jody Smith
by Adrian Gray