SailGP speeds into Season 2 on Sydney Harbour
After months of anticipation and fueled by the addition of two new national teams and the most decorated Olympic sailor ever joining the global league, the world's fastest sail racing is ready to take over Sydney Harbour for the opening event of SailGP Season 2.
Tom Slingsby's Australia SailGP Team returns to start its title defense on home waters, as the global championship kicks off with the season's first race on February 28 and 29.
All seven national teams spent the past two weeks training in the iconic venue, as the Australia, France, Great Britain, Japan and United States teams reacclimated themselves to the F50 catamarans. New entrants Denmark and Spain will rely on the expertise of their world-class crew members to quickly adapt to the world's most advanced sail race boats.
A year ago, the Australia SailGP Team kick-started its championship campaign with the Sydney title, edging out the Japan team in the match race. However, Slingbsy was quick to shoot down the notion that the 2020 event is his to lose.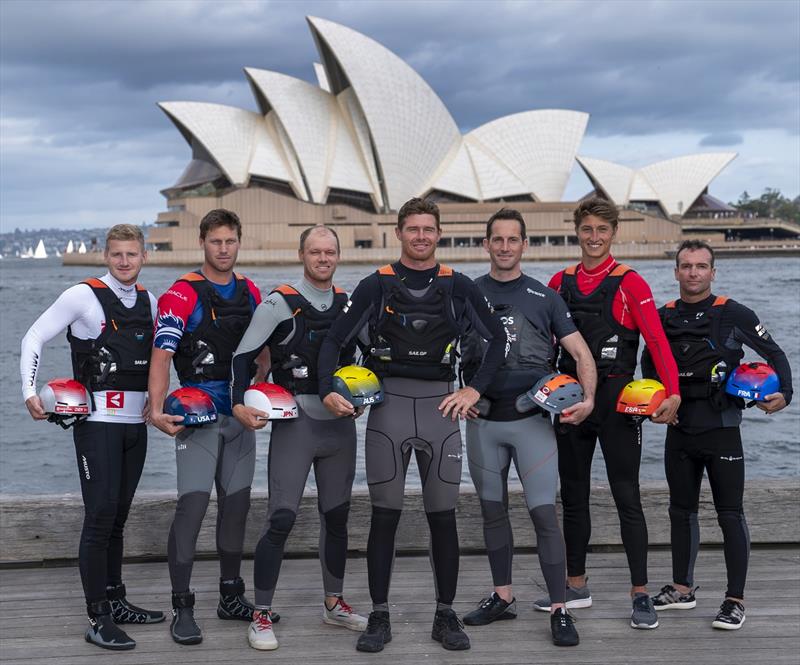 L-R: Nicolai Sehested, Rome Kirby, Nathan Outteridge, Tom Slingsby, Ben Ainslie, Florian Trittel and Billy Besson pose together in front of Sydney Opera House ahead of Sydney SailGP Event 1 Season 2 – photo © Bob Martin for SailGP
Slingsby said: "Everyone's talking down their chances and saying we're the favourites, but honestly it's anyone's game. With a year under our belts, I believe we will continue to push the boundaries of what is possible on the F50s and there's no better place to start Season 2 than on Sydney Harbour. Our team wants to win every race we compete in, but there's an unmatched feeling winning at home in front of your fans."
Following a fourth-place finish in Season 1, the British team has been revamped with the addition of Ben Ainslie – the most decorated Olympic sailor of all time – and two members of the runner-up Japan team from last season, Iain Jensen and Luke Parkinson. There will be a great deal of focus on the British boat when action begins in Sydney to see if the team can quickly establish itself as a serious threat to de-throne the hosts.
Despite his long list of accomplishments, Ainslie is the least experienced member of his crew when it comes to operating the F50 but has expressed optimism ahead of his debut.
Ainslie said: "SailGP is the best sailing I've ever done. Being tested at this level and in these boats, we're all going to be better sailors for it. The competition will be incredibly intense. The Australians are the favorites after winning Season 1, but I think we can definitely beat them if we sail well and our team will be out there giving them a good fight."
Sydney SailGP will give fans their first glimpse of Denmark and Spain in action, although both teams have spent the past few months intensely preparing for their debut campaigns.
Race Format
The racecourse is situated in the eastern section of Sydney Harbour with Shark Island – where spectators will gather – at the epicenter. The event is scheduled to start at 3:30 p.m. local time (AEDT) on Friday and will feature three fleet races between all seven teams. The action resumes at 4:30 p.m. local time Saturday with two fleet races, followed by a final match race between the top two point leaders.
Broadcast Details
Fans around the world will be able to watch coverage of Sydney SailGP through the most immersive broadcast experience the sport has ever seen.
Sydney SailGP will be broadcast live and on demand on Fox Sports 507 and Kayo Sports on Friday, February 28 (3:30-5 p.m. AEDT) and Saturday, February 29 (4:30-6 p.m. AEDT).
The global championship has also revamped the award-winning SailGP APP to provide a more comprehensive look into each race, implementing additional data and viewing options so users can watch the world's fastest sail racing when and how they want. The SailGP APP is available in the App Store and Google Play.
Tickets
Limited tickets are still available for both land-based and on-water experiences to get a premium up-close view of the flying catamarans. Tickets, starting at AU $87, are available at SailGP.com/Sydney.
by Sacha Kemp