Artemis XIV (NOR 57, Kristian Nergaard, Johan Barne, Anders Pedersen) has extended their lead to nine points with just two races to sail at the 2020 5.5 Metre World Championship, at the Royal Prince Alfred YC, in Newport, Australia.
New Moon II (BAH 24, Mark Holowesko, Christoph Burger, Peter Vlasov) is up to second while Girls on Film (GBR 40, Peter Morton, Andrew Palfrey, Andrew Mills) is up to third.
The race wins on the fourth day went to Shaolin (SUI 226, Cyrus Golchan, Andreas Kindlimann, Hans von Werdt) and Ali Baba (BAH 23, Craig Symonette, Flavio Marrazi, Will Alloway).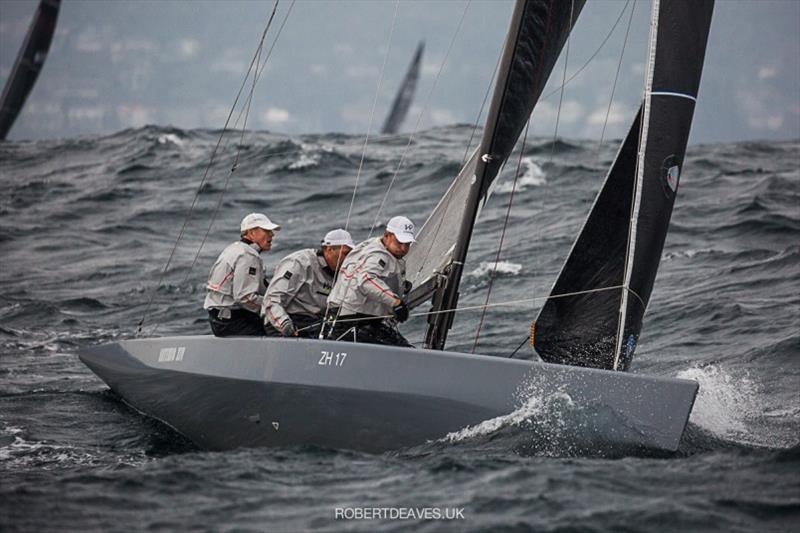 Artemis XIV – 2020 International 5.5 Metre World Championship – photo © Robert Deaves
Despite some forecasts predicting good conditions all day it turned into a largely bumpy, sloppy day with more rain than most Australians have seen in the last three months. The southerly also brought lots of smoke to Pittwater again, one of the worst days of the past few weeks. Combined with the low cloud and rain fronts, it was a gloomy and dark day, with bad visibility for much of the day. The first race got away in 7-8 knots but for most of the race this was down to 3-4 knots with painfully slow progress through the huge waves left over from Saturday's southerly change and strong winds.
Shaolin got the best pressure out of the start and were never headed, leading round from Girls on Film, which closed right up on the second upwind. Races are often won and lost on a single decision and Shaolin gybing to meet the new breeze was one of those. The wind shifted and strengthened to 9-10 knots soon after the gybe allowing Shaolin to sail away for a comfortable win, while Artemis XIV, who had rounded the first mark in sixth and the gate in third, also took advantage to move into second, after Girls on Film had gone further right and lost distance.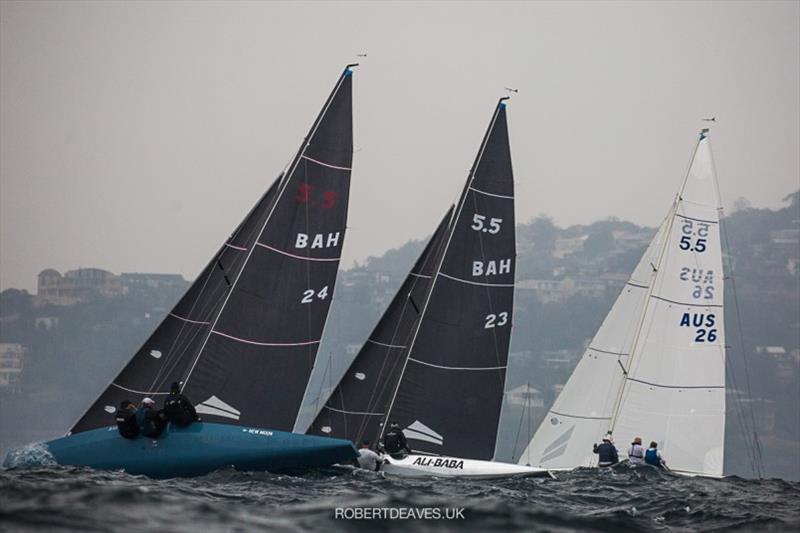 Start Race 2 – 2020 International 5.5 Metre World Championship © Robert Deaves
At the finish the wind again died to 3-4 knots and the fleet waited afloat for more than an hour as the wind puffed and sucked. Eventually the race officer's patience was rewarded with a rain front that brought 14-16 knots of breeze. He hastily got the fleet away hoping it would last.
Most of the fleet tacked onto port after the start and headed right into the increasing cold rain and larger waves brought by the wind. Ali Baba rounded just ahead of New Moon II and Artemis XIV. The wind maintained its strength downwind and most of the second upwind before dropping off to 6-7 knots again. While the leaders stayed right, there was a big left shift, which enabled Girls on Film to recover from 15th at the top to fourth at the finish, while Rhapsody (AUS 35, Thomas Spithill, Chris Links, Heath Walters) dropped from fifth to 13th by staying right.
The positions stayed the same downwind with Ali Baba taking the win from New Moon II and Artemis XIV.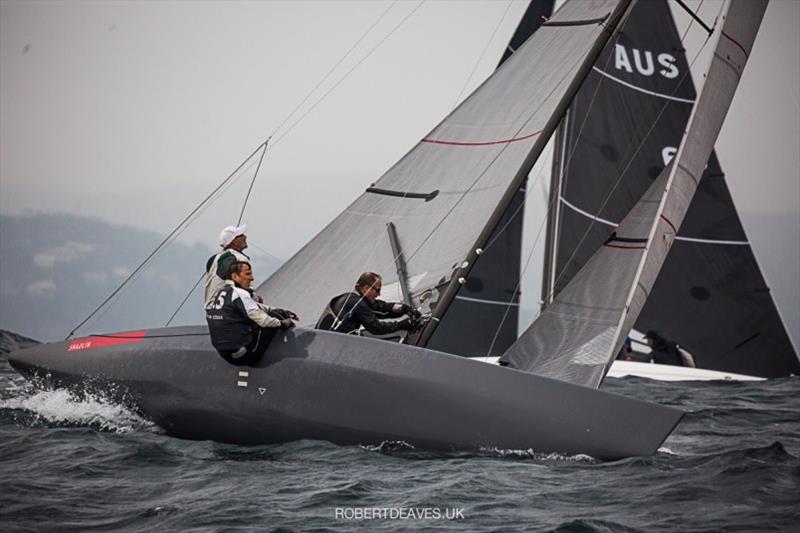 Shaolin – 2020 International 5.5 Metre World Championship – photo © Robert Deaves
The fleet returned to shore late afternoon cold and exhausted after more than seven hours on the water. Overall Artemis XIV extends their lead to nine points from New Moon II and Girls on Film.
Craig Symonette, helm on board Ali Baba explained the second race. "We hit the pin with good speed and we tacked almost immediately and then we crossed the fleet and continued to get lifted for most of the leg and then got a little righty at the end and easily made the weather mark. We had good upwind speed and managed to keep in front. It was a very fun race."
His "Last worlds win was the Bobby Symonette Trophy, which we also won today, and that was in Garda in 2010."
"The first race was very hard. We got on the wrong side of the course and really had no speed in the light air. It's been a long day on the water."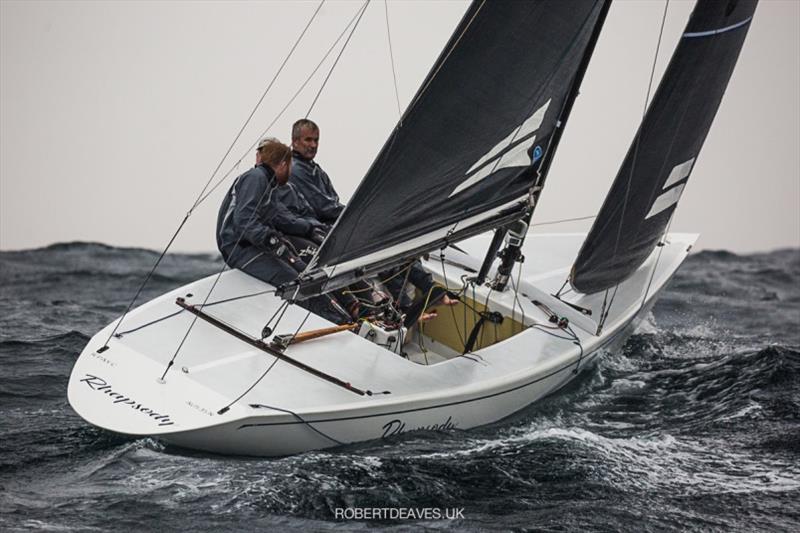 Rhapsody – photo © Robert Deaves
Cyrus Golchan was helming Shaolin. "We had a nice start and we were lucky with the light wind. We were maybe the only boat to have pressure at the start and we had a nice gap on fleet. Then GBR 40 came fast on the second upwind and then at the second upwind mark we had a big shift. It was really close and when we put the spinnaker on we had a big right shift and we gybed quickly and it was done with GBR. He went too far to the right."
"It was a light wind, a Swiss wind. Swiss conditions. We appreciate light winds because we are a light crew. The waves were high and difficult on the first downwind, but the second downwind was easier."
"There was much more wind in the second race but we missed the start and we were late for the pin and then we had to fight all the race with Baragoola, the classic boat, who did a really nice race."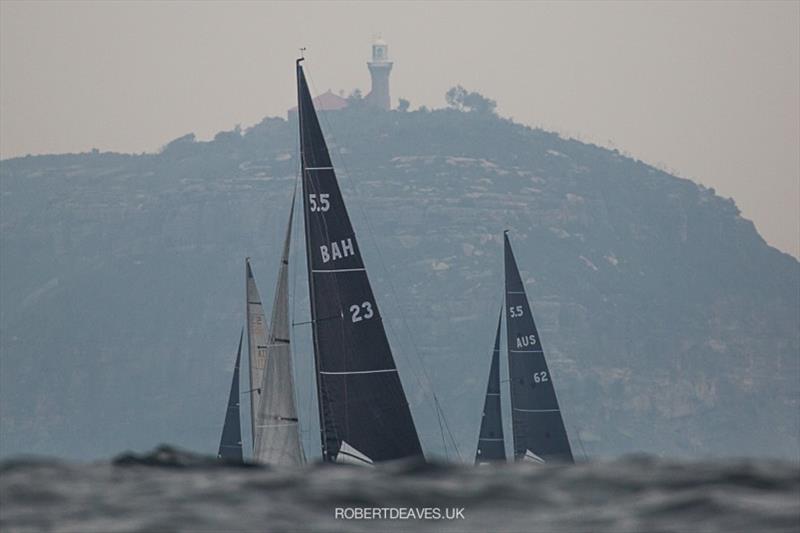 Fleet head upwind from Barrenjoey Head – 2020 International 5.5 Metre World Championship – photo © Robert Deaves
"It is our first time here in Australia and the conditions are amazing, especially the organisation from Martin Cross, who does a lot. He is everywhere, sailing and organising, so big thanks to him and all the crew."
There is just one more day to go in Newport. While Artemis XIV has a good lead, there is only five points between the next four boats, so there is still a lot of racig to be done. Racing concludes on Monday with two more races scheduled to decide the 2020 5.5 Metre World Champion.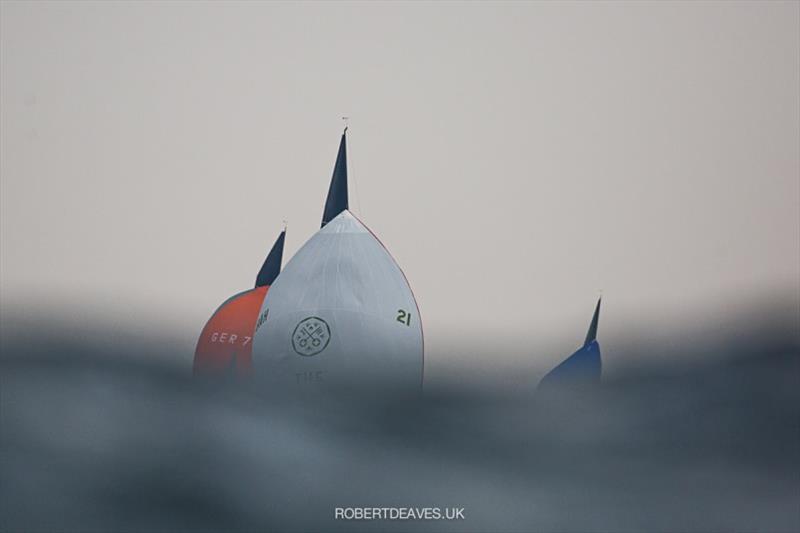 Big waves on Day 4 – 2020 International 5.5 Metre World Championship – photo © Robert Deaves
Results after five races
1 Artemis XIV (NOR 57, Kristian Nergaard, Johan Barne, Anders Pedersen) 10
2 New Moon II (BAH 24, Mark Holowesko, Christoph Burger, Peter Vlasov) 19
2 Girls on Film (GBR 40, Peter Morton, Andrew Palfrey, Andrew Mills) 20
4 Ali Baba (BAH 23, Craig Symonette, Flavio Marrazi, Will Alloway) 21
5 John B (BAH 22, Gavin McKinney, Mathias Dahlman, Lars Horn Johannessen) 24
by Robert Deaves