It's not too often in life that a storied event gets a second crack at celebrating its silver anniversary, but that's what happened with Charleston Race Week as a result of last year's outbreak of the coronavirus pandemic.
While competitive sailing has now proven that it can safely unfurl against a pandemic backdrop, albeit with some fairly robust changes to its onshore and social aspects, April of 2020 was still early days for the wretched scourge known as COVID-19, and the world had not yet figured out what was safe and what wasn't. So, out of a abundance of caution, Charleston Race Week's organizers made the difficult call to postpone their 25th anniversary celebrations until 2021 (April 8-11).
The wait may have been long, and the parties will be far more subdued than if the pandemic wasn't still grinding on, but for the sailors who are lucky enough to be attending this year's Charleston Race Week, the on-the-water competition should more than make up for the postponement and required nocturnal restraint.
As of this writing, an impressive 188 boats, ranging from J/24s (13 boats), J/70s (35 boats), Melges 24s (37 boats), and VX Ones (20 boats) to an XP-44 keelboat, have entered, with plenty of other One Design and handicap boats also listed on the race's scratch sheet.
Not surprisingly, given the regatta's great reputation and its experienced leadership, the event is taking some smart and forward-thinking COVID-prevention steps, including contact tracking and strict protocols, to help ensure that trophies, smiles, and great memories of hard-fought races are all that anyone brings home from this regatta (t-shirts, hats and photos are of course also fair game).
I checked in with Randy Draftz, CRW's event director, via email, to learn more about this exciting spring regatta.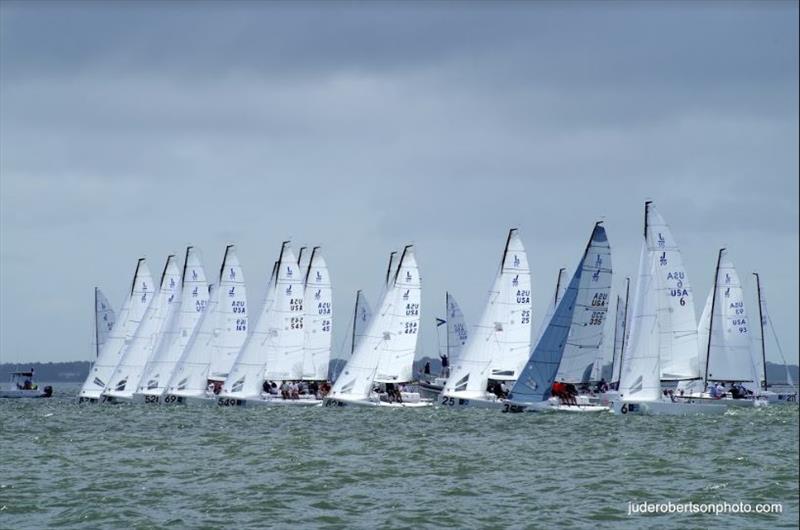 J70 fleet – 2019 Sperry Charleston Race Week, Day 1 – photo © Jude Robertson / www.juderobertsonphoto.com
What have been the biggest challenges that you and the other CRW organizers have had to deal with in light of the ongoing pandemic?
The decision process for forging ahead in light of the pandemic and putting forth the protocols to keep everyone as safe as possible.
What have you found to be the best solutions to these challenges?
Partnering with local hospitals and our Medical University to gain insights to the data to help guide our decisions.
What kinds of safe-play pandemic protocols and tactics are you expecting from the racers on the water? Also, what kind of shoreside Covid precautions will Charleston Race Week employ?
We feel the teams will be self-managed and, once on the water, the spacing and open air makes sailing a great COVID sport.
We are more concerned about our volunteer race committee teams, and while a number of them will be vaccinated we will operate at the minimum numbers.
Shoreside activities will be minimal with Zoom weather briefs and daily debriefs provided by Quantum. We will also use TracTrac and oncourse commentators to provide live online viewing and race data for the competitors to review.
Can you tell us more about CRW's plans to implement contact tracking? How will this work?
We will start with a complete personal information form for everyone involved. Then continue to follow up during the event with a process that asks a few key questions to ensure no one has any symptoms. We also planning on providing PCR testing.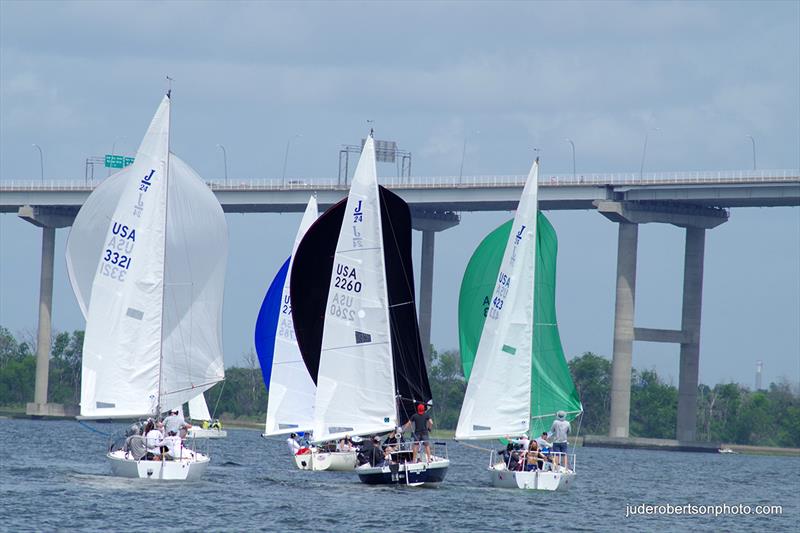 2019 Sperry Charleston Race Week – Day 2 – photo © Jude Robertson / www.juderobertsonphoto.com
What kind of entry numbers are you seeing this year? Also, how do these stack up to pre-pandemic editions of the regatta?
We expect to get around 200 [boats] on the starting line, [which is] down approximately 25% from a usual race week. People are obviously anxious to get back on the water.
In the ideal world, how many races do you and the other organizers hope to score? Also, how many races will you run per day?
Our schedule of races will remain the same as previous events. It's looking like we will have 15 classes [competing].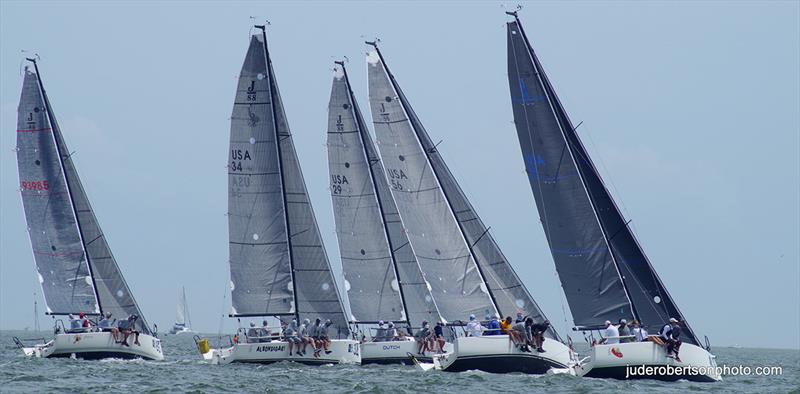 2019 Sperry Charleston Race Week – Day 2 – photo © Jude Robertson / www.juderobertsonphoto.com
Do you have any advice for other event organizers who are interested in hosting Covid-safe regattas?
Work with the local health authorities, and make sure to error on the safe side.
Anything else that you'd like to add for the record?
We are just very thankful for the support of our sponsors, volunteers, and local government in these crazy times.
by David Schmidt