A beautiful sunny day in Vilamoura Portugal, delivered light breeze in the afternoon. The 81 teams sailed two races with a southerly 7-9 kt breeze.
In the 29 strong Men's fleet the New Zealanders Paul Snow-Hansen and Daniel Willcox moved to first place followed closely by the Spanish crew Jordi Xammar and Nicolas Rodriguez just 2pts behind, with Olympic champions Mathew Belcher and Will Ryan completing the top three another 2pts behind Xammar.
In the Women's fleet, the World Champions, Silvia Mas Depares and Patricia Cantero (ESP) are leading the 18 entries, with 11pts having sailed a very consistent day. The French team of Camille Lecointre and Aloise Retornaz dropped one place and are now in a close second, followed by the Brazilians Fernanda Oliveira and Ana Barbachan who had a fantastic day winning both races.
The Mixed fleet, the largest at Vilamoura, saw big changes in the leader board. Nitai Hasson and Saar Tamir (ISR) retained the overall lead but are now followed by the bronze medallists of the 2021 World Championship, Amy Seabright and James Taylor (GBR) 5 pts behind, with Louisa Nordstrom and Trevor Bornarth from USA in third place.
For the 34 teams already selected to participate in the Olympic Games sailing in the regatta, this event is their last major test before the Games. Most teams are at the top of their game and ready to have a try at their Olympic dream.
Day 2, 2021 European 470 Championships, Vilamoura, Portugal – photo © Joao Costa Ferreira
Crews are sailing the Mixed event with a view to the Paris 2024 Olympics, where currently the Mixed 470 will become a new event, replacing the current slate with separate Mens and Womens medal events.
Live streaming starts tomorrow, taking us all the way until the Medal Race on Friday May 7. Follow the action on the water via the Vilamoura Sailing Youtube channel
Follow the championship at 2021europeans.470.org
Website: 2021europeans.470.org
Day 2, 2021 European 470 Championships, Vilamoura, Portugal – photo © Joao Costa Ferreira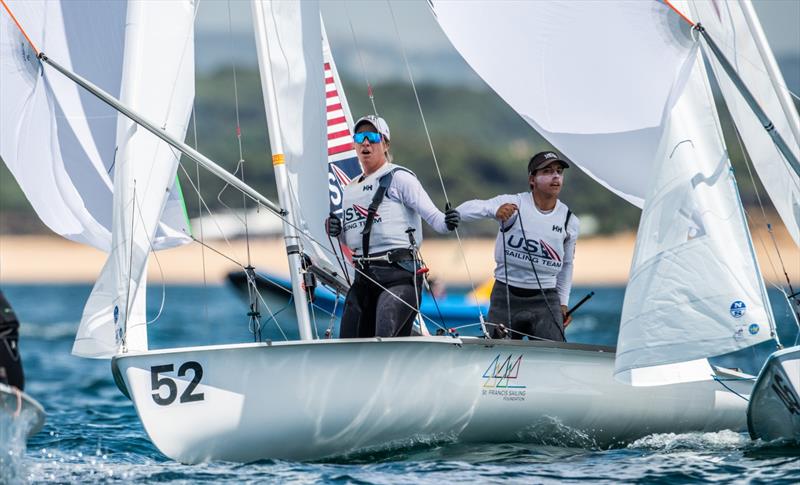 Day 2, 2021 European 470 Championships, Vilamoura, Portugal – photo © Joao Costa Ferreira
by International 470 Class Association