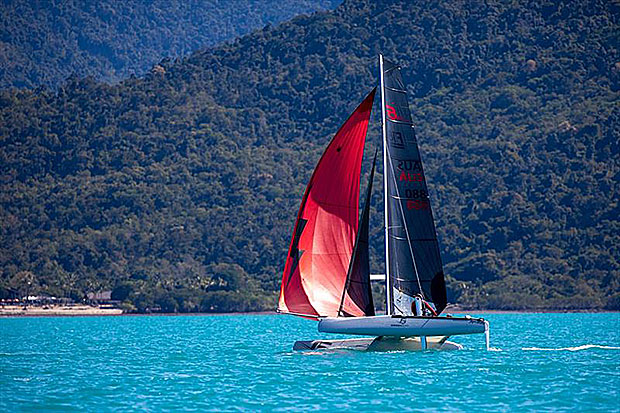 An outgoing tide and no breeze to speak of, meant race officials at Whitsunday Sailing Club (WSC) were up against it to get any racing in on Day 4 of Airlie Beach Race Week (ABRW), even though a breeze teased after the AP flag went up ashore, but competitors waited and waited, officials keeping them updated of an indecisive and extremely light breeze.
Finally, only the F16/F18 class and the two divisions contesting the 2023 Queensland Trailable Yacht & Sports Boat Championship were called to the water shortly after 2pm for a start.
All other classes were cancelled for the day, as the yachts unable to get out and into the marinas on the low tide. It was a long wait, but nothing could be done about it, as WSC tried valiantly to give all some racing after cancelling most classes yesterday because of a lack of wind.
For the lucky ones who did race today, the breeze kicked in at a lightweight 4-5 knots. The race committee sent the three divisions on a two-lap windward/leeward course on Pioneer Bay on beautiful flat water, which was ideal.
Trailable Yacht & Sports Boat Championship
Although Julian Bethwaite and his new self-designed and self-built Don't Panic (NSW) continue to lead Division 1, it was Andrew Jones with Cutting Edge (Tas) his Thompson 8, that took centre stage today. The win lifted Jones into fifth place overall and closer to the podium.
Jones: "The windward/leewards were a bit of a change from what we did the last couple of days. I've just refurbished the boat, new sails, the works, but I only had a couple of days to prepare before we came here from Launceston.
"We're still sorting things out. The first day the rudder supports fell off, so we got out the epoxy," he said laughing.
"We sailed well today," he said of the crew of six representing Port Dalrymple Yacht Club, "We had a good start and it went well from there – and we broke nothing! Julian (Bethwaite) led around the course.
"It's been awesome. I sailed here last year on a Rogers 46 and came back with the sports boat," explained Jones, who also has a racing yacht, Advantedge. The two boats have similar paint jobs.
Goggles, AKA Jason Ruckert (Mister Magoo, Qld), continued his great run, adding a third win from three races to his Division 2 card. Magoo now has a three-point advantage over nearest rival, Mustard Cutter, owned by Fletch Creedon from Tasmania. Tim Dodds' Mini Mako (NSW) is third, a further three points away from top place, with two days of racing remaining.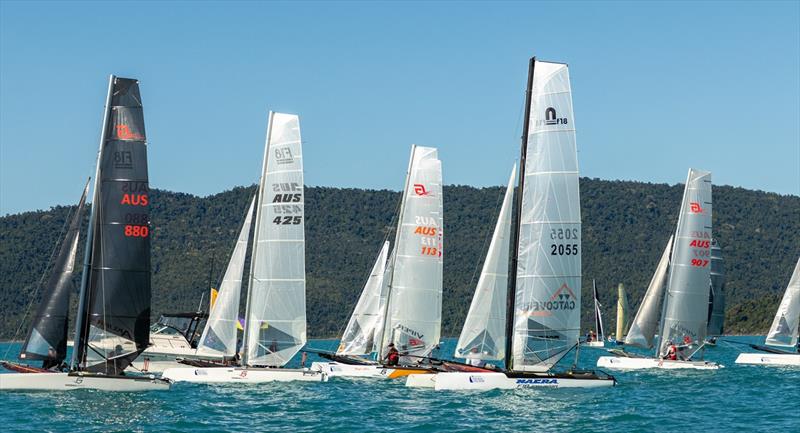 Bolt Racing out in front of the pack this afternoon – 2023 Airlie Beach Race Week – photo © Shirley Wodson / ABRW
F16/F18s
Eli Henebery and Andreas Rehberger (Qld) cleaned up on the windward/leeward two lapper with Bolt Racing, despite, as Henebery said, "A lousy start," to take the series lead. Jam Em (skippered by James Henderson, NSW) is in second and Goodall Design, skippered by Emma Rankin (NSW) is third overall.
However, Henebery, from Lake Cootharaba Sailing Club added, "We ducked the line, tacked off and chose the right hand side of the course – which was paved with dollars – all the way to the lay line, crossed the fleet and led from there.
"The boat seemed to be well set-up today. We made some changes, changed batten settings etc. Our crew work was really good too. There's good comms between the two of us. Andy's a gun on the bow, he's constantly talking to me and we run through the options together. It's very much a team effort on tactics," he said.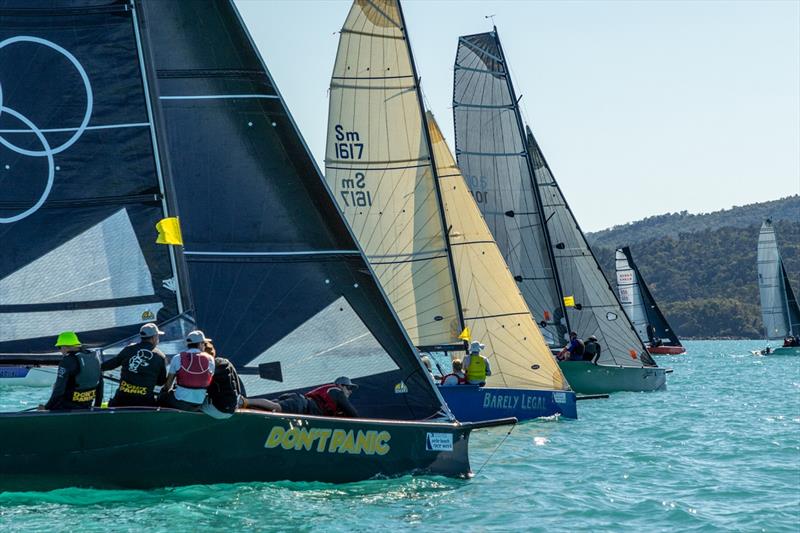 Don't Panic and others off the Division 1 start line – 2023 Airlie Beach Race Week © Shirley Wodson / ABRW
Henebery went on to explain that he comes from Mooloolaba, while Rehberger lives in Bundaberg: "We are obviously obliging, understand and committed to the cause," Rehberger said, laughing.
This is the first time the two have sailed the class here. Henebery came to Airlie Beach Race Week Festival of Sailing for the first time last year to sail on George Owen's 8.6 metre F28, Charleston last year.
"I saw the F16s and F18s racing here and decided to bring mine. I brought my wife and two kids here with me and we came up a week early and played tourists. It's been great and we'll definitely be back next year and getting others in the class to come too," the Queenslander ended.
Racing continues tomorrow from 10am.
Airlie Beach Race Week Festival of Sailing is supported by the Queensland Government through Tourism and Events Queensland and is a feature on the It's Live! in Queensland events calendar.
For full results in all classes, please visit: www.abrw.com.au
by Di Pearson / ABRW