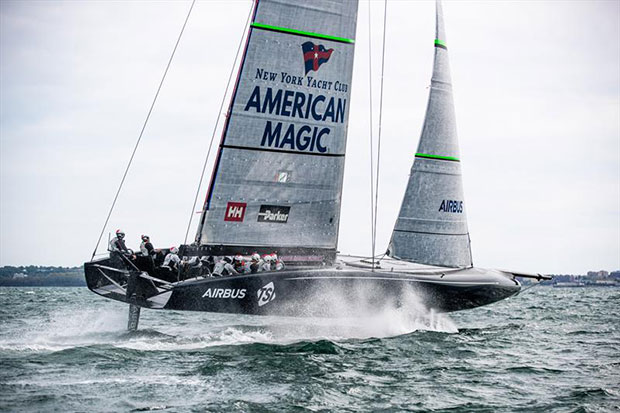 America's Cup challenger, NYYC American Magic say they have made a huge leap of faith in exporting their AC75 to Auckland, without any immigration process in place that will get their team through closed borders into New Zealand.
Interviewed on Sailing Illustrated by America's Cup veteran Tom Ehman, American Magic's Executive Director Terry Hutchinson confirmed that their AC75 leaves Pensacola in early this week, bound for New Zealand.
Auckland, the America's Cup venue, currently has its borders closed to all but New Zealand nationals. Nine of the American Magic team hold NZ passports, including skipper Dean Barker, and are either in New Zealand in a government supervised quarantine facility, or are about to embark for home.
Terry Hutchinson, Executive Director of the New York Yacht Club's team, explained that for insurance reasons, the team could not stay past May in Pensacola, Florida, because of the onset of the hurricane season.
He said it was a "pivotal decision" to send the AC75 to New Zealand, rather than return to their main base in Newport, RI.
Packing an AC75, and 32 containers of gear back to their principal base in Newport RI would mean the take the team until the third week of June to get operational again. "That's compressing the schedule and really pushing hard," Hutchinson explained.
"We took the opportunity [to go straight to Auckland] even though it is 32-33 days on a ship. We have a ship showing up late Sunday night (May 10), the and Defiant and all the associated gear will be loaded Monday and Tuesday, and away we go."
"It is the first time in this program that we have lost control of our assets. That, by nature, makes me feel very uneasy because, at that point, we are relying on others to dictate our future."
"When I spoke to Dalts a couple of days ago I said we are racing to see whose AC75 gets there first. Right now our landing time is from June 7-12, so I'd say there's a chance we will beat the kiwis," Hutchinson said.
"After the cancellation of both ACWS events, the competitive instinct was to go sailing again. But I believe the right thing was to prioritise the health and safety of the entire team. We also wanted to prioritise the health and safety of the Pensacola community."
"We chose smart and careful over pure ambition, and we're trusting that over time that it will all balance itself out," he added.
Time for a crucial campaign decision
Defiant's departure for Auckland puts a bookend on a very complex sequence of events. "These are definitely nervous times", Hutchinson explained. "I would go as far as to say that the success or failure of our program lies purely in the next eight or nine weeks."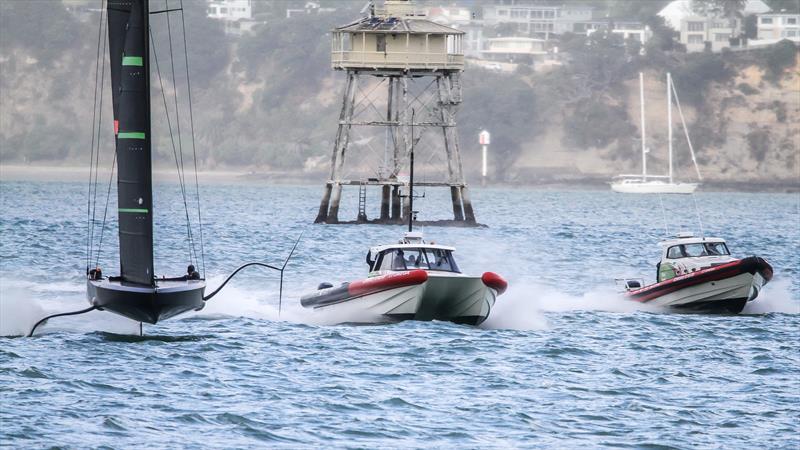 Emirates Team New Zealand resume their test program after being shut down for five weeks – May 7, 2020 – Waitemata Harbour – photo © Richard Gladwell / Sail-World.com
In mid-March, American Magic was already packed in readiness for the voyage to Cagliari, Italy for the first America's Cup World Series.
But the worsening pandemic in Italy triggered American Magic on March 5, to seek a declaration from the Arbitration Panel, that a Force Majeure situation existed and they should be excused from the Protocol requirement to compete in Sardinia.
A day earlier Emirates Team NZ had released a curious five-second long video on social media, showing their AC75 suspended from a floating crane in Singapore – heading for somewhere – but where?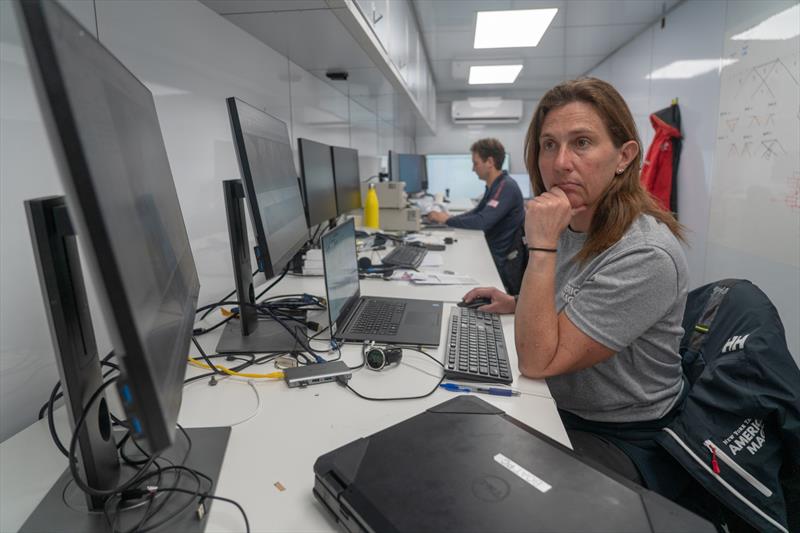 American Magic's AC75 Defiant has substantial design and testing operations in Pensacola, Florida. – photo © Sam Greenfield
Almost ten days later, on March 13, and before the Arb Panel could make a ruling, CoR36, as event organisers called off the America's Cup World Series regatta in Cagliari.
That decision came just in time for American Magic to avoid sending their AC75 on a fool's errand with their AC75 set to leave Florida on March 16.
But CoR36's decision did not come in time for Emirates Team New Zealand to prevent their AC75 being trans-shipped to Italy – adding another couple of months to Te Aihe's Italian sojourn.
The Arb Panel finally declared ACWS Cagliari to be cancelled on March 18. Emirates Team New Zealand backed that up on March 23, confirming that the second regatta ACWS Portsmouth was also cancelled.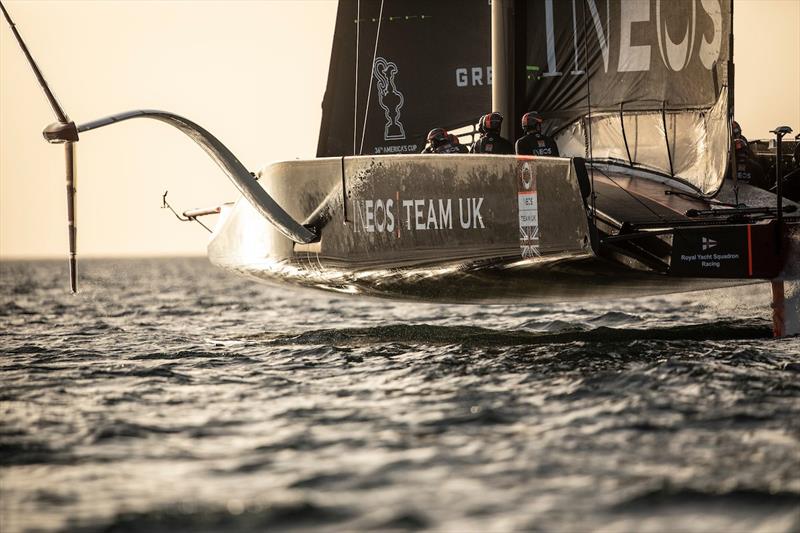 INEOS Team UK training off Cagliari, Sardinia – photo © Lloyd Images / Mark Lloyd
British challenger, INEOS Team UK, who'd been in Cagliari since January, packed up in early March, two months into a planned four-month stint and high-tailed it back to their home base in Portsmouth to regroup.
Luna Rossa stayed put in their operational base at Cagliari, repaired the structural damage to their AC75, fitted electric engines to replace six grinders, and went sailing.
Kiwi set back five weeks by shutdown
A week after the Arbitration Panel decision, New Zealand went into a Level 4 lockdown, the most severe form, on March 25 for five weeks, with only essential services allowed to operate.
ETNZ lost five valuable weeks in the shutdown – apart from designers still able to work in a limited way from home.
At this stage of the America's Cup time lost has an increased significance, due to the lead time required to build new wings and the like which can take many weeks to construct, then have to go onto the race boat and be properly tested and evaluated. Short story is that the teams are fast approaching the end of their design and development runway.
When NZ's Alert Level was lowered, on April 27, allowing all businesses to resume, Emirates Team New Zealand kick-started their America's Cup business – building their AC75 race boat, and running their on the water test program.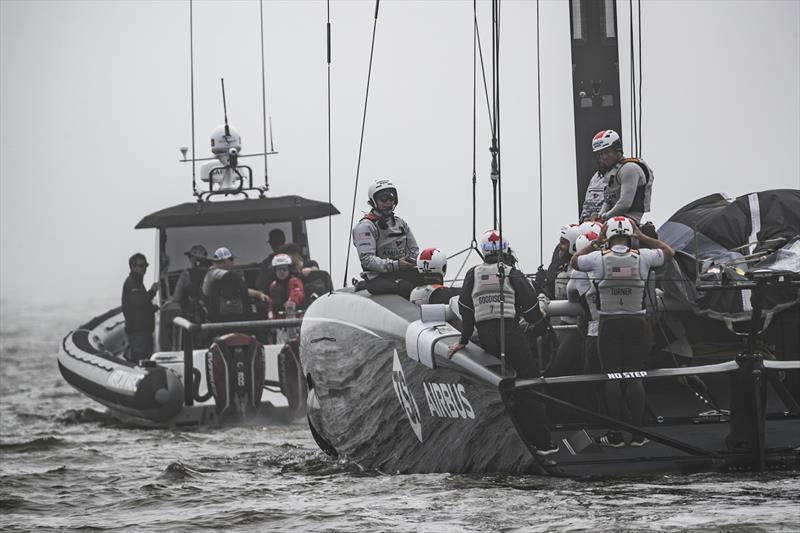 American Magic prepares for a test sailing session – January 2020 – Pensacola, Florida. – photo © Will Ricketson
While the America's Cup defence went on hold, it transpired that all the challengers had at least kept their boat construction programs running in the five weeks during which the lights were out in New Zealand.
For the next six months, life is expected to become a little more straightforward, for all the teams. Clearing NZ's closed border hurdle is still a significant barrier for all challenging teams.
Emirates Team New Zealand has clearly been the team that has been the hardest hit by the events of the last four months. But the upside for the Kiwis is that they should now have a clear run through to the America's Cup Match.
With the postponement of the Tokyo 2020, Emirates Team NZ no longer have the disruption of losing three or four members of the sailing team to Olympic duty. They also have a fully operational base and construction facility at the America's Cup venue – all surrounded by their key suppliers. In Auckland, they have the best setup of any America's Cup team since the trophy left New Zealand in 2003, and arguably in Cup history.
As the challenger who will probably be the first to sail in New Zealand, American Magic will also likely be the first to get their team members through a currently closed border into New Zealand.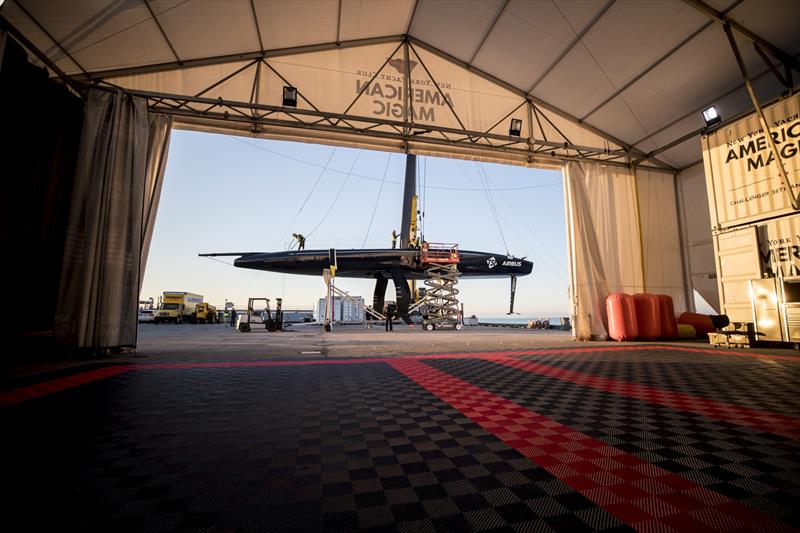 American Magic is expected to operate out of a flexible structure during the America's Cup in Auckland – Pensacola, January 2020 – photo © Will Ricketson
"New Zealand has done a great job, in so many ways they have to lead the world in demonstrating how to fight and virtually eliminate COVID-19 virus," Hutchinson told SailingIllustrated.com
"From an American Magic perspective, we want to help maintain that discipline they've shown and follow the rules that we need to follow to gain access into the country.
"We've had excellent communication within the Immigration Dept, and they are standing firm right now as to the fact that the borders are closed. Which is why I say it is risky, doing what we are doing. There is a bit of a waiting game – which was always going to have to take place for us – and we are choosing to be on the front side of it."
He likened New Zealand's response to the COVID-19 virus to a yacht racing into an approaching storm front, putting a reef or two in, and then shaking those out to resume hard racing.
"In my mind, that is what New Zealand has done. They saw the pandemic coming. They were proactive. They did a good job of squashing and catastrophic impact that the virus could have. Now it is simply a matter of when do you shake the reef out and keep racing hard on the backside of it?"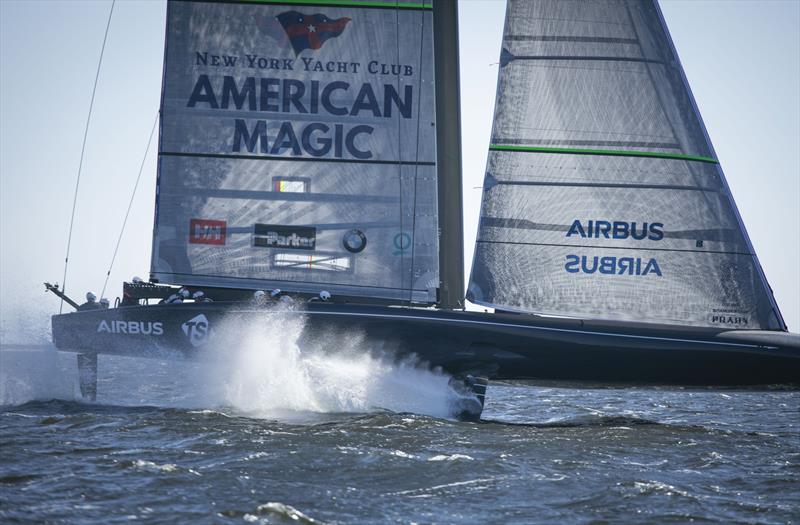 American Magic's AC75 Defiant testing operations in Pensacola, Florida. – photo © Clarke/American Magic
Advance party sent by American Magic
Of their 138 strong team, American Magic has nine NZ citizens, who are either in en route or are already in New Zealand, and as returning NZ nationals, are exempt from the closed border restrictions.
Hutchinson says they are also working with a group of Kiwi sailors to help their New Zealand operation. "We have guys in New Zealand who are great previous team members [with the Doug de Vos led Bella Mente Maxi 72 program], and they are keen and eager to help us out. They are on the ground and can help us."
"Those team members that do go into 14-day quarantine will have to follow the guidelines that are in place for New Zealand."
"Our base area is being prepared to accept the arrival of containers and Defiant – but that is anything from 26-32 days from now. So there is plenty of time for all that to happen."
"The quarantine is a logical part of the process. We will get our NZ citizen crew members through it and allow them to do the initial work."
"From the communications we have had with the NZ Immigration Minister, it is clear that exemptions are made for health officials and those who can help manage and maintain the safety of the NZ community. But outside that – Standby."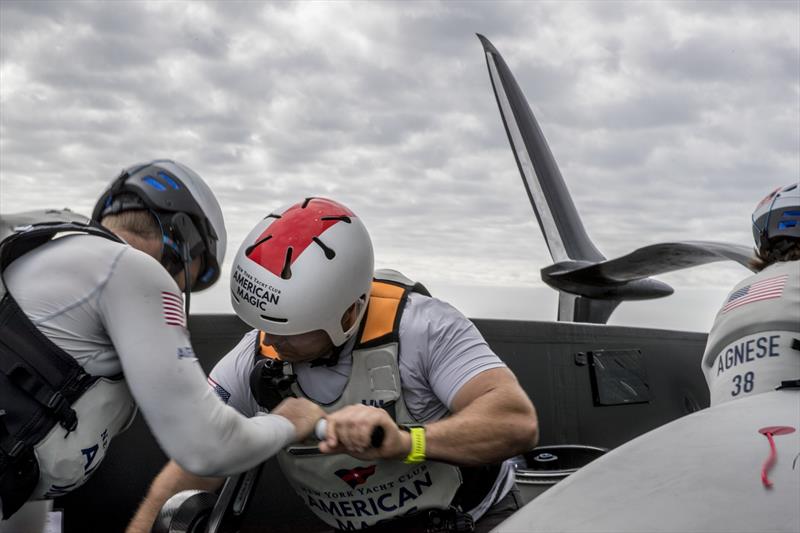 American Magic's AC75 Defiant testing operations in Pensacola, Florida. – photo © Will Ricketson
"We're all excited at the prospect of getting New Zealand, and integrate in a safe and smart manner into the Auckland community. We're excited because that is where the competition is and we want to go and develop Defiant in an appropriate way.
"I completely understand and respect the process that is taking place in New Zealand. Prime Minister Ardern has done a great job of making difficult decisions.
"Our first deployment is a team of 55 people and their family members. You're not going to find a more motivated group to adhere to the guidelines that have been set for us," Hutchinson told SailingIllustrated.
"If we have to go into a 14-day quarantine, let us know where we to go to, and how we can help accommodate that.
"Given that we are not New Zealand citizens, it doesn't seem fair that the NZ Government has to cover [the quarantine cost] for American Magic. I expect that we are going to have to take that on, and we happily do so."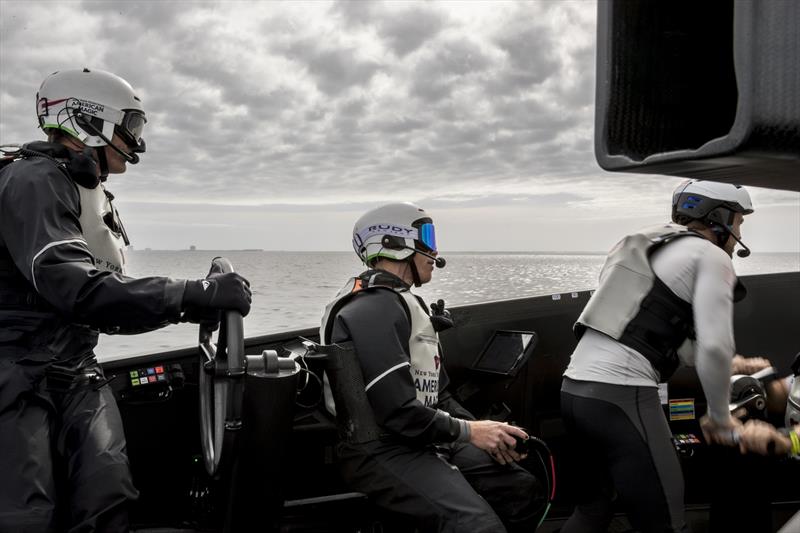 American Magic's AC75 Defiant testing operations in Pensacola, Florida. – photo © Will Ricketson
To view the full interview on SailingIllustrated.com click here
by Richard Gladwell, Sail-World NZ/SailingIllustrated