After a somewhat less than perfect regatta last month in Puerto Sherry and a seventh place overall, 2018 52 Super Series champions Quantum Racing restored their winning mojo today in Portugal when they sailed to a second and a first in classic Cascais conditions to lead the Cascais 52 Super Series Sailing Week.
Second behind Provezza in the first race, which was contested in 17-22kts of NW'ly breeze, Quantum Racing executed a typical Cascais race winning strategy in the second windward-leeward, starting by the committee boat, tacking right early and leading all the way around the fast, bumpy Cascais track. And on the final downwind, as it to shrug off the pent up frustrations from Puerto Sherry, they more than doubled their lead, surfing away to win by 240 metres from Bronenosec.
Quantum Racing's three-point aggregate sees them three points clear of three boats – Provezza, Bronenosec and Azzurra – after the first day of racing at this renowned high-wind venue where last year they won the Rolex TP52 World Championship.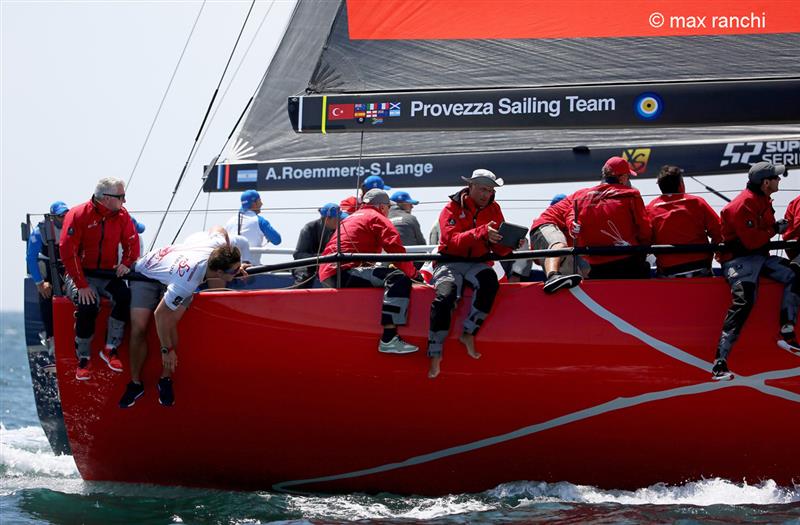 Day 1 of Cascais 52 Super Series Sailing Week – photo © Max Ranchi / www.maxranchi.com
"We like it when it gets kind of crazy here in Cascais, and it was that kind of day. The second start was very hectic with all kinds of action. But once we got our nose out to the right it became fairly straight forward. There are always a lot of lines of pressure and puffs and if you get just in the right place then you can take off and that's what we did," smiled Ed Baird, the Quantum Racing skipper-helm.
After a victory in the first race, seemingly continuing their winning run from Puerto Sherry, Provezza had a technical issue between races – a jib fixing gave way twice – and had to ask for time to repair, going on to fifth in the seven-boat fleet.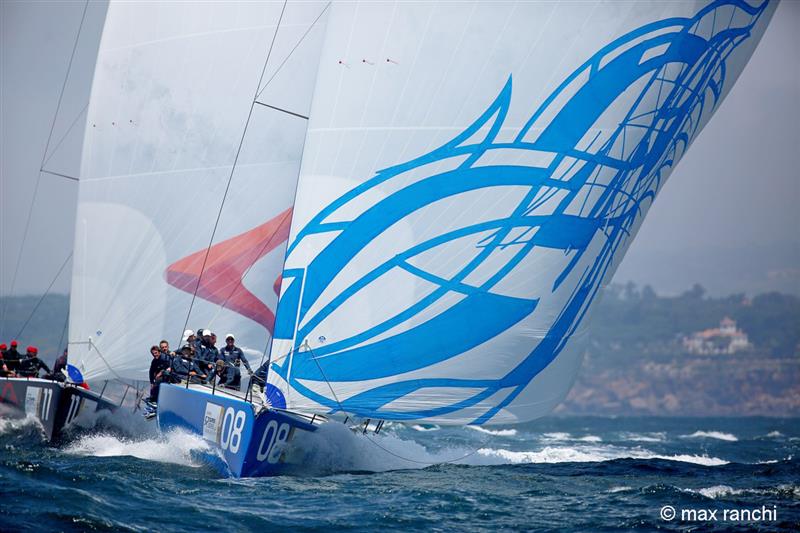 Day 1 of Cascais 52 Super Series Sailing Week – photo © Max Ranchi / www.maxranchi.com
"We had a bit of a hiccup in the pre-start and could not get to the right side of the course enough and then were in good order coming to the bottom mark in second and the kite did not come down as we were expecting it to, then there were a couple of other little problems, by the time we had that sorted out the first four had disappeared," explained Provezza helm John Cutler. "I have never steered a TP52 here in the breeze before so I came with a little bit of trepidation, but it was great."
As ever, in the breeze in Cascais it is always possible to make big gains – and losses. Platoon were over the start line and had to round the boat and recross. Seventh all the way round they gained two on the last run with a come-from-behind charge.
Winds through last year's world championship were more than 20 knots on every day of the regatta and the forecast seems to promise a repeat this year – Day 1 delivered.
Regatta standings after Day 1:
1. Quantum Racing (USA) (Doug DeVos) (2,1) 3 p.
2. Provezza (TUR) (Ergin Imre) (1,5) 6 p.
3. Bronenosec (RUS) (Vladimir Liubomirov) (4,2) 6 p.
4. Azzurra (ARG/ITA) (Alberto/Pablo Roemmers) (3,3) 6 p.
5. Platoon (GER) (Harm Müller-Spreer) (5,4) 9 p.
6. Phoenix 11 (RSA) (Hasso/Tina Plattner) (6,6) 12 p.
7. Alegre (USA/GBR) (Andrés Soriano) (7,7) 14 p.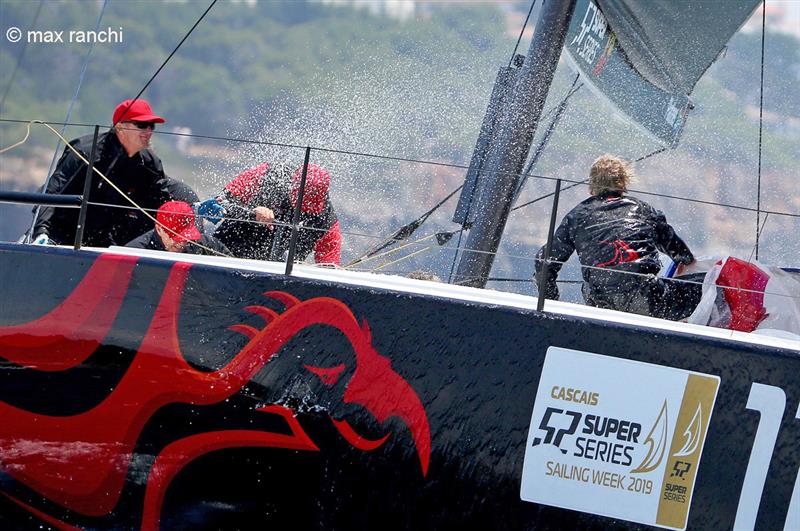 Day 1 of Cascais 52 Super Series Sailing Week – photo © Max Ranchi / www.maxranchi.com
Azzurra is fighting to hold on to her top position at Cascais 52 Super Series Sailing Week (from Giuliano Luzzatto)
With two third place finishes in today's two races, Azzurra is tied for points with Provezza and Bronenosec for second place behind the first placed team, Quantum, provisional leader of the Cascais 52 Super Series after one day of racing. The event will end Saturday, July 20th.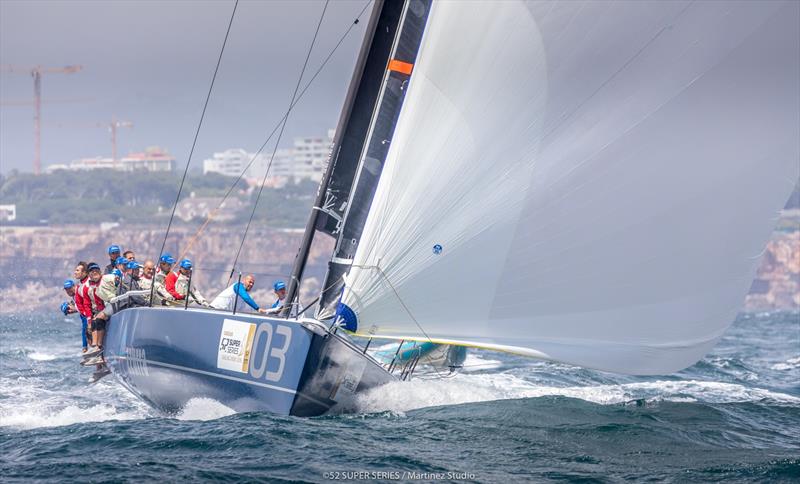 Azzurra – Day 1 – Cascais 52 Super Series Sailing Week – photo © Martinez Studio / 52 Super Series
The weather forecast was right today in Cascais with a classic "Nortada" blowing from the north-northwest at 18 knots that built to 22. With winds expected to be even stronger in the late afternoon, Principal Race Officer Maria Torrijo wisely moved the starting time up an hour as she will tomorrow too. In the day's two races the fleet of 52s put on an excellent show, with close crosses, long surfs and frequent changes of position. Azzurra finished the first race in third place after having dominated the first beat, while in the second race she got the same placement after starting from the back of the fleet. But most importantly, there are three teams tied for points in second place. Tomorrow a clearer picture of the overall results will begin to emerge, but the fleet is expected to stay tight.
Azzurra got off to a good start in race 1: central, with just Provezza on the Committee Boat in a slightly better position. Azzurra tacked to the right side of the course that was better given the morphology of the coastline and arrived at the mark alongside Provezza in a very tight fleet. It was spectacular, but things began to go wrong. Azzurra was covered by Provezza on her gennaker hoist and had to do a gybe set that in the end didn't bring results: the wind was too shifty near the coast on the right side of the course. Second at the gate, Azzurra couldn't get the right hand side that went to Quantum who went on to pass Azzurra along the second beat.
Santiago Lange, Azzurra's tactician, comments: "Two races and two third places: it's going to be a long, hard week sailing in a fleet were all the teams are top level. That's why the most important thing right now is to navigate well, not like today where we have made a couple of mistakes that we can't repeat again. The important thing is that in the second race we were able to recover because it could have been much worse. In race 1 we didn't make a mistake along the first run because they (Provezza) had already passed us at the mark. I would have liked to pass but we couldn't in that situation. The error was along the first beat where we wanted to cover the fleet instead of going to the lay line and there we lost a few important meters. In the second race we got a poor start and coming back from behind was complicated, but at least we were able to recover positions. But Quantum is always there, at the top of the scoreboard."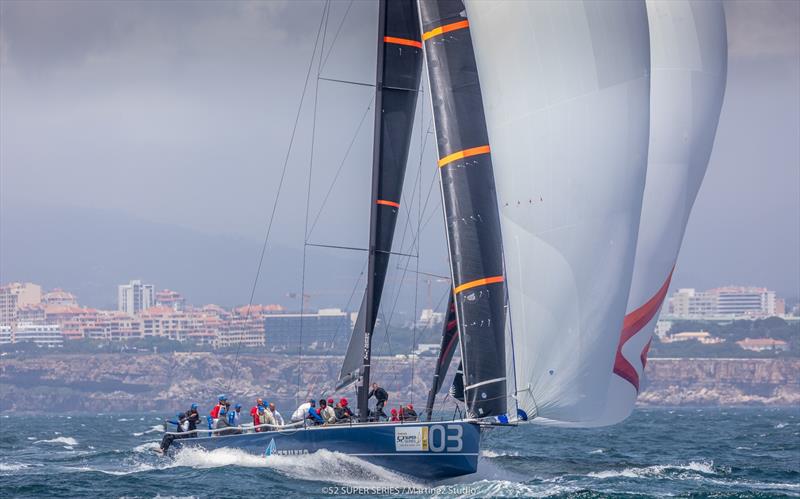 Azzurra – Day 1 – Cascais 52 Super Series Sailing Week – photo © Martinez Studio / 52 Super Series
The second race saw Azzurra struggle at the start, but she managed not to drop too far back from the rest of the fleet. She fought to recover positions right up to a masterpiece along the final run: after rounding the final mark fifth she did a gybe set, this time finding better air than in race one because the course was set farther from the shore. She recovered two positions by passing Provezza and Platoon and finished the race third, just a puff behind Bronenosec.
Skipper Guillermo Parada had these words: "It was an OK day for us, but nothing more. In the first race we wasted a chance to win by putting ourselves into a difficult position and in the second race we didn't get a good start. We felt like another team fouled us, but the umpires didn't so we forged ahead fighting every step of the way, passing a team on every leg until finally on the last run we managed to pass both Provezza and Platoon. We saved ourselves with a third place finish, but the fleet is very tight and we have to be careful of every minimum detail."
by 52 Super Series