Day one of the Farr 40 National Championship: John Calvert-Jones Trophy presented by Hacer Group went to Tom and Alan Quick's Outlaw, the Sydney team's ambitions crystal clear on a breezy Sydney Harbour.
In building nor'easters Outlaw seized three bullets from four races, only Sam Hill's Forty able to slow the Quicks' momentum. "My team was fantastic; it was a pleasure to go sailing today," owner/driver Tom Quick said. "The fleet is very tight."
"Outlaw is beatable but they are the team that makes the least amount of mistakes," Sam Hill said back at his club and the regatta host, the Royal Sydney Yacht Squadron, prior to the late afternoon lawn party. "When it gets shifty and when you have a good tactician like I do [in Finn Alexander] I think Outlaw can be beaten but it will be an uphill battle."
As the seabreeze climbed on Friday March 8, 2019 things started to fall apart for some crews. In race 4, Gordon Ketelbey's Zen carried on well past the bottom gate with headsail issues and the newest to the one-design fleet Jason King's Solymar had an epic kite drag at the same gate. On the downwind approach to the gate Jeff Carter's Edake rounded-up spectacularly as the breeze crept towards 20 knots and the chop built.
Third on the ladder after four races is Rob Pitts' Double Black sailing for both Sandringham and Middle Harbour yacht clubs.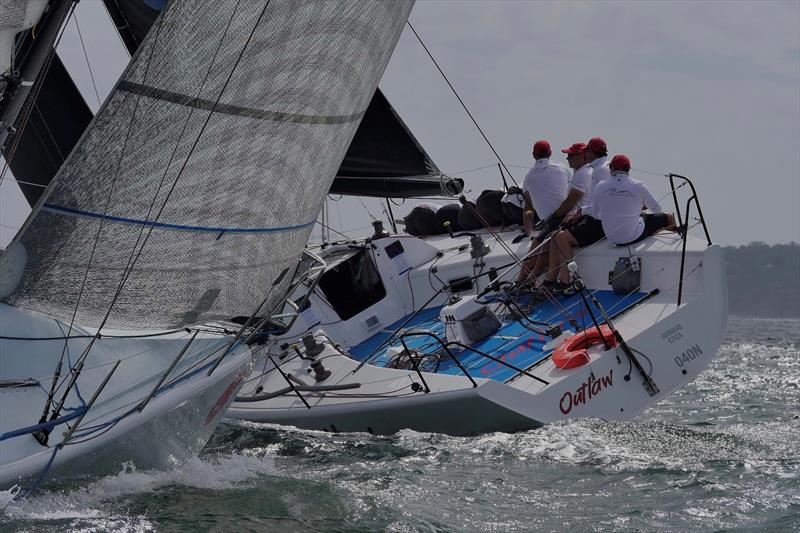 On International Women's Day, Farr 40 Good Form's tactician Carolijn Brouwer, who has plans to become the first woman to drive an America's Cup challenger boat in Auckland in 2021, said "This is the first day of the Farr 40 nationals and it's great it's also International Women's Day. Just looking at our boat we have four ladies and I think every boat at this regatta has at least one sailing it's terrific. It's such close racing, if not everyone's 100% at their job you are going to lose an inch here and there. The little mistakes make the difference. It's a tough fleet the Farr 40s have always been a tough fleet," the international sailor added.
Tomorrow the fleet of nine head offshore to either the Macquarie or Manly circle in southerly winds 15-20 knots and on Sunday March 10 nor'easters are due back on the Sydney Harbour track for the final four races.
Racing will commence at 11am daily over the weekend and on Sunday afternoon the 2018-19 national champion will be crowned at the host club.
Results after Day 1:
| Pos | Yacht Name | Skipper | R1 | R2 | R3 | R4 | Pts |
| --- | --- | --- | --- | --- | --- | --- | --- |
| 1 | Outlaw (AUS040) | Tom & Alan Quick | 1 | 2 | 1 | 1 | 5 |
| 2 | Forty (8001) | Sam Hill | 4 | 1 | 2 | 4 | 11 |
| 3 | Double Black (SM2008) | Rob Pitts | 3 | 4 | 4 | 2 | 13 |
| 4 | Nutcracker (6530) | Rob Davis & Andy Baker | 2 | 5 | 3 | 5 | 15 |
| 5 | Exile (8884) | Rob Reynolds | 6 | 3 | 7 | 3 | 19 |
| 6 | Edake (007) | Jeff Carter | 5 | 6 | 6 | 7 | 24 |
| 7 | Zen (64221) | Gordon Ketelbey | 8 | 7 | 5 | 9 | 29 |
| = | Good Form (5588) | Joe de Kock | 7 | 8 | 8 | 6 | 29 |
| 9 | Solymar (9327) | Jason King | 9 | 9 | 9 | 8 | 35 |
by Lisa Ratcliff / Australian Farr 40 media