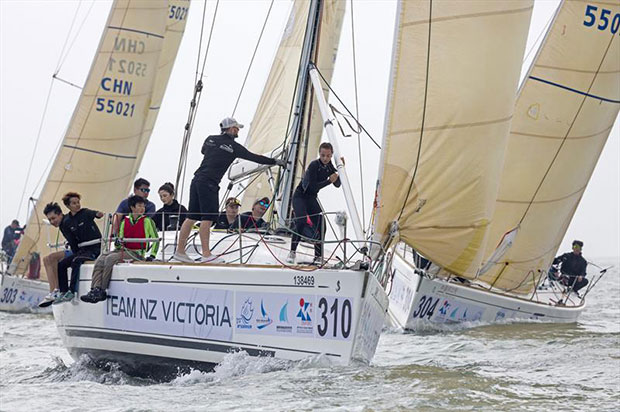 Racing started on time at 10.00hrs, with a pleasant 10 kts of breeze from 020 degrees and flat water. Sunshine would have been nice, but you can't have everything.
Wind strength dropped gradually throughout the day, ending up at a scant 4 kts. And for the second lap of the last race the breeze had shifted so far right that boats were fetching the top mark easily on starboard, and then running back down, no gybes, on port after a gybe-set. A proper soldier's course.
In the meantime it was a day of close crosses, crowded mark roundings, and tight finishes. Watching the racing unfold, it is very apparent that everyone is just getting better. By the end of tomorrow the training will be over and it'll be time to start a regatta! There were of course exceptions: Team Péan sailed an absolute text book third race, finishing comfortably in what looked almost like 'cruising mode' and a long way in front of the opposition. RHKYC Sharks finished second in the first race of the day, and looked set for a repeat in the third, arriving at the first top rounding in second. But there was tide on the windward mark, and Sharks was forced down and into contact with the pin. The young RHKYC sailors exonerated themselves with a re-rounding, and found themselves facing the rest of the division incoming on starboard. In a compact fleet it is easy to go from second to last in a heartbeat.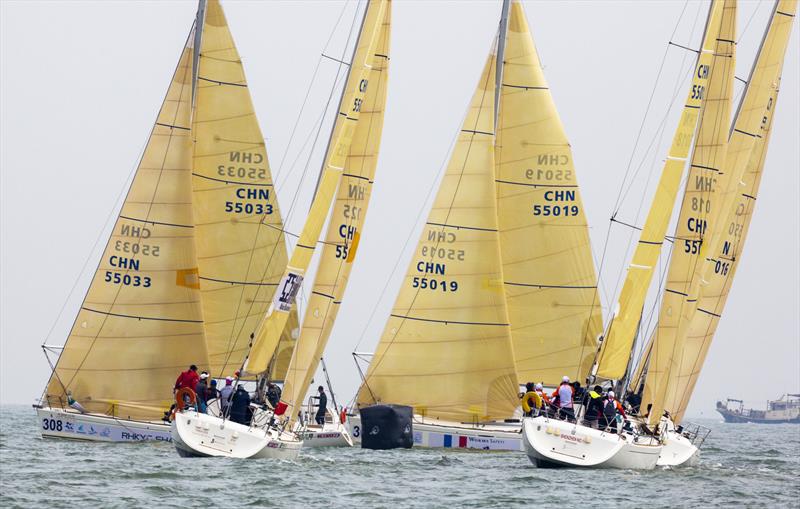 Once again, Macau Sugram Seamo led the IRC division round the race course from start to finish. In today's first race she made the numbers count and finished up with a win in addition to line honours. Seamo, along with Team Wink (the Beneteau 40.7 in the 'wrong' division) and the Italia 9.98 Blu, have got the IRC podium stitched up between them. It's just a question of the finishing order.
Tomorrow closes out this event, with racing during the day and a Closing Banquet and Overall Prizegiving to finish. Weather forecasts indicate sailable breeze from the north east. Everyone keep the fingers crossed for one more day's racing. And some sunshine, please!
Standing by on 72.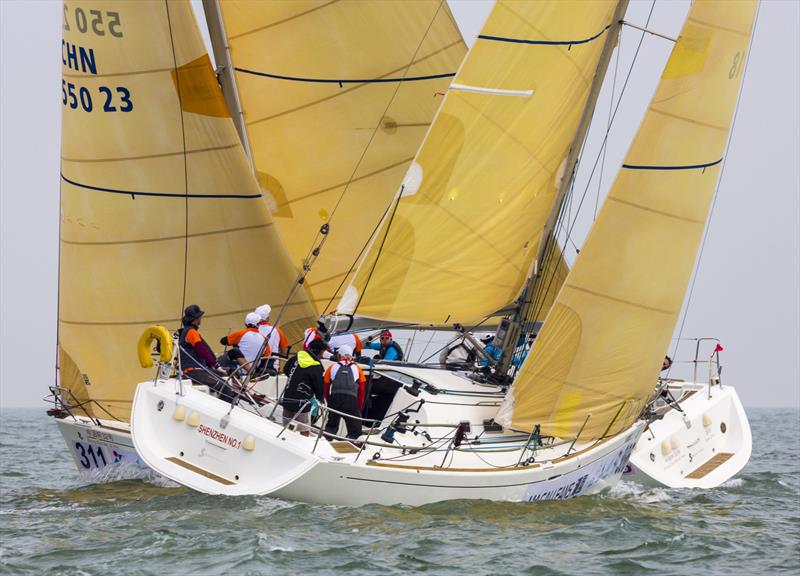 Another close cross. Macau Fans. 2020 Guangdong-Hong Kong-Macao Greater Bay Area Cup Regatta & Macao Cup International Regatta. – photo © Guy Nowell
Short Results: Beneteau 40.7 1. Team Péan 1,3,1,5,2,1 (8) 2. Vivat Sailing Team 2,6,3,3,1,5 (14) 3. Team Windy 9,1,2,4,5,3 (15)
Beneteau 40.7 OD 1. Team Wink 1,OCS,1,3,2,1 (8) 2. Blu 3,1,3,2,1,4 (10) 3. Macau Sugram Seamo 2,2,6,1,3,2 (10)
Hobie 16 International Invitational 1. Vongtim & Vongtim 2,1,2,1,3,3,1,3,1 (14) 2. Koonsoo & Minjae 1,2,4,3,6,4,4,1,2 (21) 3. Mahawichean & Chavasilp 5,7,3,5,2,1,2,6,7 (31) Full results: http://www.macaoregatta.com/en/result2020
All other information: https://www.macaoregatta.com
Official Race Reports: http://www.macaoregatta.com/en/news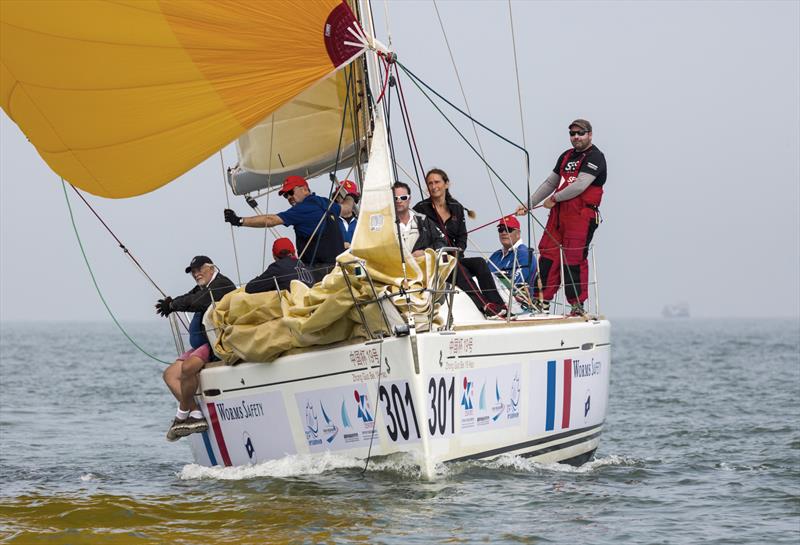 Team Péan 'almost in cruising mode'. 2020 Guangdong-Hong Kong-Macao Greater Bay Area Cup Regatta & Macao Cup International Regatta. – photo © Guy Nowell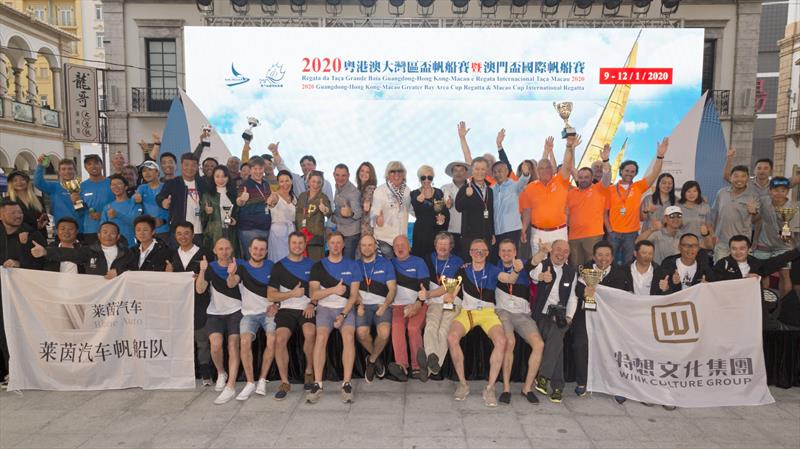 Every one a winner (resprise)! 2020 Guangdong-Hong Kong-Macao Greater Bay Area Cup Regatta & Macao Cup International Regatta. – photo © Guy Nowell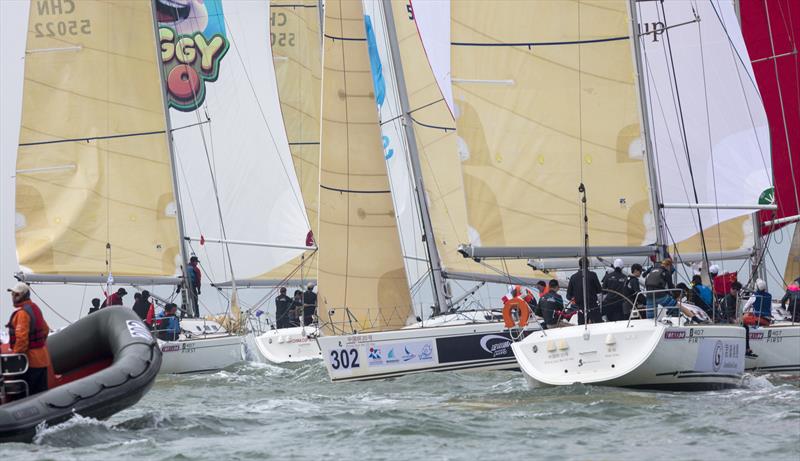 That's a lot of traffic! 2020 Guangdong-Hong Kong-Macao Greater Bay Area Cup Regatta & Macao Cup International Regatta. – photo © Guy Nowell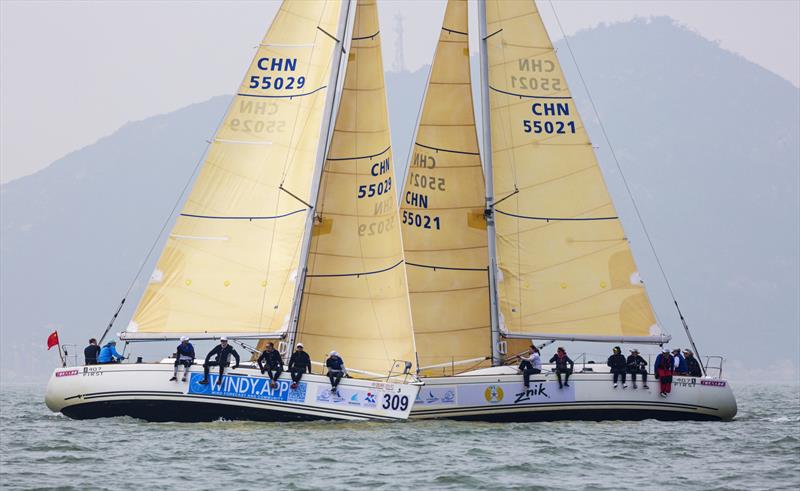 Close criss-cross. Team Windy, Team Vivat. 2020 Guangdong-Hong Kong-Macao Greater Bay Area Cup Regatta & Macao Cup International Regatta. – photo © Guy Nowell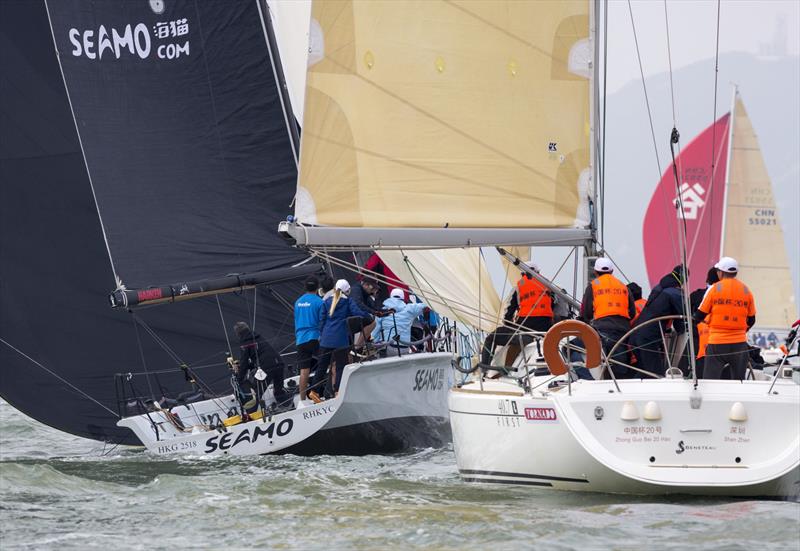 Macao Sugram Seamo looking for a space. 2020 Guangdong-Hong Kong-Macao Greater Bay Area Cup Regatta & Macao Cup International Regatta. – photo © Guy Nowell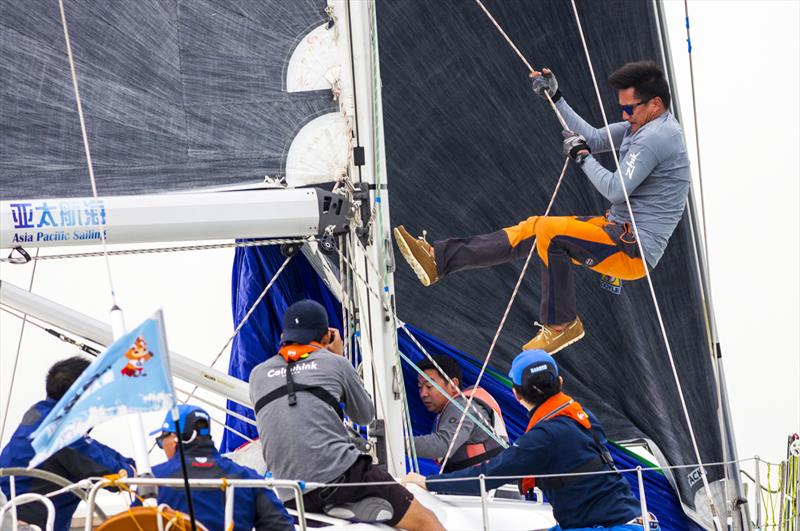 High energy kite hoist. 2020 Guangdong-Hong Kong-Macao Greater Bay Area Cup Regatta & Macao Cup International Regatta. – photo © Guy Nowell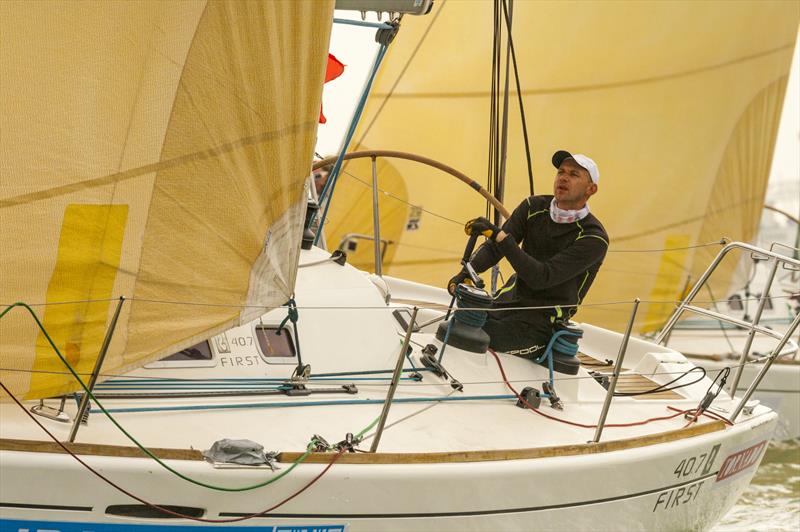 Don't look back… 2020 Guangdong-Hong Kong-Macao Greater Bay Area Cup Regatta & Macao Cup International Regatta. – photo © Guy Nowell
by Guy Nowell