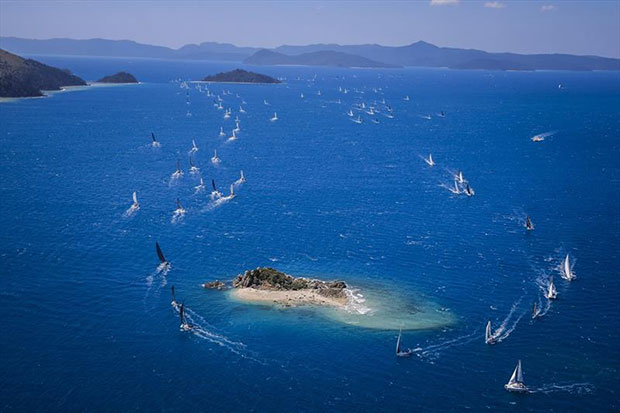 Within two hours of the Notice of Race for Hamilton Island Race Week 2020 being posted, the first entry had been lodged.
And, for the second consecutive year, the yacht with that honour was David Bell's Bavaria 39, Four Bells, out of Sydney's Royal Prince Alfred Yacht Club.
At the same time, a high-profile individual from within the Australian boating industry, who plans to be at the 37th staging of Race Week, is confronted by a dilemma: big boat or small/new or old?
Bill Barry-Cotter, who heads the Maritimo luxury motor yacht business based on the Gold Coast, made an impressive return to offshore racing in the recent Rolex Sydney Hobart race as owner of the superbly restored, 114-year-old ketch, Katwinchar. Unfortunately he couldn't be aboard the yacht for the race for medical reasons at the time, but he was in Hobart for the celebrations that came with his yacht winning the Grand Veteran's Division, beating such famous names as Love & War, Fidelis and Kialoa II.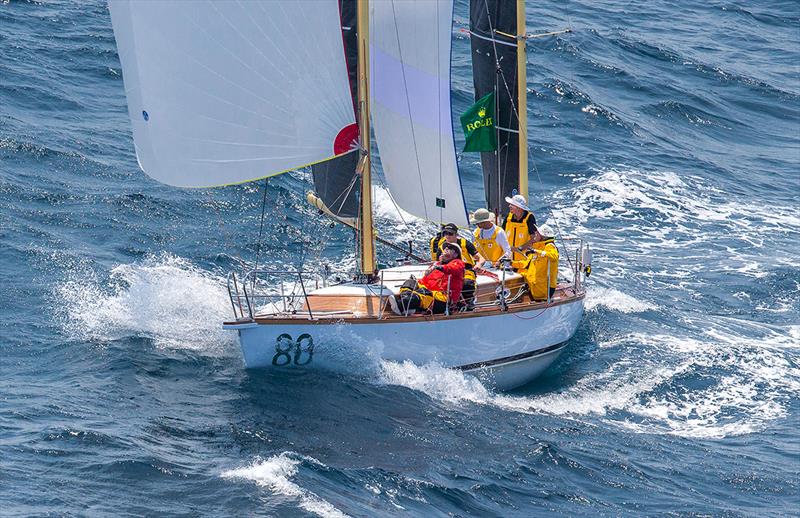 The tiny ketch, Katwinchar, heads south from Sydney soon after the start of the Rolex Sydney Hobart race in December. It may well make an appearance at Hamilton Island Race Week. – photo © Crosbie Lorimer – Bow Caddy Media
"The excitement and celebrations that came with Katwinchar's result in the Hobart race was enough for me to get the ocean racing bug after a 44-year hiatus," Barry-Cotter said this week. "The crew and I quickly decided that Hamilton Island Race Week would be our next big campaign – maybe with the Brisbane to Hamilton Island race as a curtain raiser. However, in the last few weeks I realised the racing bug was much bigger than Katwinchar, so I am now considering buying a more racing oriented yacht. Whatever the outcome, Hamilton Island Race Week 2020 is on our agenda – old boat or new, large or small."
For David Bell, this will be his ninth Hamilton Island Race Week. "We usually go every second year, but we changed that for this year's regatta," Bell said. "I decided to leave Four Bells at Hamilton Island after last year's Race Week so we could fly there on a regular basis and cruise the Whitsundays. It's been a delightful experience in an unsurpassed environment."
 Cruising Division yachts glide away from Hamilton Island and head for the Whitsunday Passage. © Craig Greenhill – Salty Dingo
"Race Week is a great annual reunion for the Four Bells crew," Bell said. "We love the racing as much as being back on shore for the fun times each afternoon. It's like schoolies for middle-aged men and women. "I don't think you'd find a better regatta anywhere in the world. It is just fantastic. The destination and the scenery are superb."
The 2019 Hamilton Island Race Week attracted a fleet of 234 from across Australia and overseas – the second largest in the event's history. The record fleet came in 2016 with 253 entries.
Hamilton Island Race Week has an impressive history. It was established following Australia's remarkable victory in the America's Cup in Newport, Rhode Island, in 1983. The inaugural regatta, staged in April 1984, attracted an outstanding fleet of 92 yachts from all points across Australia, including Perth.
Special accommodation packages are available now. The options include everything from 3-star to 6-star hotels as well as a range of self-catering holiday homes, which are a great option for crews. Book at www.hamiltonisland.com.au/sports-events/hamilton-island-race-week/hot-deals and get your pick of the houses available over these popular dates.
The Notice of Race and all details relating to Hamilton Island Race Week 2020 are on the website.
Hamilton Island Race Week caters for the full spectrum of monohull and multihull yachts: from trailables to supermaxis, cruising yachts and charter boats.
For entry and NOR, click here.
For more follow Facebook: www.facebook.com/raceweek and Instagram @hamiltonislandraceweek.
by Rob Mundle