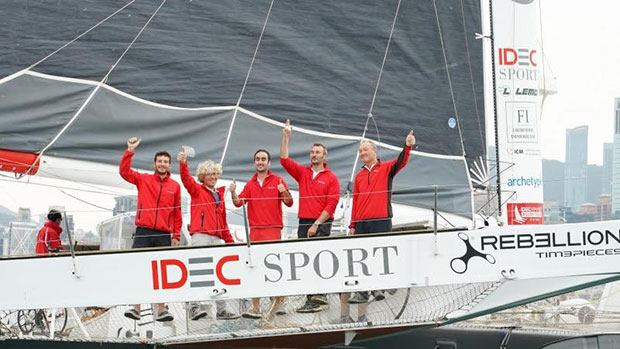 Francis Joyon and the crew of the IDEC SPORT maxi trimaran are expected to cross the finishing line for the Tea Route between Hong Kong and London tomorrow morning (Wednesday) between 7 and 9 a.m.
After 32 days at sea, and having sailed almost 16,000 miles out on the water averaging almost 21 knots, Joyon and his crew are set to shatter the record held since 2018 by the Italian crew of the trimaran Maserati skippered by Giovanni Soldini by over four days. The reference time they set was 36 days, 2 hours, 37 minutes and 12 seconds.
But before celebrating their victory as they pass under the QE II Bridge over the Thames, Francis and his men are going to have to deal with a series of difficulties today and tonight, starting with the fact that the wind has veered due west forcing them to tack downwind up and down across the Channel sometimes getting close to the coast of Cornwall and Southern England and sometimes approaching the French coast.
Out of energy
Later tonight they will approach the Eastern coast of England and the IDEC SPORT maxi-trimaran will enter a very tricky stretch as they enter the Thames Estuary with all its shipping, buoys and currents… a dangerous area that sailors prefer to navigate in daylight.
Nothing is ever easy for Francis and this time he has run out of fuel and his batteries cannot be charged, so this zone will be particularly risky, as he will be sailing without his AIS and radar… Typical of what we have come to expect during Joyon's adventures, you might say.
The holder of the Jules Verne Trophy and winner of the last Route du Rhum has throughout his career experienced many similar unexpected situations and dealt with them successfully, with his incredible, untiring physical and mental resources making up for the technical deficiencies.
With this Tea Route record, Francis will be bringing to an end an amazing voyage, which began on 19th October 2019, when he set sail from Port Louis in Brittany in the framework of the IDEC SPORT ASIAN TOUR, which has seen the record-breaker sail more than half way around the world and over the past four and a half months add four new records or reference times to his long list of achievements.
by Agence Mer & Media