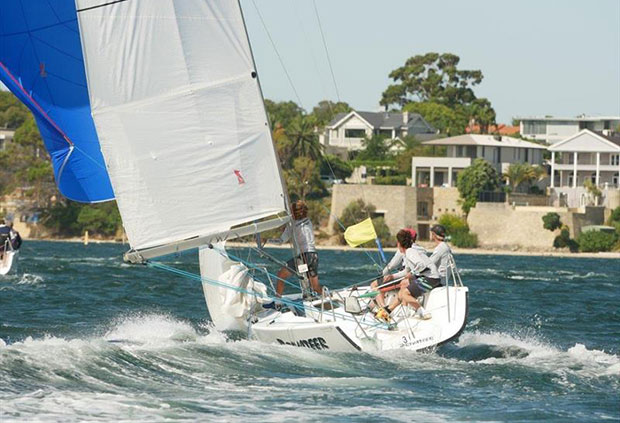 Hosted by Royal Freshwater Bay Yacht Club (RFBYC) the 2020 JESS Match Cup was held from 17 to 19 January.
The annual regatta is a feeder event for local teams to the Warren Jones International Youth Regatta with an invitation available for the top placed eligible skipper. Four had their focus on this prize, Kaiella Taylor, Murray Buchan, Conor Nicholas and Marcello Torre. Nicholas representing South of Perth Yacht Club and the other three teams from the host club. With a total of six teams in the match racing event from RFBYC, it shows the strength of the training programs at the club.
Royal Freshwater Bay Yacht Club rebranded its youth and match racing programs in 2016. The RFBYC Sailing Institute runs on a mentor structure with the more experienced sailors passing their knowledge on to the next generation. Administrator Chelsea Hall says many members have embraced the programs and it provides some excellent opportunities to participate in the sport. Hall comments "In winter we have the Juniors in Frostbites program to introduce young sailors to yachts and working in a team during our winter keelboat racing, they can go through to the Youth Racing Squad to continue this learning in a structured course and then in to the Match Racing Squad". The program expanded to include the Open Summer Match Racing Squad and this has been very popular with youth and adults training together and learning off each other. Past participants come back as mentors to share their knowledge too, this season Ryan Donaldson, Lachy Gilmour and Mark Spearman have been involved as coaches. For the Warren Jones International, Hall adds "Sam Gilmour will be our team coach and we are excited to have three teams in the event".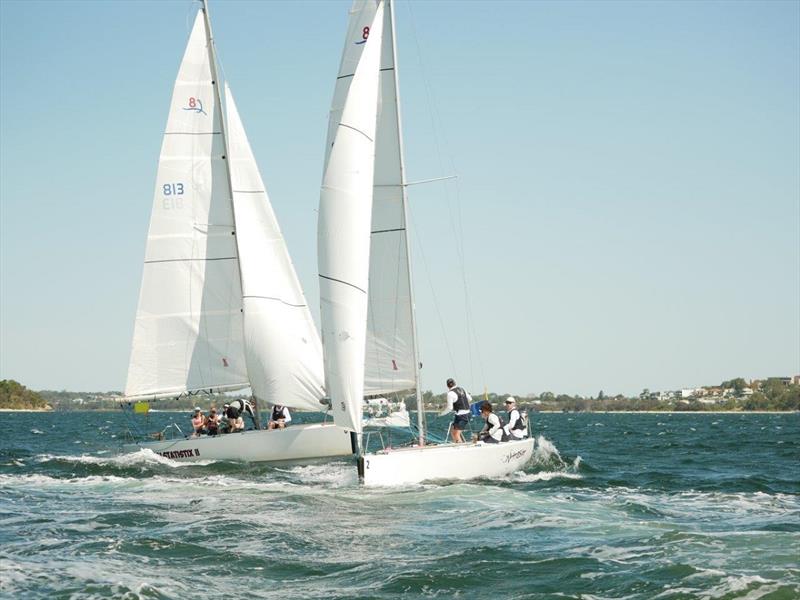 Pre-start racing – JESS Match Cup 2020 © Tom Hodge
The six RFBYC teams in the JESS Match Cup came through these programs and the sailors come from many backgrounds. Outside of match racing, the younger ones are racing Optimist and O'pen Skiffs and others in Lasers, 29ers even Nacra 15 and F18 catamarans. Sandy and her crew race on yachts and she helms a Dragon too. Chelsea says that it is a great experience to sail in a team on a keelboat and learn new skills, it is very different to racing a single-handed dinghy.
Ethan Prieto-Low and Conor Nicholas cruised through to the final series of the JESS Match Cup, Nicholas with a perfect scorecard. Also through to the final series was Marcello Torre with 5 wins and Sandy Anderson with 4. In the Semi Final Series, Nicholas raced Anderson to win 2-0 and Prieto-Low won 2-0 over Torre.
It was first to win 3 matches in the Final Series. Prieto-Low took the first match and Nicolas the next. Perth is known for strong winds and the afternoon session was getting tough. With damage to one of the boats and the breeze strength increasing the decision was made to end the event there. Scores fell back to the Round Robin Series where Nicholas beat Prieto-Low and had won all of his matches. A disappointing end for Ethan and his team.
Organisers of the Warren Jones International confirmed that the qualifying position was awarded to Conor Nicholas the winner of the JESS Match Cup. Representing South of Perth Yacht Club, his team crew of Ryan Sherburn, Liam Seagreen, Kai Coleman, Finn O'Dea and Will Drew went on to contest the Colin Mullins Youth Regatta to continue their preparation for the prestigious event and placed third overall.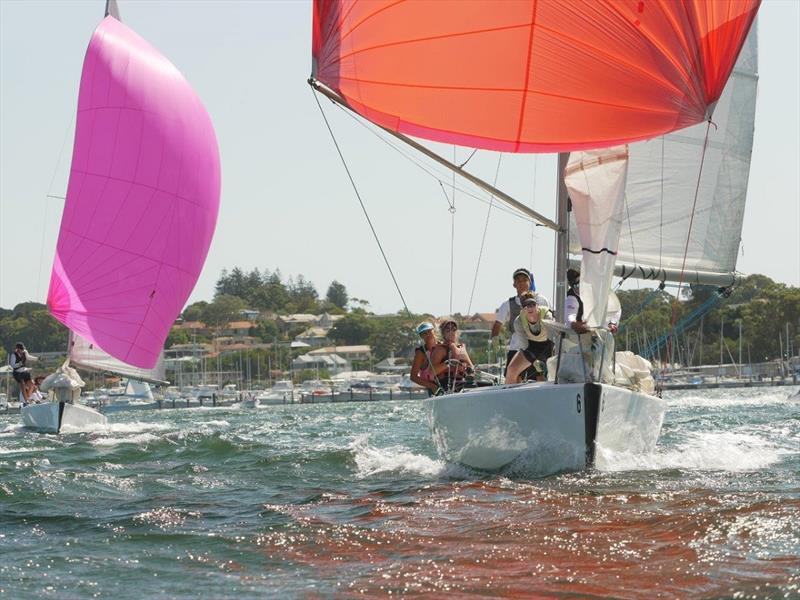 Taylor leads her match – JESS Match Cup 2020 – photo © Tom Hodge
The Royal Perth Yacht Club event was held on Friday 24 January and several interstate and international teams joined in to prepare for next week's racing on the Swan River Sailing Foundation 36 yachts. The final qualifier for the Warren Jones International, there were three local teams left looking for this spot, Taylor, Buchan and Torre from RFBYC. Racing was tight and quick with one round robin and a final series held. Aurélien Pierroz and Tom Grimes battled the best of three finals with the French team placing first overall and the NSW team from the Cruising Yacht Club of Australia in second. The final local qualifying place went to Marcello Torre who placed sixth overall and ahead of Kaiella Taylor and Murray Buchan.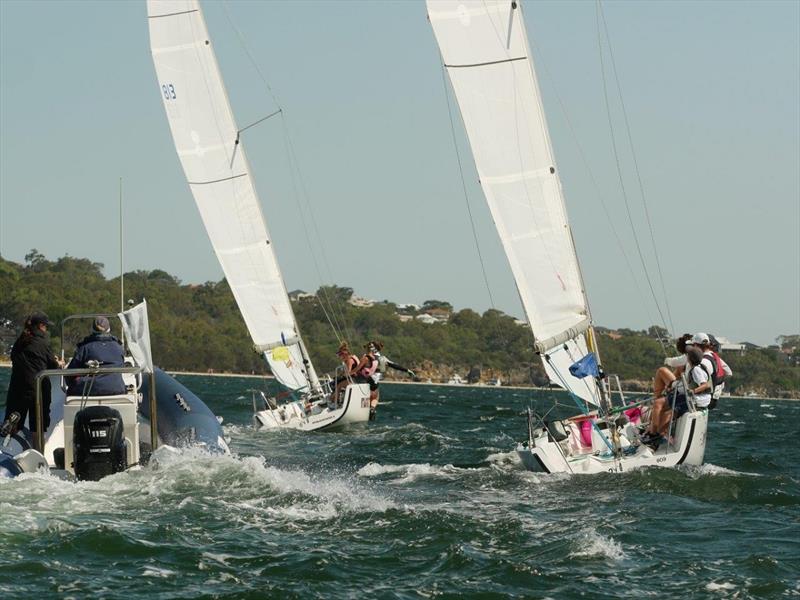 Match racing at the JESS Match Cup – photo © Tom Hodge
From RFBYC, Ethan Prieto-Low and Will Boulden had already been confirmed as entrants for the Warren Jones International and racing will begin at midday on Monday and go through to Friday 31 January.
Royal Freshwater Bay Yacht Club is host club for the 2020 Warren Jones International Youth Regatta. The race area is in Perth waters, directly in front of the City of Perth. Follow the Swan River Sailing event on social media @warrenjonesregatta and listen live to race commentary online.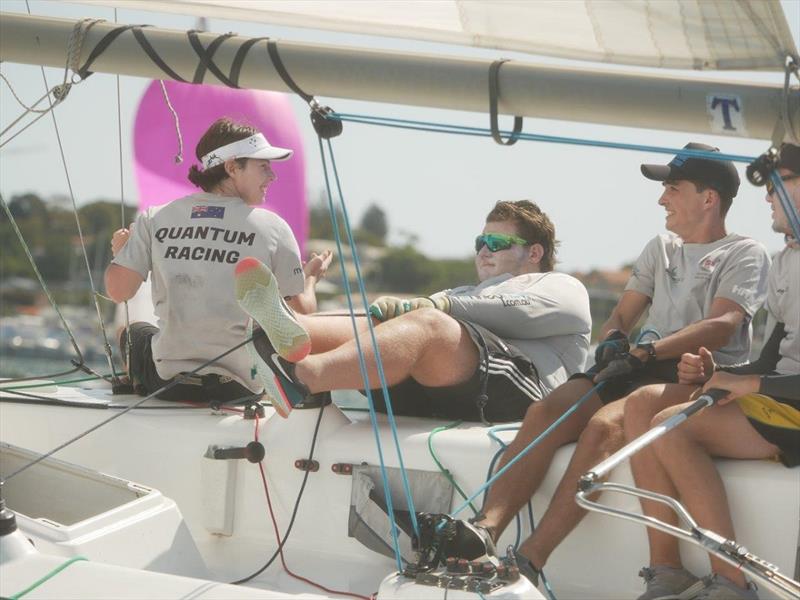 Nicholas with a perfect scorecard – JESS Match Cup 2020 – photo © Tom Hodge
Overall placings for the 2020 JESS Match Cup
Quantum Racing – Skipper: Conor Nicholas (South of Perth Yacht Club)
Calypso Racing – Skipper: Ethan Prieto-Low (Royal Freshwater Bay Yacht Club)
Columbus Racing – Skipper: Marcello Torre (Royal Freshwater Bay Yacht Club)
Team VS – Skipper: Sandy Anderson (Royal Freshwater Bay Yacht Club)
Alectrona Racing – Skipper: Kaiella Taylor (Royal Freshwater Bay Yacht Club)
Australis Match Racing – Skipper: Murray Buchan (Royal Freshwater Bay Yacht Club)
Team Red Lantern – Skipper: Joe Howe (Singapore)
Pitty Racing Team – Skipper: James Pitt (Royal Freshwater Bay Yacht Club)
by JESS Match Cup