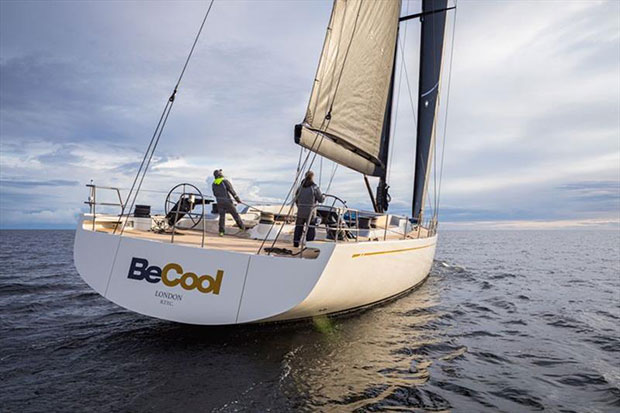 Designed by the experienced and successful Germán Frers, the brand-new 30-metre Swan 98 will redefine high performance cruising by delivering unrivalled comfort, safety and reliability while ocean passage-making at speed.
The elegance and style of Frers' design is currently being made real in Nautor's Swan's state-of- the-art superyacht facility in Pietarsaari, Finland, using the finest materials, cutting-edge build techniques, and the craftsmanship for which Nautor's Swan is renowned the world over.
Within this graceful hull is an interior designed by acclaimed Genovese architect Misa Poggi. There are two interior layouts available (Owner Aft and Owner Forward staterooms plus three guest cabins each with ensuite bathroom) where she has developed four tasteful themes specifically for the Swan 98 project, and each features the finest Italian textiles and leathers to create an ambiance of comfort and luxury, whether relaxing alone or entertaining guests.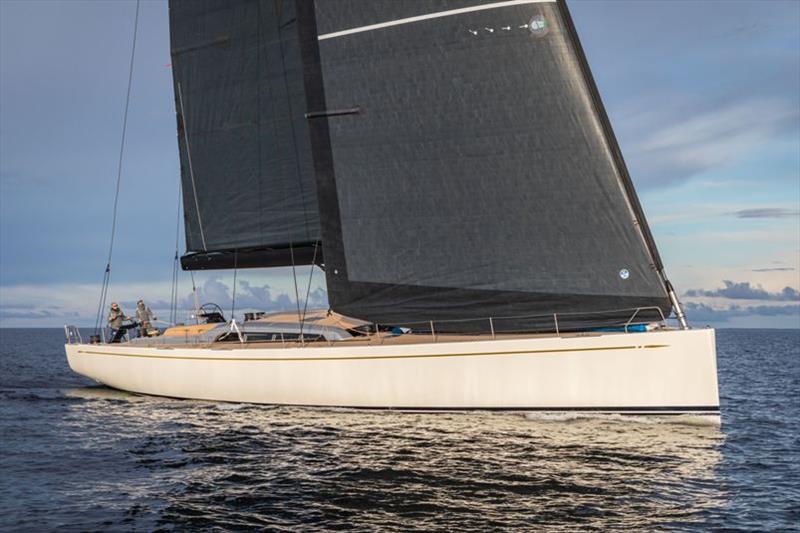 Swan 98 – photo © Nautor's Swan
The standard Swan 98 has a comprehensive specification but there is an extensive list of options that means no two Swan 98s will be the same, each is a semi-custom superyacht reflecting her owner's unique style.
Chief among these is the option of a telescopic keel, which, together with the standard twin rudders, reduces draught from 4.9 to 3.2 metres, opening up a world of shoal-draft lagoons, colourful harbours and remote, unspoiled anchorages without compromising windward performance. Again, its design has been optimised for complete safety and reliability and has the advantage in not intruding into the interior.
The Swan 98 is a 21st Century superyacht, representing the best in contemporary performance cruising yacht design.
Hull – form stability for fast, comfortable sailing
The Swan 98 is constructed, as you would expect, without compromise. Both hull and deck are built using epoxy SPRINT® pre-preg carbon fibre interior and exterior skins on a core of M-grade Corecell foam. This gives the ultimate structural stiffness and rigidity at the lightest possible weight, while at the same time ensuring absolute structural safety and reliability. The hull is laid up in a female mould tooled from the same technology to ensure identical mechanical properties when the hull is carefully cured in a highly advanced oven, installed at Nautor's Swan's new superyacht facility at the beginning of 2018.
From the plumb stem maximising waterline length, the sheerline sweeps gently aft along a clean foredeck to an elegant, low profile coachroof. From there her smooth rocker rises to a flared stern with powerful, dynamic quarters above the waterline. She has been designed to offer the optimum blend of balance and power, and her twin rudders deliver a sense of total control and intimate connection with the sea.
The hull carries almost all of her beam right aft, which delivers excellent form stability when heeled and at the same time creates generous volume below in private cabins and social spaces.
The transom folds down hydraulically to create a teak-decked swim platform and reveal a garage for a tender of 4m.
In terms of systems, the Swan 98 has been designed to enable worldwide cruising without compromise. She has generous tankage for both water and fuel, all easily inspected. Below the raised saloon is a full-beam engine room providing excellent maintenance access to her 279hp Steyr main engine, the generator and other systems.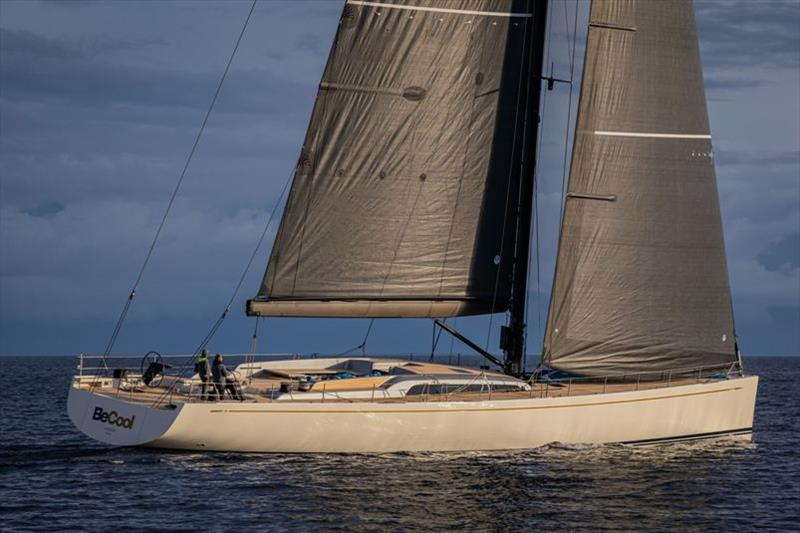 Swan 98 – photo © Nautor's Swan
Deck – dual-purpose spaces for both sailing and relaxing
The deck itself combines the considerable superyacht experience of both Nautor's Swan and Germán Frers, providing dual-purpose spaces for both efficient sailing and resting in style. The spacious open foredeck provides the perfect sun deck while at anchor and space for sail handling while cruising. Aft of the coachroof there is a 'grande' leisure cockpit completely clear of lines that allows owner and guests to relax under way and enjoy the sun, sheltered by a sprayhood that disappears into a coachroof recess when not in use. At anchor this cockpit becomes a social lounge space with versatile deck sofas, the perfect place to relax as the sun sets, and converts again to become an elegant dining area, shaded by an optional bimini. Aft of this is a clear deck space that serves as a sun-lounging area, sheltered by coamings, at anchor, and a line handling space for manouevres when sailing.
Further aft is a second companionway, which provides easy deck access from below for the owner or crew, depending on which interior layout is chosen. Then there are the twin helm positions, from which the skipper can manage all the sail handling as the Swan 98 offers genuine push-button sailing. The anchor is launched and retrieved by means of a hydraulic retracting and folding arm, a design that has proved its reliability and ease of use over many years. This world- girdling performance cruiser has abundant deck stowage both in terms of a spacious forward sail locker and a full-beam aft lazarette.
For those wishing to compete, there is a comprehensive racing package that includes a square-top mainsail with running backstays. The package also includes a double-length bowsprit for fast reaching with powerful masthead gennakers.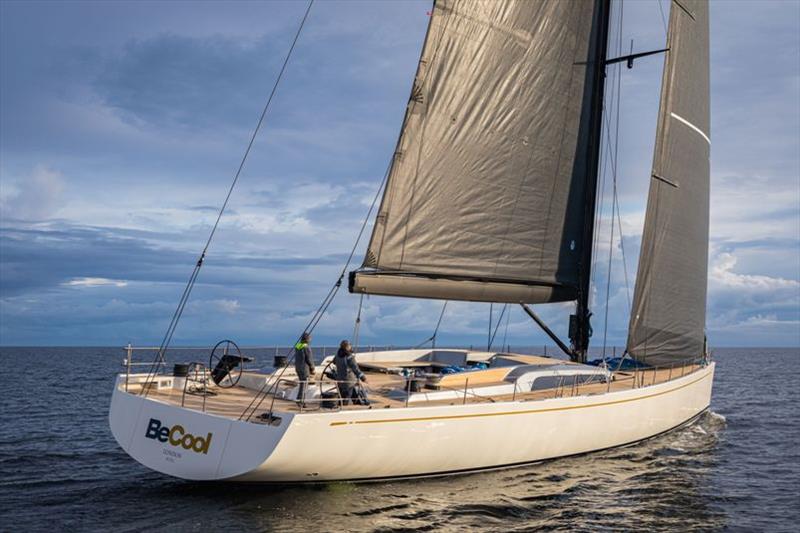 Interiors – a stylish tailor-made design
There are two interior layouts available, each designed for the ultimate in onboard comfort. The full-beam, comprehensively-appointed owner's suite is either forward or aft, and features Misa Poggi's four stylish designs with ensuite facilities and a walk-in wardrobe available in the Owner Aft layout.
"The premise of the project was to consider the genius loci as contact with the sea, an element which demands total respect and has a strongly magical element. The design philosophy is based on the fact that past and future are tradition and innovation that merge together in the idea for the project, without any useless extremism or virtuosity. The fundamental principles are exactitude and method, as well as the unchanging habit of involving craftsmanship, and the use of real, natural and traditional materials. All this contributes to creating aesthetic value which goes beyond fashion and trends, interpreting a Client's dreams and requirements and meeting their need for personalization.". Commented Misa Poggi.
Additionally, there are three ensuite guest cabins, a double and two twins, and two twin crew cabins, also ensuite. In both layouts, for privacy, the galley is close to the crew quarters and provides everything needed for seamless entertaining. At the heart of the yacht, and flooded with natural light from the coachroof above, is the saloon, featuring a lounge area to port and a dining suite to starboard. As a blue water performance cruiser, plentiful stowage is an important requirement and is provided in an unobtrusive way without affecting easy access.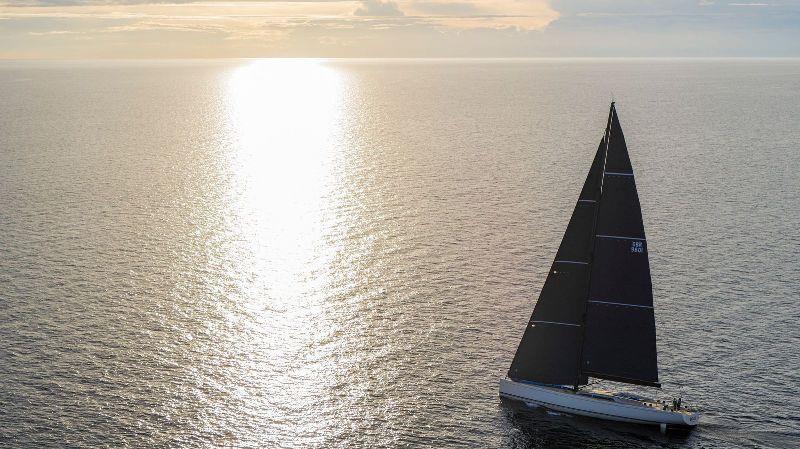 Swan 98 – photo © Nautor's Swan
Focus on the interiors moods
The three Misa Poggi's designs, with specific features, have been developed and all follow the same logic.
Timeless Classical White
The yacht is fitted with natural materials such as linen, cotton and leather in shades of white, naturally light colours, natural brown and putty tones for leather. These blend with light durmast wood, giving the yacht a sophisticated feel and bringing warm, sunny countries to mind.
Traditional Navy
Linens and cottons in navy blue and shaded white blend with various shades of tobacco in fabric and leather. There is also the traditional wood used for sailing, namely natural teak, taking those on board back to the long-established seafaring concept of historical sailing clubs.
Wine Cowes
Natural fabrics such as linen and cotton are featured in different shades of wine, Cowes red and the fundamental shaded white. There is also "drunken" leather and Canaletto walnut, bringing to mind the Admiral's Cup and Fastnet Race triumphs of sports sailing.
Details and furnishings feature the same three colour options:
Tables – adjustable in height and width, in order to have both dining and living positions
Coffee Table wooden coffee table featuring small metal details and a leather surface;
leather or pelt cladded panels with saddler stitching;
vertical elements in natural wood with a stripped finish fitted in strategic areas, and slat-like processing which gives a lighter, more incisive effect.
The combination of these elements creates a natural, enveloping effect whilst concealing the last generation technology that supports the needs and desires of those lucky enough to sail on a Swan 98.
Spirit of Finland
A typical modern Swan interior featuring an under-stated Nordic approach with use of hand-crafted timbers and seaworthy detailing.
Light European oak and walnut floorboards are paired with carefully selected performance fabrics in light natural colours and earthy leather accents for a soft touch. A timeless, light yacht interior from the land of the midnight sun.
Nautor's Swan is delighted to be able to introduce the new Swan 98 to the world, as the very latest in a long line of semi-custom performance cruising superyachts to bear the name. Conceived of passion, born of will, she is a modern masterpiece of design and construction, the perfect blend of performance, elegance and spacious luxury below. She is destined to become a timeless superyacht.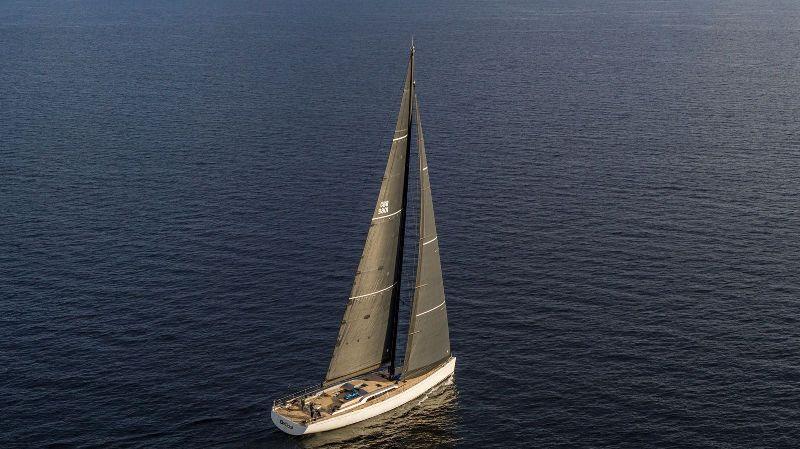 Swan 98 – photo © Nautor's Swan
by ClubSwan