The fleet is heading northeast again, away from the ice exclusion zone, and making miles directly towards the finish in Cape Town.
Team Malizia is leading the way on Thursday as the five IMOCA teams gybed away from the ice exclusion zone along 45-degrees south latitude overnight, turning to race towards the Cape Town finishing line.
Climb on board the leader – Team Malizia – as they battle with their watermaker and work to protect their lead:
There is now less than 900 nautical miles to run but a major obstacle remains – a ridge of high pressure with very light winds – between the fleet and Cape Town.
The wind is forecast to build in from the west, with the trailing boats GUYOT environnement-Team Europe and Biotherm carrying the breeze up to the leaders.
There is a very real possibility of all five teams finding themselves together on final approach to Cape Town, despite being separated by over 400 nautical miles on the rankings at noon UTC today.
In fact, the leaders are already starting to slow, the trailing boats making better speeds and closing the gap.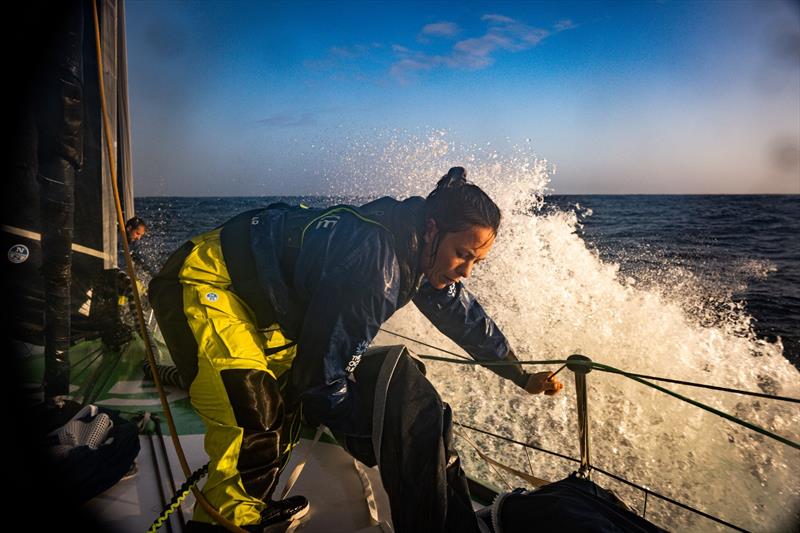 8 February 2023, Leg 2, day 15 onboard Holcim – PRB Team. Susann Beucke moves a sail on the bow © Georgia Schofield | polaRYSE / Holcim – PRB
Charlie Enright, skipper of second-placed 11th Hour Racing Team, currently squeezed between Maliza and third-placed Team Holcim-PRB described the situation.
"(We are shooting) up towards Cape Town, which is a north easterly trajectory and where we will encounter a ridge and the whole fleet will compress and we'll have to be on our toes: it will be first in, first out. We could bob around for a while and anyone could pass anybody. Then we will end this Leg with a gruelling 100 mile coastal race… We've got to stay fresh to the end."
That won't be easy. This has been a gruelling leg already and with the ETA slipping by two or three days, the teams are low on food. They'll have been rationing supplies for some days already, adding to the physical and mental stress of the final days of leg 2.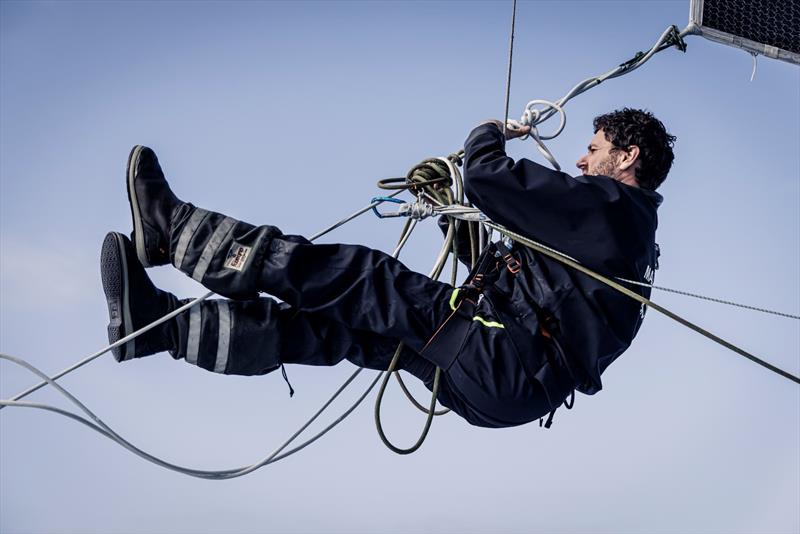 8 February 2023, Leg 2, Day 15 onboard Biotherm. Anthony Marchand cleaning the lazy sheet mess – photo © Anne Beauge / Biotherm
Salvation lies ahead in Cape Town, where a warm welcome awaits at the Ocean Live Park in the V+A Waterfront.
The ETA for Cape Town is Sunday February 12.
Follow the latest positions on the Race Tracker
Check out the coverage on Eurosport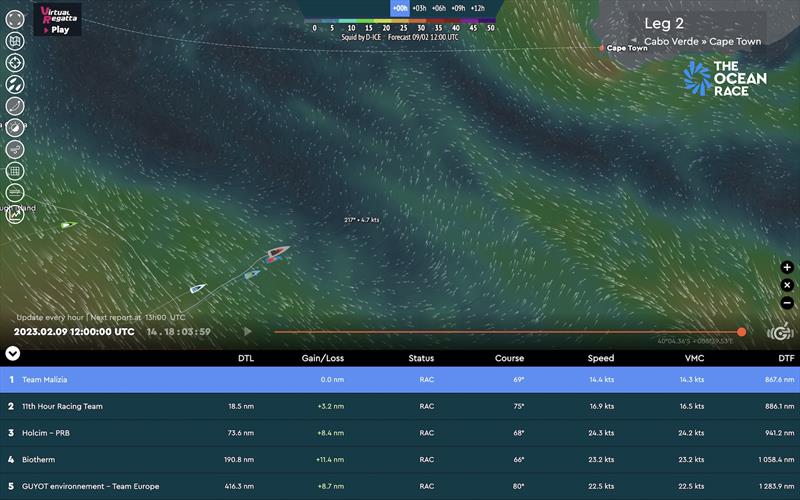 The Ocean Race fleet tracker – photo © The Ocean Race
Leg Two Rankings at 1200 UTC – 9 February 2023:
1. Team Malizia, distance to finish, 867.6 miles
2. 11th Hour Racing Team, distance to lead, 18.5 miles
3. Team Holcim-PRB, distance to lead, 73.6 miles
4. Biotherm, distance to lead, 190.8 miles
5. GUYOT environnement – Team Europe, distance to lead, 416.3 miles
by The Ocean Race