Offshore yacht racing's greatest evolution recently has been the rise of doublehanding.
No better demonstration of this is there than the Royal Ocean Racing Club's 50th Rolex Fastnet Race, which sets sail from Cowes bound for Cherbourg on 22 July: Of the present record-sized IRC fleet (currently exceeding 400 entries) more than one quarter will be racing in the IRC Two-Handed class for the Brunskill Trophy and excludes the 22 IMOCAs, also racing doublehanded (albeit with a media crewman too). This has come a long way since the 20 boats that raced in the class when it was introduced in 2005.
This year the doublehanders are mostly competing in IRC Two or IRC Three, but the longest outside of the IMOCAs is the Verdier-designed JP54 Notre Mediterranée-Ville de Nice raced by Jean-Pierre Dick and Fabien Biron. Dick is a famous four-time Vendée Globe competitor, having finished just off the podium in both the 2012-13 and 2016-17 races. However his track-record is second to none racing doublehanded having twice won the Vendée Globe's doublehanded equivalent, the Barcelona World Race and the doublehanded IMOCA class four times in the Transat Jacques Vabre over 2003-2017.
This year Dick's principle competitive objective is the 50th Rolex Fastnet Race, aboard his boat which is effectively a scaled-down IMOCA, fitted out with a stylish, but otherwise minimal interior.
?Dick has a long association with the Fastnet Race having competed in his first on board Centurion-Musclor as part of the French Admiral's Cup team in 1987, when their Humphreys One Tonner was fifth in the Fastnet Race. He has since competed several times in his IMOCAs and was first home in 2005 before a time penalty relegated his Virbac-Paprec to second. He last competed in 2017, his St-Michel Virbac, again finishing second.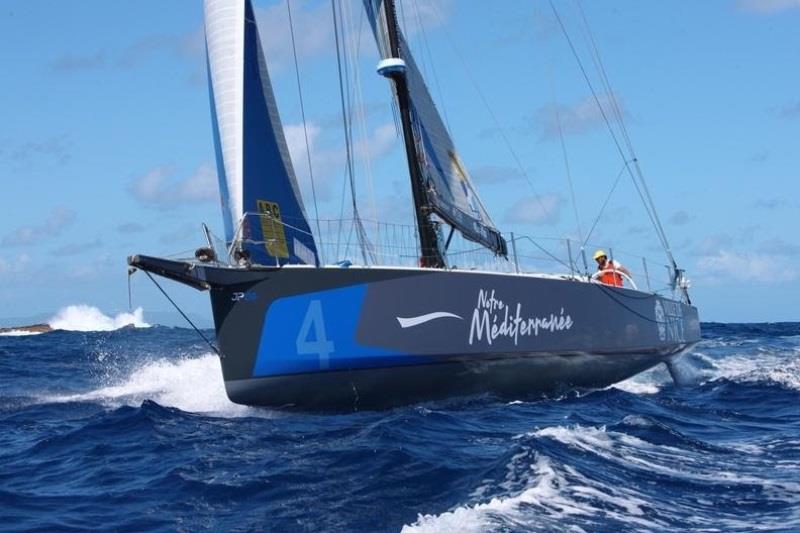 Verdier-designed JP54 Notre Mediterranée-Ville de Nice raced by Jean-Pierre Dick and Fabien Biron – photo © Tim Wright / www.photoaction.com
"The Rolex Fastnet Race is very special," says Dick. "I like the course and its history. For me the Fastnet is a legendary offshore race. The south of England coast is nice and the course is complicated with always a lot of strategy. We have the TSSes where there are not easy decisions and then the Celtic Sea is often difficult."
Dick has not yet done the new course finishing in Cherbourg but he has raced there often before. "I like Cherbourg and the people are nice. I am looking forward to going there." In IRC Zero, he will be up against Dutch duo Jan Kees Lampe and Bart Boosman on their successful Open 40 La Promesse, on which Lampe has won many shorthanded events like the Royal Western YC's two-handed Round Britain and Ireland Race in 2014, plus the Azores and Back Race and the 2009 OSTAR.
The main doublehanded competition in IRC One will be between Beneteau Figaro 2s, while the most intense doublehanded dust-up will be in IRC Two and Three. Here numbers are so significant that there will be many 'races-within-a-race' between various popular models, largely from French manufacturers JPK Composites and Jeanneau.
Over the last decade JPK has dominated, largely thanks to leading Figaro sailor Alexis Loison, who in 2013 with his father Pascal on their JPK 10.10 Night and Day became the Rolex Fastnet Race's first and to date, only, doublehanded outright winner. JPK victories, albeit fully crewed, continued in 2015 with Géry Trentesaux's JPK 10.80 Courrier Du Léon and of Tom Kneen's JPK 11.80 Sunrise in 2021.
Sailing doublehanded the Loisons again won IRC 4 in 2017 before Alexis moved on to the JPK works boat, the 10.30 Léon winning IRC Three outright in 2019 and again in 2021, claiming IRC Two-Handed in both. However recent editions of the race have seen Jeanneau Sun Fasts on the ascent. In 2021 both JPKs and Sun Fasts shared the IRC Two-Handed top 10 equally: Alexis claimed both the IRC Two-Handed top prize and IRC Three overall, ahead of Henry Bomby and Shirley Robertson aboard the Sun Fast 3300 Swell.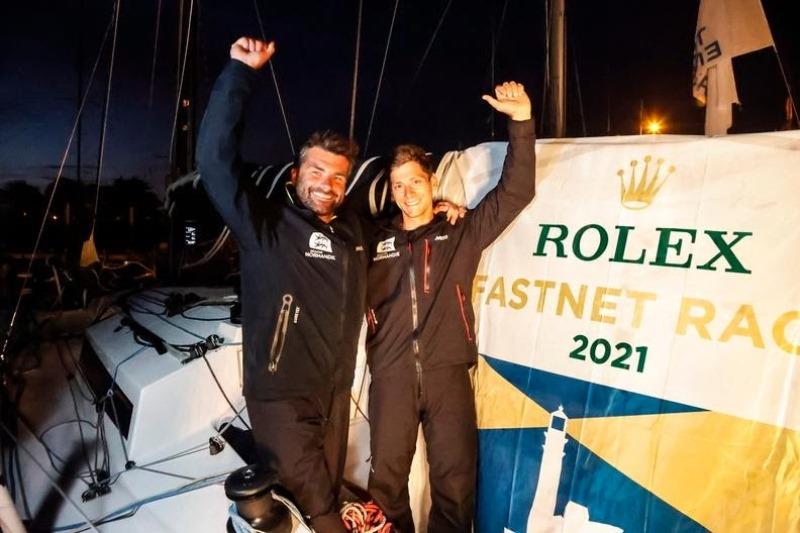 Alexis Loison and Guillaume Pirouelle of Léon, JPK 10.30 won IRC Three in the 2021 race – photo © Paul Wyeth / pwpictures.com
Four JPK 10.80s are racing doublehanded this year with the top competition probably between Ludovic Gerard's Solenn for Pure Ocean, winner of both the Cap Martinique (from La Trinité-sur-Mer to Fort de France, Martinique) and the Drheam Cup (Cherbourg to La Trinité) and Marc Alperovitch and Jerome Huillard on Timeline, which finished third overall in the Union Nationale pour la Course au Large (UNCL)'s Atlantic/Channel two handed championship last year. However they will face Mzungu!, which Sam White has graduated up to after finishing fourth in IRC Two-Handed in the 2021 race aboard his previous Sun Fast 3200 of the same name.
Eight Sun Fast 3600s are competing with an equal mix from both sides of the Channel. Three of the British contingent finished within the top ten in the IRC Two-Handed class of last year's RORC Season's Points Championship, led by the highly successful mixed duo Rob Craigie and Deb Fish on Bellino, who reached the podium in the race's doublehanded class in 2017 and finished second overall in last year's Sevenstar Round Britain and Ireland Race.
Following the back-to-back class victories of Léon, all eyes will again be on the JPK 10.30 line-up which at present numbers nine. Of these François Moriceau's Mary is perhaps the most potent having ended up second in the UNCL's Channel/Atlantic doublehanded championship in 2022. One of the more international groups, the 10.30s include Pneuma, entered by Poland's Andrzej Rozycki and the successful Dutch mixed duo Astrid de Vin and Roeland Franssens on the former's Il Corvo.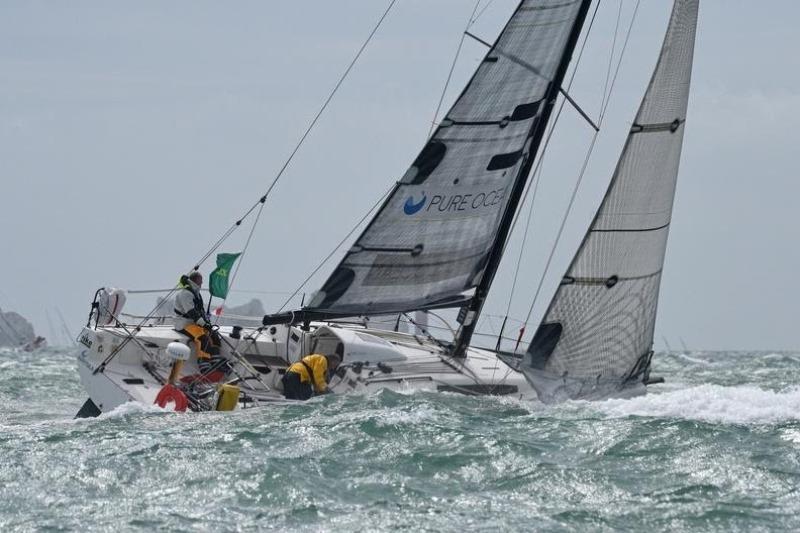 Ludovic Gerard's JPK 10.80 Solenn for Pure Ocean – photo © Rick Tomlinson / www.rick-tomlinson.com
Aside from 10.30s the most hotly contested of these 'races within a race' will be between the Sun Fast 3300s, which also currently number 12. Four of these finished within the top 10 of the IRC Two-Handed class within the 2022 RORC Season's Point Championship, led by Jim and Ellie Driver on Chilli Pepper in third (including their class win in the Morgan Cup). While the other groups are more of a cosmopolitan mix, all but one of the Sun Fast 3300s are British, perhaps largely thanks to the participation of Nigel De Quervain Colley of UK Jeanneau importer Sea Ventures, racing with Matt Smith on Fastrak XII.
After Night and Day's 2013 victory, the JPK 10.10 remains popular with 13 currently entered. In contrast to the Sun Fast 3300, here all but one of the entries is French, but the lone Brit is probably favourite: Jangada sailed by Richard Palmer and his daughter Sophie. One of the most successful IRC offshore campaigns recently, Jangada was RORC Yacht of the Year in both 2020 and 2022, when she won IRC Overall, IRC Three and Two-Handed, the pinnacle of her year being her spectacular victory, not just in the doublehanded class but overall, in the RORC's Sevenstar Round Britain and Ireland Race. Among the French majority, one of the most travelled is certainly Patrick Molitor's Fleury du Sud having competed in the Transquadra in 2014-15 along with the last three editions of the Rolex Fastnet Race coming eighth in IRC Two-Handed class in 2021, behind sistership Ludovic Menahes' sistership Raphael, which was fifth.
Another huge turn-out is the Sun Fast 3200 with currently 11 boats and an even cross-Channel mix. A favourite is Cora, runner up in IRC Two-Handed class last season to Jangada and sixth in class in the 2021 race. Tim Goodhew is returning this year. Having sailed previously with his father Nigel, he competed in his first Rolex Fastnet Race in 2007 and his first doublehanded on their Sigma 38 in 2013. Since 2019 dad has been replaced by sail maker Kelvin Matthews, an arrangement born out of necessity during the pandemic.
This year's race will be Tim's eighth and his fourth doublehanded. Of the huge doublehanded entry he says: "Although I wouldn't have foreseen it when I did my first Fastnet, it doesn't surprise me because of the rapid growth of the doublehanded fleet over the last 10 years, but especially since the pandemic. It is really exciting because there are some very good people, ranging from Olympians down to beginners.
"The majority of the boats are within 30-40 points under IRC – all about 10m long and sailed similarly. In IRC Three alone will be about 70 boats. It is as close as you can get to one design racing – all the boats go similar speeds, so it is very tactical and great fun, really engaging since you get to do everything on board.
"On Cora, we pride ourselves in pushing ourselves to be competitive against the newer designs – that is really rewarding, especially in the lighter winds we've had, when the Sunfast 3300s' water ballast wasn't so useful. Saying that we may get another ridiculously windy Fastnet!"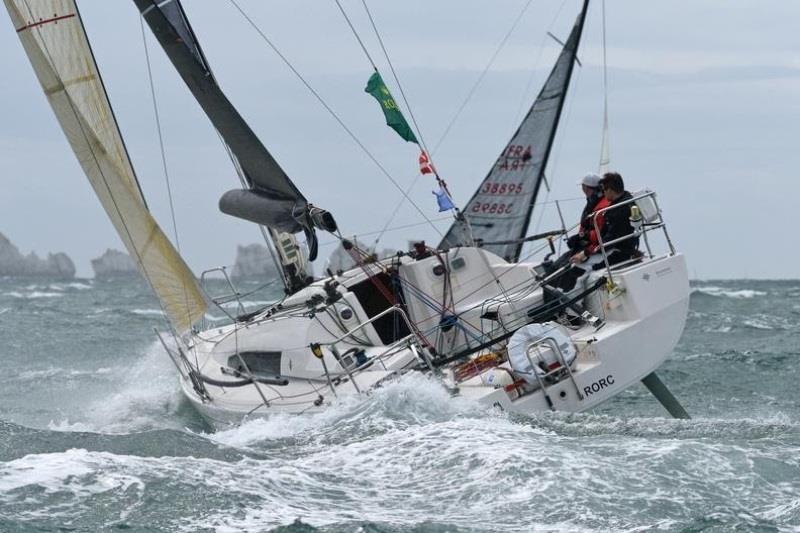 Tim Goodhew racing with Kelvin Matthews on his Sun Fast 3200 Cora is a favourite – photo © Rick Tomlinson / www.rick-tomlinson.com
Beyond this there are numerous others doublehanders, including a strong turn-out of J/Boats, most notable being Ajeto!, the J/122e of John van der Starre and Robin Verhoef. The six-time Dutch doublehanded champions often feature highly in the Fastnet Race's class, mostly recently coming eighth in 2019.
The doublehanders entered go as small as Martin-Jan Strebe's Beneteau First 31.7 Bruorskip from the Netherlands and as old as Peter Morton's 1968 vintage Swan 36 Scherzo of Cowes, being sailed by son-in-law Joph Carter and Robbie Southwell.
So what is the attraction of racing doublehanded? The sport is far from new and certainly early converts were those desiring the added challenge of doing everything on board themselves. However its growth has paralleled the evolution of everyday life, with some being lured in after getting increasingly frustrated by the perpetual effort required to maintain regular crew.
Along the way there have been significant milestones, notably the Loisons' overall Rolex Fastnet Race win in 2013 and the pandemic, when the first yachting permitted was social distancing-friendly shorthanded racing.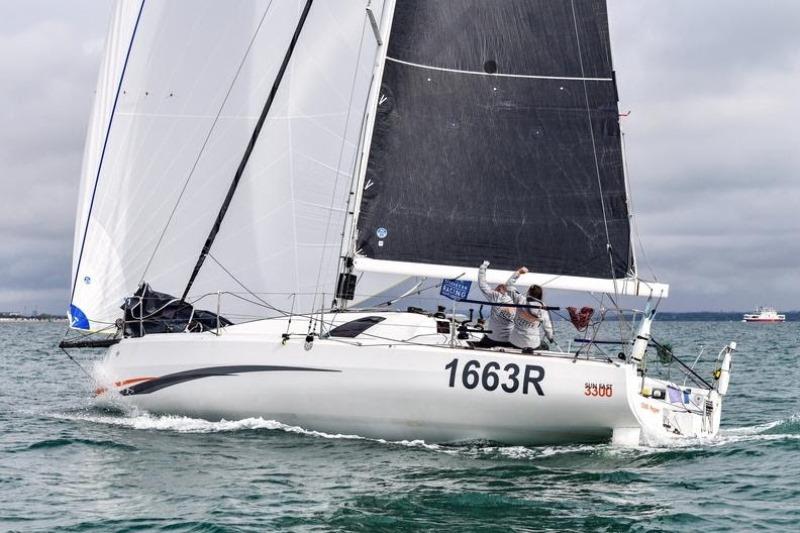 The hotly contested Sun Fast 3300s include Jim and Ellie Driver on Chilli Pepper – photo © James Tomlinson
Nigel de Quervain Colley notes: "Most of the Sun Fasts I sell have gone to previous owners of larger boats who are downsizing for cheaper and more manageable racing ie less crew, less expense, less hassle of being let down by crew. Then, once they try it, they just enjoy it because they are more engaged and more involved in racing the boat. Then it just becomes addictive…"
Given the numbers racing doublehanded, there is a good chance that this year's Rolex Fastnet Race might see its second overall winner from the IRC Two-Handed class. "It is entirely possible with this level of competition," agrees Colley. "The top third of this lot will be pushing each other so hard that the performances will be exceptional. Plus it is true that doublehanded boats [with less crew] are lighter downwind when they get up and go quicker."
The latest generation are also purpose-designed to race shorthanded under IRC. Thus they have huge form stability culminating in a semi-scow bow and are formidable speed machines, especially off the wind. "You can race in 30 knots two up and get around the course which is quite remarkable," says Colley. "They have so much stability, you are always looking for more sail area and like any scow bow, the more symmetric waterline makes it incredibly well balanced. We have found from experience that the more you push the boat, the faster it goes, while staying under control…"
The 50th edition of the Rolex Fastnet Race starts from Cowes, Isle of Wight on Saturday 22nd July. For further information, please go to the Rolex Fastnet Race website.
by James Boyd / RORC