77 boats competed in the 2019 Royal Ocean Racing Club Channel Race.
The international fleet experienced a variety of conditions and wind angles, testing boat handling and tactical skills. Perhaps the surprise overall winner, from a fleet including professional racing teams, was J/121 Darkwood owned by Irishman Michael O'Donnell. David Collins' British Botin IRC 52 Tala was runner up, and Dominique Tian's French Ker 46 Tonnerre de Glen was third.
Michael O'Donnell last competed in the Channel Race in the 1983 Admiral's Cup, as a 15-year old nipper. His J/121 Darkwood was only launched this year, and four of the crew including Michael, race in the classic Solent-based XOD Class. Darkwood is very much a team of friends and family and will be competing in next month's Rolex Fastnet Race.
"I was basically a rope-puller on big boats such as Mike Slade's Leopard but I have learnt a huge amount in the XOD Class, especially from Steve Lawrence and Alistair Shaw who are part of the Darkwood team, "commented Michael O'Donnell. "We are pretty good at getting off the start line, but I have not done any offshore racing since 2013. I am glad that the RORC make us do the qualifying races before the Fastnet; you learn so much about the boat and how to sail together as a team. We made a lot of sail-changes especially during the night, which was hard work with just five on board. Rosie (O'Donnell) did a great job in the pit, and Jamie (Holmes) impressed on the bow. We are thrilled to have won the race, but we have a long way to go, I am sure that the wily teams in the Fastnet are not quaking in their boots just yet!"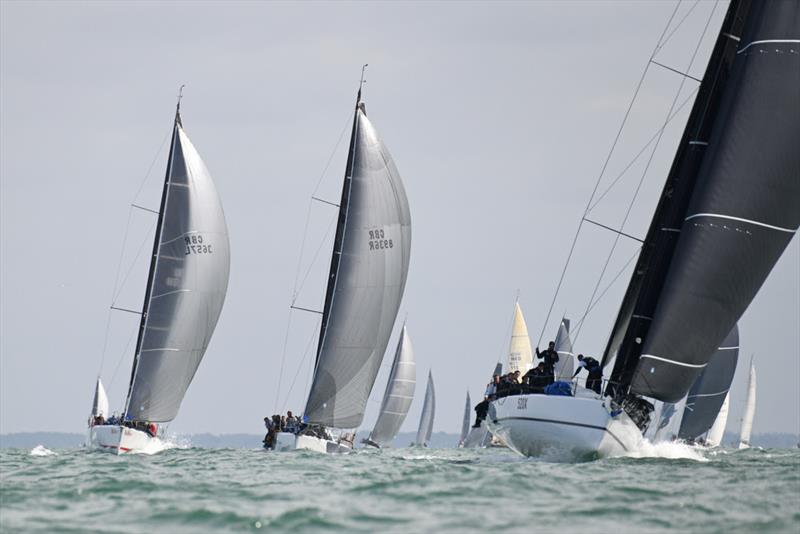 David Collins' Botin IRC52 Tala – 2019 RORC Channel Race – photo © Rick Tomlinson / www.rick-tomlinson.com
In IRC Zero, it was joy and pain for David Collins' British Botin IRC 52 Tala, which missed out on the overall win by under three minutes after time correction. However, Tala beat an all-star class in IRC Zero including Peter Harrison's British Maxi72 Sorcha, Eric de Turckheim's French NM54 Teasing Machine, and Frank Niggeler's Swiss Cookson 50 Kuka 3.
"We pushed pretty hard, but I think that the string-drop system breaking at Owers cost us those 100 seconds in real time," commented Tala's Pete Redmond. "You are racing against the clock, and you can't leave anything out there on the water. Campbell (Field) and Paul (Wilcox) did a great job calling just about every shift, and the crew did a lot of peels, which were spot on. This was the first big Class Zero fleet we have raced since the RORC Caribbean 600, so it was good to check where we are. We feel pretty strong from this performance, but the weather conditions could be very different for the Fastnet."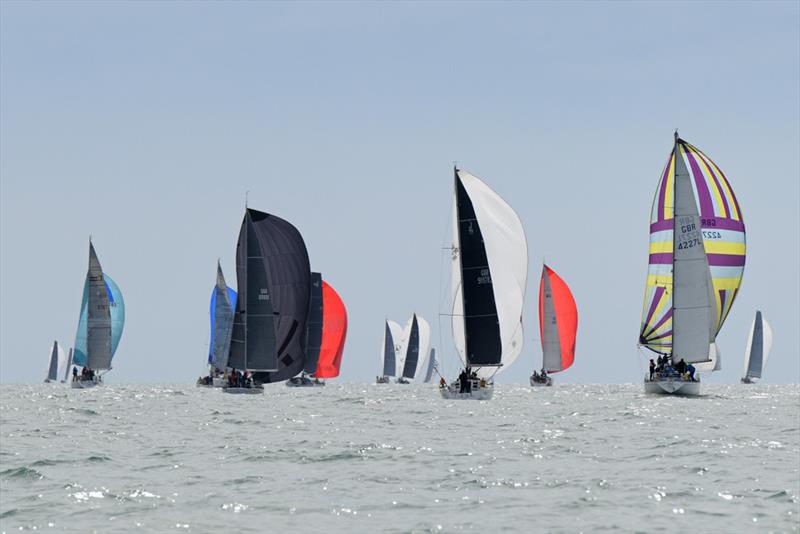 77 teams competed in the 2019 RORC Channel Race. – photo © Rick Tomlinson / www.rick-tomlinson.com
The win in IRC Two went to Yves Grosjean's French J/133 Jivaro. Tom Kneen British JPK 11.80 Sunrise was second, just over 14 minutes behind after IRC time correction. With a crew from Northern Ireland, England and Hong Kong, Anthony Day's XC-50 Explorer was third.
"This result is very encouraging, as it has been an effort to get Jivaro back to the Solent to compete for the Fastnet," commented Yves Grosjean. "After the Channel Race, the team are in the right mood, we have great anticipation for the big race to come. At the start of the Channel Race, we were the only boat in our start to go inshore at the Squadron Line. It paid off as we led our class out of the Solent. Inshore after the Needles Fairway Buoy avoiding the worst of the tide worked well, and we had a good lead at the virtual mark. After that it was all about fighting to maintain our lead, but the big wind shift towards the end of the race was a nerve-racking moment, as we saw the JPK 11.80 Sunrise catch up, but we held on to win."
In IRC Three, Erik van Vuuren's Dutch W36 Hubo scored a narrow victory over Rob Craigie's Sunfast 3600 Bellino. Both teams were racing Two-Handed, Craigie with his regular partner Deb Fish, and van Vuuren with the young apprentice Jochem Schoorl. British pair, Henry Bomby and Hannah Diamond, racing Sun Fast 3300 Fastrack XII, was third.
It was a fantastic race, everything was in it!" commented Erik van Vuuren. "Normally I race with my partner Yvonne Beusker but she is not able to join me for the Fastnet. Jochem is only 22, he has sailed all his life, has the right attitude and is full of energy. This was our first Two-Handed race together and it worked perfectly. From the start we battled with Bellino, and as in any race, you have to be keen and focused until the end. After St.Catherine's Point the forecast was correct; a big rain cloud arrived moving to the east. We kept to our plan, staying high of the next mark. We kept up good speed and that was the game-changer."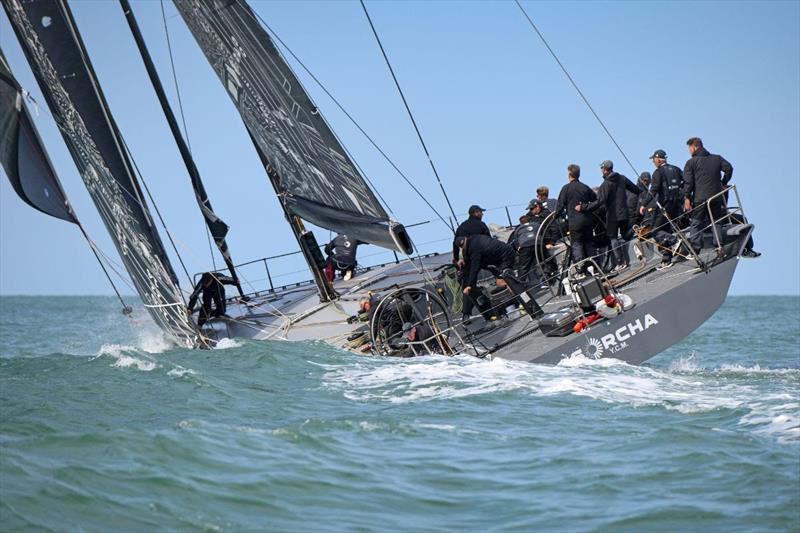 2019 RORC Channel Race – photo © Rick Tomlinson / www.rick-tomlinson.com
The next race of the RORC Season's Points Championship will be the Royal Ocean Racing Club's biennial flagship event, the Rolex Fastnet Race. The race village on Cowes Parade will be open from 1100 BST on Thursday 1st August. The 48th edition of the epic offshore race, the Rolex Fastnet Race, will start on Saturday 3rd August from the Royal Yacht Squadron Line in Cowes.
For more information visit www.rorc.org
by Louay Habib