We are almost in the final stages of this incredible project. We invite you to read again the technological content of this new yacht before performing the first exciting test at sea.
Soon we will show you the awaited pictures of the interior and exterior layout.
The 80 RS is the latest evolution of more than 30 years of Solaris experience in the construction of boats of more than 70 ', so-called "blue water" yachts.
The area that has benefited from the greatest evolution these years has been the construction of hull and deck and Solaris has long understood its importance, creating a production unit specialized in high-tech composite materials, the first of all the mass production shipyards.
Here the Solaris 80s are built with SPRINT technology – epoxy resin pre-impregnated fabrics and Corecell core – assembled and then post-cured at high temperature in a controlled temperature oven.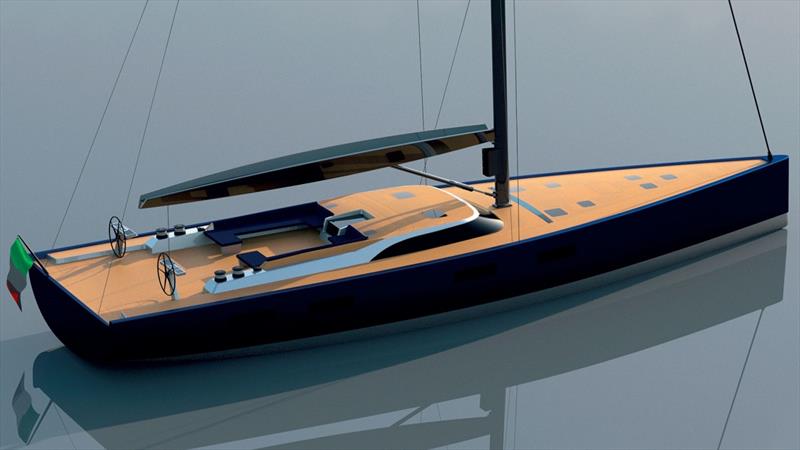 Solaris 80RS – photo © Solaris Yachts
This mix of materials combines maximum reliability with comfort in long voyages even offshore with rough seas. These are the most valuable advantages:
Comfort given by the greater flexibility of glass fibers compared to carbon (no vibrations, no noise, softer on the waves and higher thermal insulation).
Carbon used only in the structures of the bottom of the hull and in the deck structures to ensure a higher resistance in the area of the keel, shrouds and stays.
Epoxy resins with industrial-level quality control processes (longer life/free from osmosis).
Post-cured epoxy resins at 90 degrees (the boat for its entire life is free from the "print-through" phenomenon – the marking of the fabrics on the surface of the hull due to the withdrawal of the fiberglass when exposed to the sun)
Corecell M type foam (avoids the problems of bubbles on laminates exposed to the sun)
NDT quality control process on all structural components installed on board
For more information visit www.solarisyachts.com.
by Solaris Yachts