The John Winning Jr-skippered maxi yacht, Andoo Comanche, produced a masterclass of high-speed sailing to win Line Honours in the SOLAS Big Boat Challenge on Sydney Harbour today. Meanwhile, the Jim Cooney-skippered and owned Volvo 70 Willow was declared the overall winner.
Under glorious sun and in southerly 15 knot winds that suited perfectly, Andoo Comanche was first to finish the two-lap harbour course.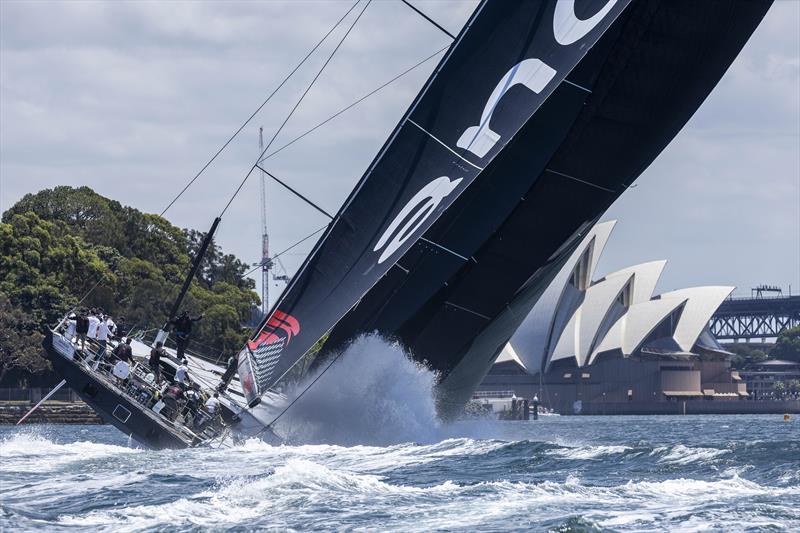 Andoo Comanche takes Line Honours in the 2022 SOLAS Big Boat Challenge – photo © CYCA / Andrea Francolini
After reaching a maximum speed of 27 knots, she crossed the finish line off Rushcutters Bay in 53 minutes 58 seconds. In Andoo Comanche's wake and in order were the three other maxis – Christian Beck's LawConnect in 55 minutes 18 seconds, Peter Harburg's Black Jack (skippered by Mark Bradford) in 56 minutes 35 seconds and the Oatley family-owned Hamilton Island Wild Oats, skippered by Mark Richards, in 59 minutes 27 seconds.
"We had a good day. We started where we wanted to start," said Winning Jr.
"We just want wind. We were lucky that we had a nice reach off the start to be able to be first at the bottom mark. We are thankful to the weather Gods for giving us that wind."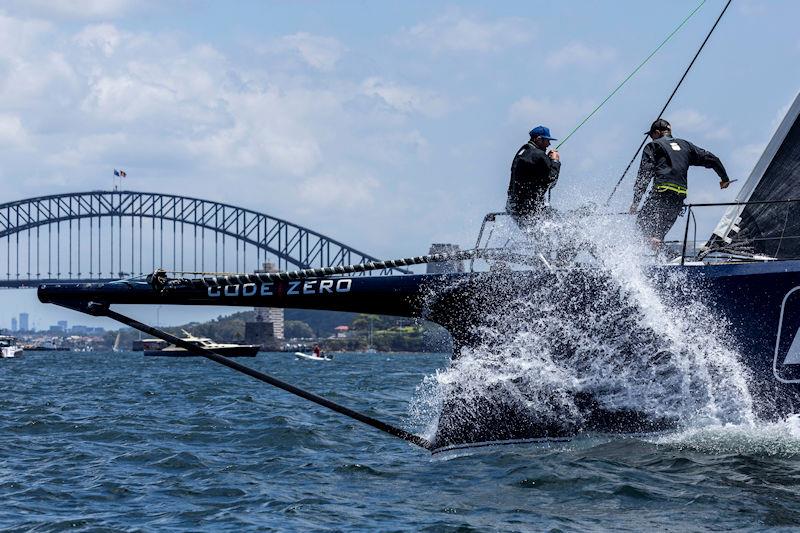 2022 SOLAS Big Boat Challenge – photo © CYCA / Andrea Francolini
First to finish behind the maxis was Willow, fifth in 1 hour 4 minutes 8 seconds, followed by the Grant Wharington-skippered Botin 80 Stefan Racing, 10 seconds further behind, then Anthony and David Johnston's Reichel/Pugh 72 URM Group, skippered by Marcus Ashley-Jones, in 1 hour 7 minutes 39 seconds. The Duncan Hine-skippered Reichel/Pugh 66 Alive, owned by Phillip Turner, was just another 2 seconds behind, followed by Whisper (David Griffith), No Limit (David Gotze) and Moneypenny (Sean Langman) in that order.
"It was a really exciting race… We had a solid start. We were quite happy with our position," said Cooney afterwards, adding that while "everything went to plan" in the race overall, the crew "recovered well" after one hiccup – a furling issue relatively early in the race.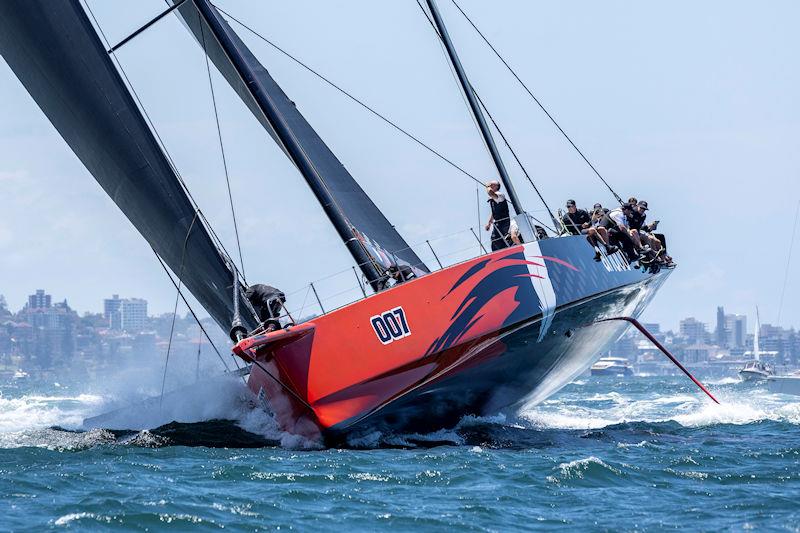 The SOLAS Big Boat Challenge is one of the final lead-up events to the Rolex Sydney Hobart Yacht Race. While the Rolex Sydney Hobart is a vastly different race, the SOLAS Big Boat Challenge was still witnessed by a strong spectator fleet that provided a superb taste of what to expect for the Boxing Day start.
After some exciting jostling for position, the fleet of 11 boats set off from Point Piper, with bows virtually aligned towards the first mark at Cannae Point.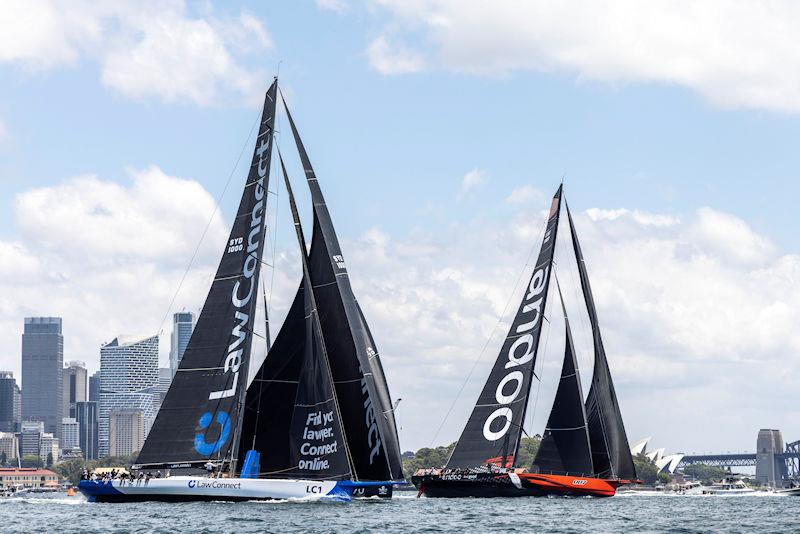 2022 SOLAS Big Boat Challenge – photo © CYCA / Andrea Francolini
LawConnect was the fastest off the start, but soon Andoo Comanche picked up pace to sweep by and take a commanding lead. Andoo Comanche reached the first mark after about 11 minutes.
On the upwind leg to Shark Island, Andoo Comanche extended her lead to 43 seconds over LawConnect, followed by Black Jack. Hamilton Island Wild Oats fell off the pace to turn at Shark Island a little more than two minutes down.
Over the last lap of the race, Andoo Comanche consolidated her lead for a trouble-free run to the finish after passing the Cannae Point and Shark Island marks once more.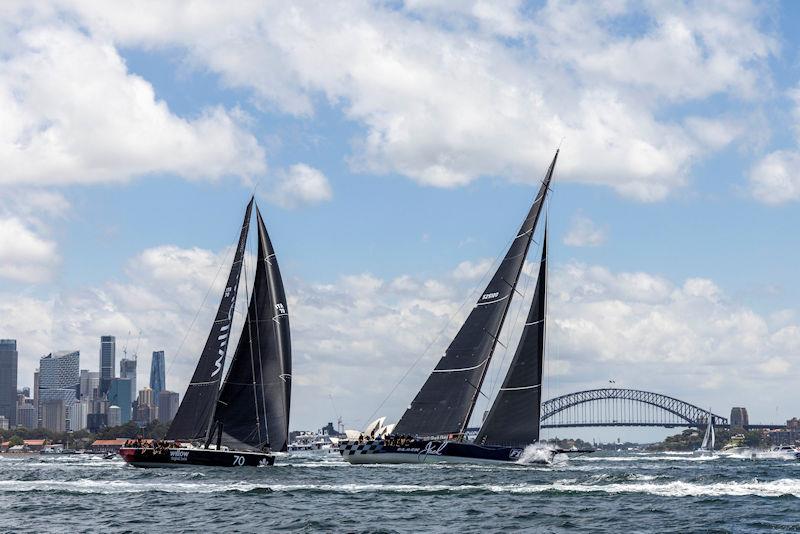 2022 SOLAS Big Boat Challenge – photo © CYCA / Andrea Francolini
The SOLAS Big Boat Challenge also decided the outcome of the 2022 Australian Maxi Championship, which had 10 boats competing (four in the Maxi Division and six in the Mini Maxi Division).
After last weekend's opener, the Cabbage Tree Island Race, and the two passage races in Sydney on Monday, Hamilton Island Wild Oats, Andoo Comanche and LawConnect were level on seven points in the Maxi Division (on Line Honours). As a result of the SOLAS Big Boat Challenge, Maxi Division honours went to Andoo Comanche on 8 points, from LawConnect on 9 points and then Hamilton Island Wild Oats and Black Jack on 11 and 13 points respectively.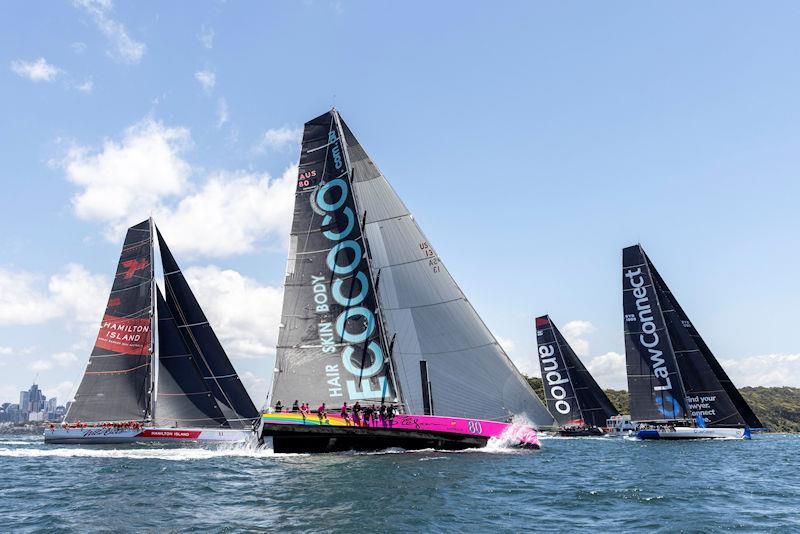 2022 SOLAS Big Boat Challenge – photo © CYCA / Andrea Francolini
LawConnect was the Maxi Division's overall winner on 8 points, followed by Hamilton Island Wild Oats on 10 points, Black Jack on 10.5 points and Andoo Comanche on 12.5 points.
In the Mini Maxi Division, URM Group was crowned champion on 6 points, ahead of Willow, Alive, Whisper, Moneypenny and No Limit.
"The boat is well prepared. We've been working on it for a couple of years now," said URM Group owner Anthony Johnston afterwards.
"We sailed pretty conservatively. We thought we would take a cautious approach. We had a few points up our sleeves. We're happy with where the boat is. The crew is going really well. We are quite confident [ahead of the 2022 Rolex Sydney Hobart]."
Full results can be found here…
by Rupert Guinness