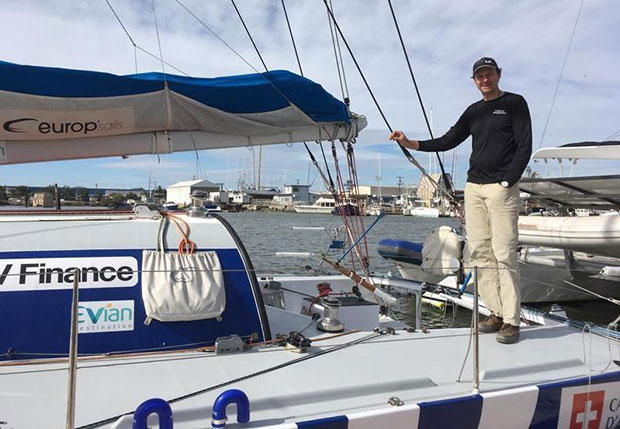 Solo sailor and recipient of an OCC Challenge Grant, Philippe Jamotte, is prepared to depart for the adventure of a lifetime. #OCCAdventureSailing.
Fairly soon after I learned to sail in 2013, I found I truly enjoyed sailing alone. Reading about single-handed sailing led me to books of grand adventures, of ocean passages, of circumnavigations.
All that reading had me dreaming. Fast forward to 2020 and I'm preparing to set off from San Francisco for a solo non-stop unassisted westward circumnavigation attempt.
Sometime in 2018, I started researching the matter in more detail, figuring out what course to take, what boat to acquire, when to leave. I came across Guo Chan's record, whose weather router was Christian Dumard. I spoke with Christian about my plans, and he casually told me that living in the Bay of San Francisco, I should simply go West, and maybe set a new record. I had never thought about it but found the idea very exciting!
During late 2018 and most of 2019, I perused Yachtworld and other yacht brokers' web sites in the hope of finding a solid, affordable boat. I ultimately settled on a Class40. In my mind, they have intrinsic security features, which appealed to me. In short, I decided to forfeit comfort for safety, and maybe speed. In August 2019 I saw one in France which was somehow in my budget: Changabang, a first-generation Class40. Changbang is now in the yard at Berkeley Marine Center, getting a new coat of bottom paint and more. Come October 2020 I should be heading out under the Golden Gate Bridge, with a hopeful return 6-8 months later.
With the help of meteorologist Chris Tibbs I have devised a course and timeline. This voyage will take me south across the Equator, then west across the Pacific and through Torres Strait, north of Australia. I'll then carry on through the Indian Ocean, only to dip south and 'round Cape Agulhas. Next will be a rounding of the St Helena High in the South Atlantic, followed by another dip to the south, to the much-revered Cape Horn. Once Cape Horn is behind me, it'll be a long sail back home, to family and friends, and most likely a well-deserved refit for Changabang.
This isn't about setting a record anymore as the indomitable William Hatfield did set a record for this course in the under 40 feet monohull division. I look forward to following in his wake although I'm not anywhere near his level of experience and skills. Luck is always a matter of grand importance in ocean crossings, in my case even more so.
You can follow my project at pjsails.com, where a blog and tracker are updated regularly. If you feel so inclined, please consider making a donation there as well (it'll re-direct you to GoFundMe.com/SF2SF).
I'm very thankful to the Ocean Cruising Club for supporting my project through their grant program. This is such a fantastic organization, and I've already reached out to several members to discuss certain passages.
Fair winds and following seas.
This article has been provided by the courtesy of Ocean Cruising Club.
by Philippe aboard Changabang Photo credit (c) Jackie Philpott