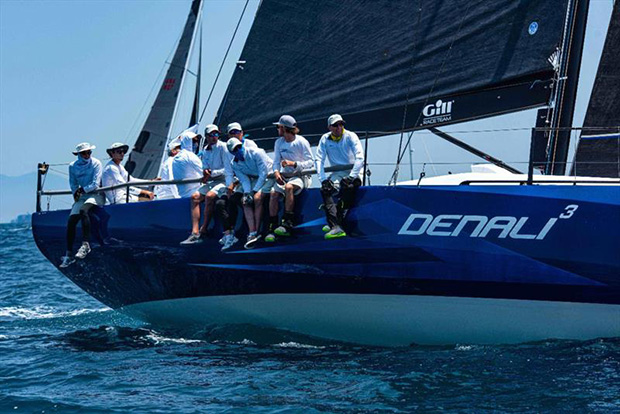 With the first group of 15 yachts making westward progress towards Hawaii after their Transpac start yesterday, the second group is in final preparations for their start tomorrow at 1:00 PM PDT.
This group is larger – 19 yachts divided into three divisions – and are rated faster on the course so their start two days later is intended to compress the arrivals of finishers at Diamond Head in Honolulu.
Currently the YB tracker, sponsored by Pasha Hawaii, indicates yesterday's starters are making great progress getting off the California coast. Their straight-line tracks indicate they had good steady breeze all night and are now close reaching southwestward in an arcuate path towards Hawaii which still lies over 200 miles away.
Ian Edwards' Dehler 46 WINGS is leading the way in Boatswains Locker Division 7, making over 8 knots, with Greg Dorn's sistership FAVONIUS not far away doing similar boat speeds on a little more southerly track.
Leading smithRE Division 8 is Dean Treadway's venerable Farr 36 SWEET OKOLE. Her boat speeds in the high 7 knot range shows she is almost keeping pace with the larger boats to the north and ahead.
Already the rough coastal Pacific conditions have proven challenging with three boats having retired from the race earlier today. Michael Marion's Dufour 50 INSOUMISE reported a broken rudder bearing housing this morning at 0400 PDT and is headed back to San Pedro with all crew safe on board. And Nick Green's Hylas 63 MALILIA also retired, reporting at 0500 that they have an issue with a turnbuckle on their lower shroud. They attempted a jury rig with halyards, running backstays and a topping lift to stabilize the spar and are motoring back to San Pedro via Catalina island.
In breaking news this afternoon, double handers Jerome Sammarcelli and Ben Kallwoda's Carbon 32 SAM have also retired from the race and turned back. Reports are that Jerome has suffered a serious but non-life-threatening injury that required immediate medical attention and has been air-lifted by the US Coast Guard off the boat to seek help. Ben will be singlehanding their boat back to their base in Marina del Rey.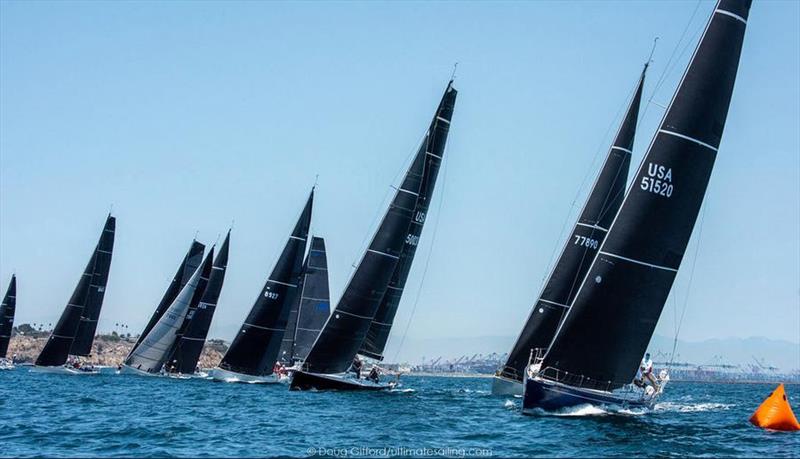 2023 Transpac © Doug Clifford
Meanwhile there are last-minute preparations being made among the Thursday starters. The fastest-rated boat in this group, competing among 7 rivals in Ocean Navigator Division 4, is Bill McKinley's all-carbon Ker 46+ DENALI 3 from Michigan. Their team's start will no doubt be a little bittersweet after having suffered an unexpected spar failure in 2021 just minutes into the race and thus having to withdraw.
"We are really excited to come back and finish what we set out to do in 2021," said McKinley. "We are armed this time with more experience with the boat and lots of incentive to win. We have a new triple-headsail reaching rig we learned is fast in last summer's Chicago-Mac, and plan to use it on this race, taking advantage of Transpac allowance of outriggers to get the best sheeting angles for these sails. The boat has a wide aft hull form to promote the high stability needed for power reaching. Based on the current forecast of the High being north, we plan to stick close to rhumb line [to reduce distance] then see how the weather evolves in the next few days."
There are also 6 teams competing in Cabrillo Boat Shop Division 5, the "Fabulous Fifties" class. These are boats representing two generation of Santa Cruz-built racer/cruiser designs: the Santa Cruz 52s and the slightly smaller, lighter and older Santa Cruz 50s. Both have been raced actively for decades on the Pacific in races to Mexico and Hawaii, and they have highly experienced crews who know how to push their boats and themselves to maximize performance: it's not uncommon to have podium finishers in this division separated by only minutes in time after a week or more of sailing.
Chris Messano and Bill Durant epitomize the competitive spirit in this class. They underwent a thorough renovation this past winter and spring at Cabrillo Boat Shop to their Santa Cruz 50 DECEPTION. Messano is a classic car fan and likens their complete refit to be similar to what they did on DECEPTION: a new stern scoop, a new rudder, new keel, gutted and refurbished (and minimalist) interior, new flush portlights and hatches, removal of deck tracks in favor of cleaner and lighter floating clew ring system, and pedestal winches (to name a few).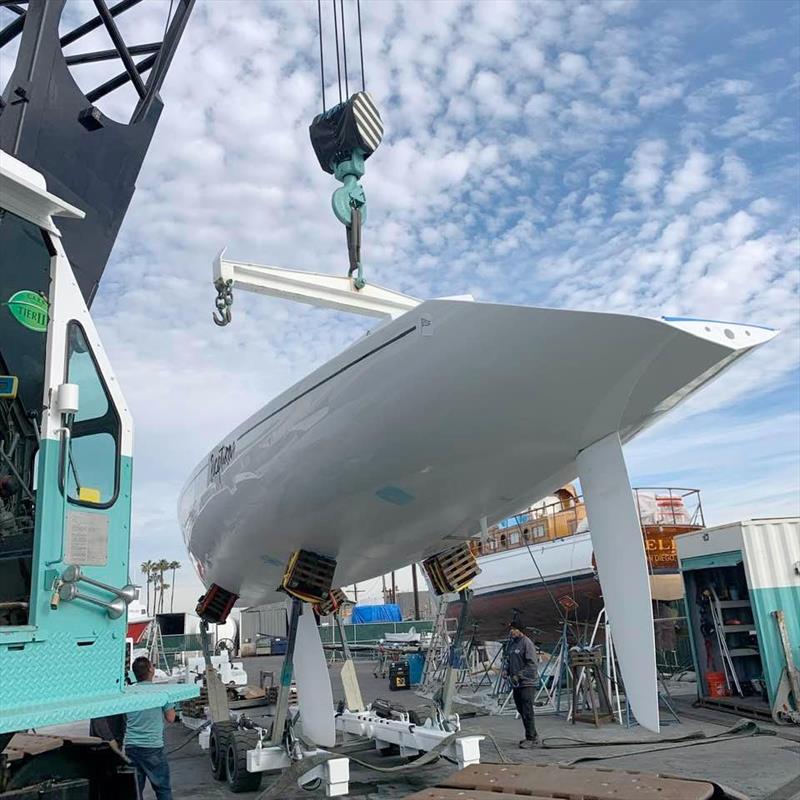 2023 Transpac – photo © Transpacific Yacht Club
"We wanted to do this right: take our time, use the right materials, and have not just a better-looking boat but one that performs closer to modern standards of performance." Starting tomorrow this will be put to the test.
Among the 6 boats entered in Pasha Hawaii Division 6 is a newcomer – Russ Johnson's Jeanneau 52.2 BLUE MOON from Hawaii – who due to her late arrival to California was allowed to switch her start date from yesterday to tomorrow. Also racing in this division is Marie Rogers' Andrews 56 GOOD TROUBLE with a team that is working hard to diversify our sport through their Offshore Racing Outreach program.
"Sailing is such a wonderful transformative sport – it helps people get in touch with their own abilities, both physically and mentally, and enjoy the ocean environment," said Rogers, a former Commodore at Los Angeles YC and the first black woman to take the helm of a major US yacht club. "But unfortunately, coastal water sports seem to have been reserved for certain types of people.
"For the longest time I've said I would love to not be the only black female sailor on a race boat, nor the only black sailing instructor. It's time for all segments of society to have access to the sailing sport. That is changing now, and through ORO people of color and diverse backgrounds will have opportunities, role models and leaders."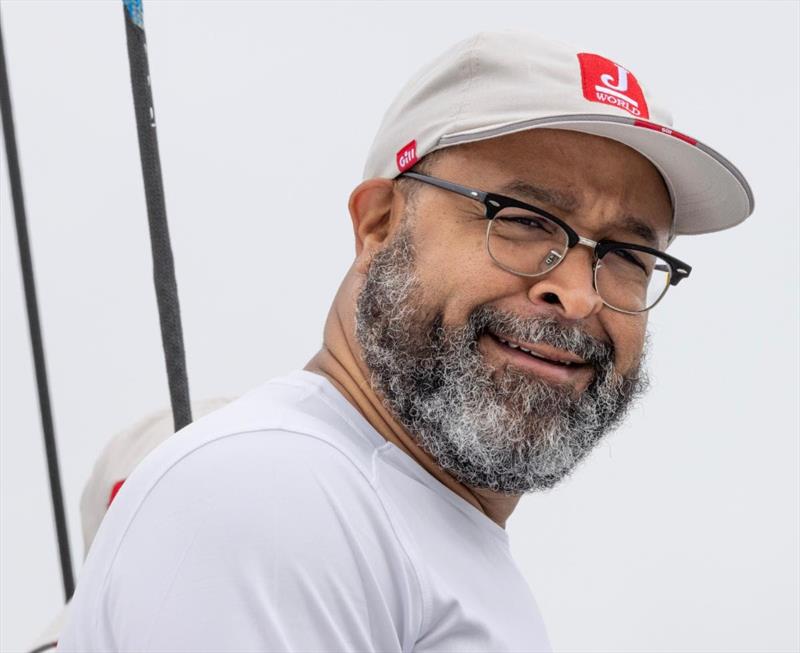 2023 Transpac – photo © Transpacific Yacht Club
Good Trouble trimmer James Stewart is an experienced ocean racer from Maryland, and says he's excited to take part in Transpac, his longest Pacific race to date. He admits his heritage is from many different racial backgrounds: Black, White, and even Hawaiian.
"I've raced throughout the Chesapeake, and raced to Bermuda, so I'm really looking forward to starting tomorrow on my first race to Hawaii."
All entries in Transpac can be tracked on the YB system, sponsored by Pasha Hawaii. The positions, speeds and headings of each entry can be found on this system on either the browser of app versions. There is a built-in 4 hour delay for each entry, except when within 200 miles of the finish when the tracker goes live. Use this link to follow the fleet: cf.yb.tl/transpac2023#.
For more information on the 2023 Transpac, visit transpacyc.com.
by Transpacific Yacht Club