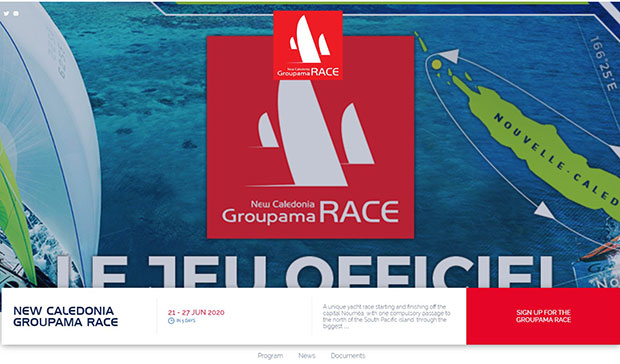 Tame the tradewinds and overcome the pitfalls of a tough offshore race around the largest UNESCO recognised lagoon in the world as planned – almost.
The virtual start of the seventh edition of the New Caledonia Groupama Race will take place on June 21, 2020 and as a result of the Covid-19 pandemic, thousands will be on the start line without a sailing jacket or bag in sight.
Turtles and warm South Pacific sea spray will be there for international sailors in a year's time, in July 2021.
June 2020: Groupama Race Virtual
June 2021: Groupama Race Real
Experience the Groupama Race as if you were there and challenge players from around the world at the following start times – 6pm in Noumea, 7pm in Auckland, 5pm in Sydney and 9am in Paris. A virtual race with very real tactical options.
While waiting for the warm water on deck and the wind in your ears in a year's time, sail 654 nautical miles virtually around the largest lagoon in the world aboard a Class 40. Take three to five days choosing your course, concentrating hard and putting nerves to the test. Challenge yourself to the physical and psychological effort that will keep you at the front of the pack.
Back in March, 100 days before the start, host club Cercle Nautique Calédonien and the residents of Noumea were ready to host the 7th Groupama Race fleet. Confronted with an unprecedented global health situation, organisers postponed the biennial race in paradise to June 2021.
The period of confinement has been, for many, an opportunity to train and sail virtually. eSport has been a surprising hit with growth 50% higher than market forecasts, attracting players and spectators. At the end of March, an e-Nascar race brought together 1.3 million fans.
If you haven't done so yet, it's time to jump in to virtual sailing virtualregatta.com/en/offshore-game