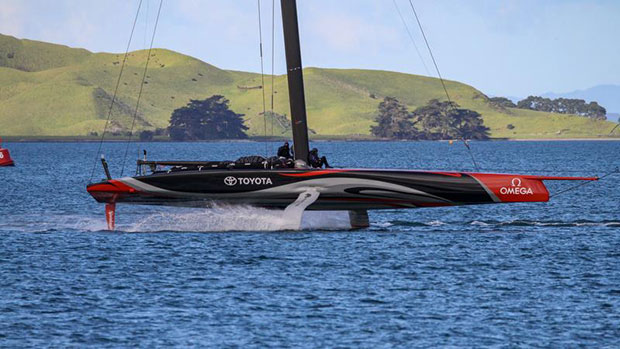 Both America's Cup teams were on the Hauraki Gulf today in longish training sessions, as Auckland faces an uncertain future tomorrow (Friday) with the next announcement due in the afternoon as to its Lockdown status.
The Coalition Government declared that Auckland would go into a Level 3 lockdown at noon on Wednesday due to the discovery of a COVID-19 cluster, of what is now 17 people.
New Zealand had reached the 102 day mark without the discovery of a new COVID-19 cluster, and the hope was that with strict border control and quarantine process that New Zealand was leading the world.
However that proved not to be the case and a Lockdown was imposed.
Both America's Cup teams can train on the water, as under Level 3 recreational sailing only is prohibited, while professional sailing can continue, if it must. A similar situation exists in Fishing, with recreational fishing banned, but with commercial fishing being quite within the Lockdown rules.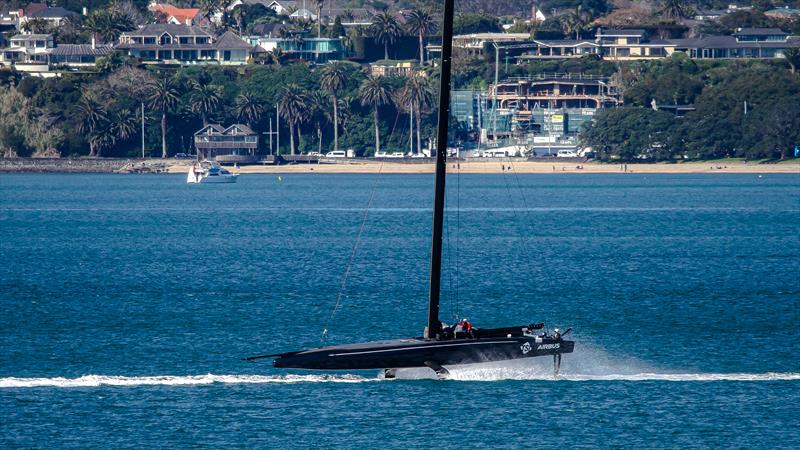 However if the Lockdown Level is increased to Level 4, the most severe, then the teams will be grounded – as happened previously when Emirates Team New Zealand spent five weeks ashore.
Emirates Teams New Zealand's shore crew were up early, with Te Aihe being launched in the dark, and leaving the dock more than a couple of hours later at 9.30am, returning at 4.00pm. American Magic were away later, docking out at noon and returning five hours later.
Both teams went well out into the Hauraki Gulf, staying clear of each other as they did speed runs in what began as a light air day and filled in as the day wore on.
American Magic appeared to be testing #1 jibs and Code Zeroes, we only saw Emirates Team NZ sailing with a #1 jib. Defiant was with a Code Zero most of the time.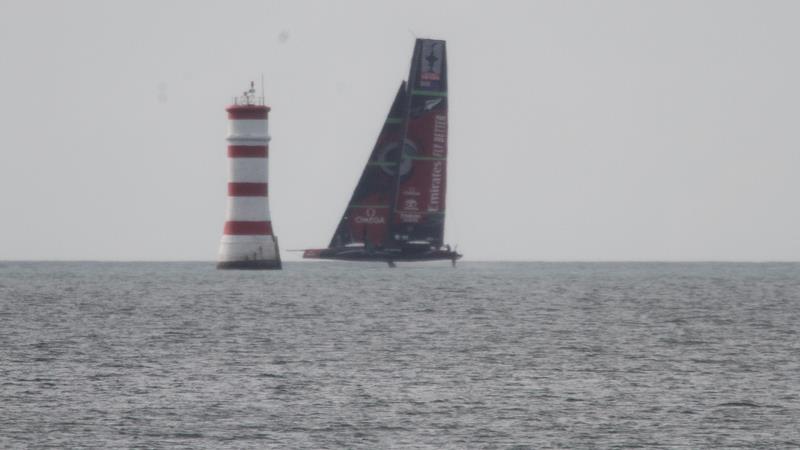 Te Aihe – Study shot – AC75 practice Hauraki Gulf – August 13, 2020 – 36th America's Cup – photo © Richard Gladwell / Sail-World.com
Emirates Team New Zealand was closest to our position on North Head – but still about four miles distant, with American Magic about 5-6nm away.
Of the two ETNZ appeared to be the faster however that could well have been optical illusion/parallax, being closest to the camera. She was clearly visible on foils, Defiant less so – we assumed this being distance from the camera, and the fact that she normally foils very close to the surface of the water.
The photos are not great as the blue skies and bright sunshine gave way to overcast skies and fading light, and our camera setup is not great in those conditions and shooting 3-5nm away from the boats.
They do reveal the sea state – and indicator of wind strength – which appeared to be much lower than the 15kts claimed by the real time anemometers at several positions around the course area. There are no "white horses" visible indicating a wind strength of about 8kts, but again that could have changed further out to sea.
Had the breeze been at the claimed strength then Defiant would not have been able to carry her Code Zero in the way she did. From what we could see she appeared to be a lot less powered up than Te Aihe – indicating that she was sailing in a lesser strength of breeze, which is the way it appeared from our camera position.
The forecast for Friday is for a moderate Easterly (onshore) breeze of up to 17kts. Whether the teams elect to sail is another matter.
by Richard Gladwell/Sail-World.com/NZ