With a weather forecast showing gust up to 40 knots from northeast and waves of eight meters in height, the crew got a greenlight from Real Club Nautic to start the record attempt Monday January the 20th at 7:00 in the morning, in pitch darkness.
13 hours, 15 minutes and 17 seconds later L4 Trifork (Former VO70 Ericsson 4) with its crew, crossed the finish line established by German Maxi UCA back in April 2005 and bested the previous record of 17 hours, 14 minutes and 19 seconds by four almost hours, after sailing more than 160 nautical miles.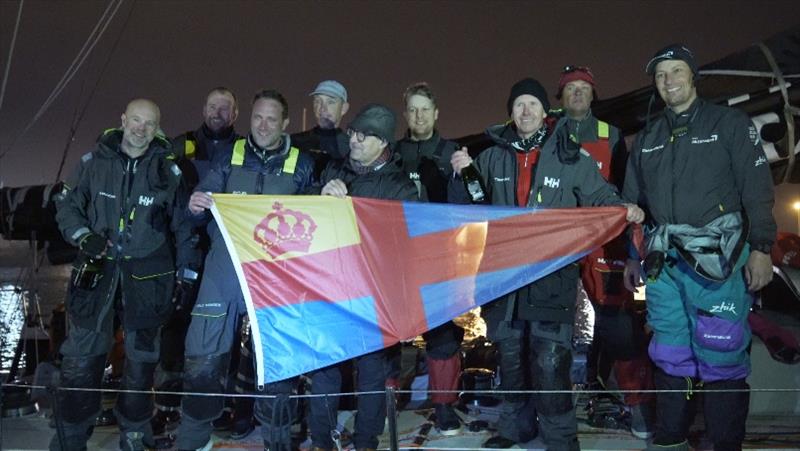 L4 Trifork crew – photo © L4 Trifork
The crew with a combined 20 laps around the world includes:
Owner Jørn Larsen
Kristian Wulf Andersen
Jens Dolmer
Aksel Magdahl
Pinacho Fructuoso
Martin Hjortlund Christensen
Peter Van Niekerk
Antonio Cuervas-Mons
Pablo Arrarte
Luke Malloy
Jes Gram-Hansen
Antonio Cuervas-Mons confessed feeling surprised that such harsh conditions is possible in the Mediterranean: "We have had winds of 40 knots and very large waves, but the ship behaved well and all the crew did a great job. I am very grateful to the owner and Trifork who invited me to participate in this experience."
The Cantabrian crew member of the VO70 explained that the most challenging part of the circumnavigation, lied in the Tramuntana area, with waves that exceeded more than eight meters, and in the Capdepera to Formentor.
Aksel Magdahl who was a part of the original 2008/09 Volvo Ocean Race winning team, was onboard yet again in the seat as navigator.
by Søren Wiegand Kristensen