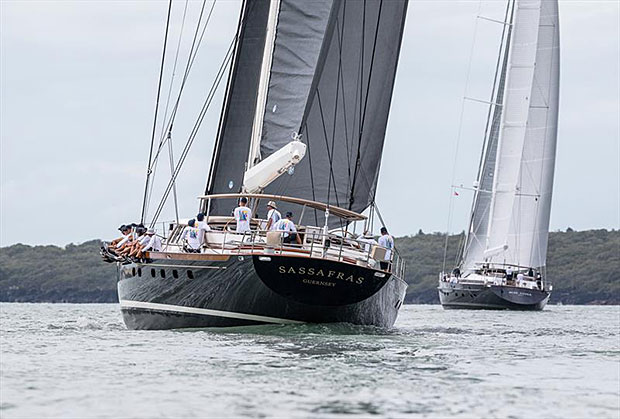 The 33 metre superyacht racing machine Silvertip has taken its first victory of the Mastercard Superyacht Regatta, winning race three of the regatta on Boat International Race Day 2.
The weather was a complete contrast to day one, with very minimal breeze on the Hauraki Gulf in Auckland, forcing Race Officer Harold Bennett's hand to delay racing for an hour and a half.
By 1230pm local time, the breeze then filled in just enough to get a race-start under way, and with the sun shining and balmy temperatures on offer, the crews were certainly going to be able to take in the scenery that our harbour has to offer as they attempted to make their way around the track.
With these big boats and light winds, it was obvious that tactical nous was going to come into play today on the long course set by the race committee north of Rangitoto Island and off the farther beaches of Auckland's North Shore.
After the start there were clearly tactics and plans set in place by the teams, with Tawera, Catalina, Silvertip and Aschanti IV all heading north towards mark two, whereas the rest of the fleet including Sassafras, Miss Silver and Whirlwind decided to tack away and head east towards Motutapu Island, before tacking back to head north to the first mark.
With the wind still very minimal, the race committee made the decision to finish the race at mark one. After a long and slow two-hour leg, the kiwi-built Silvertip and its experienced crew – skippered by Tom Kinver – were the first to make it to the finish. Eleven minutes later it was the regatta leaders Tawera who crossed the line in second, but only by a whisker, as Sassafras came in to finish third just twenty-three seconds later, with the rest of the fleet not too far behind.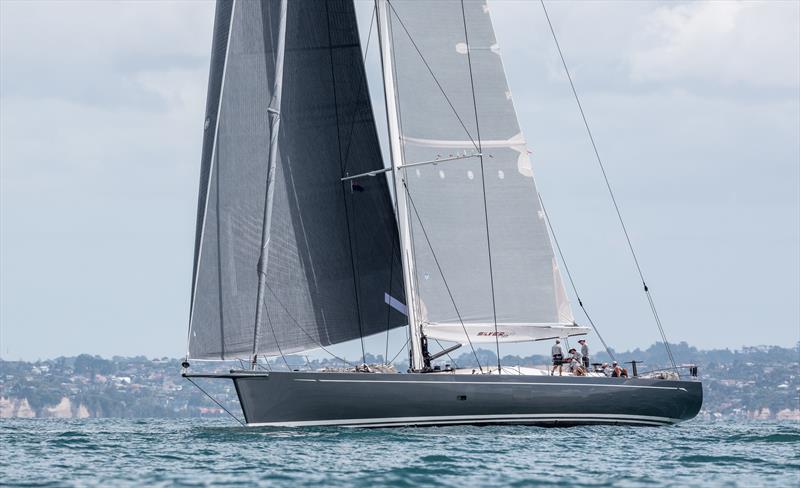 Silvertip makes the best of the light conditions on Day 2 of the Mastercard Superyacht Regatta © Jeff Brown BREED Media
The line results turned out to be the final race results once the times were processed, meaning Silvertip notched up their first win of the race, and as it turns out, their first for some time. Captain Kinver was extremely pleased with the day, and offered a bit of insight into their success –
"It was a pretty light wind day out there, but our new code zero really came into its element for once, which was nice, so I think the boss will be pretty happy about that one. It was our first win for a while, I think it has been a few years, so things are moving forward which is a good sign!"
Tim Michalick, captain of third place getter Sassafras, had a good day on the water and enjoyed the opportunity to sail in light winds –
"Fantastic conditions for sailing these big boats, it was really shifty, lots of holes to sail into but really nice flat water, the boat felt like it was going well, and we were really happy with the result."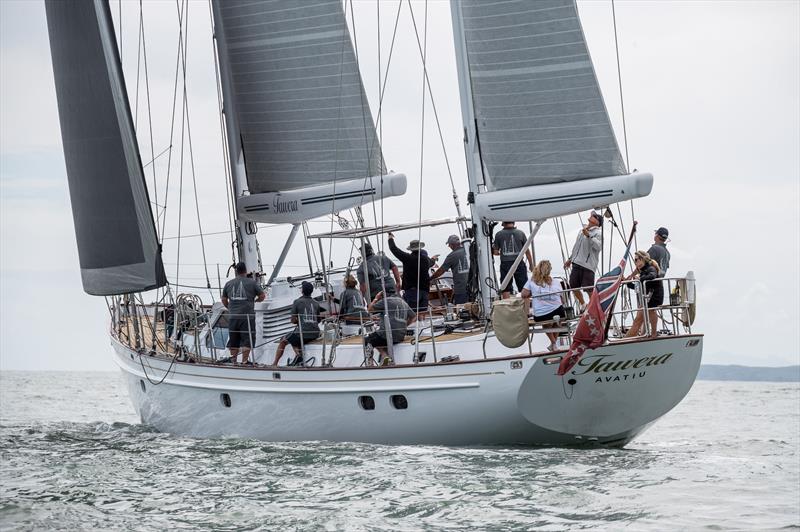 Tawera – Mastercard Superyacht Regatta – Day 2, February 24, 2021 – photo © Jeff Brown
So, after three races sailed in the Mastercard Superyacht Regatta, it's still Tawera with their noses in front, sitting on five points. Second is Miss Silver (nine points), just holding onto the podium in third is Whirlwind (ten points), followed by Sassafras (ten points), Silvertip (eleven points), Catalina (nineteen points) and the oldest yacht in the fleet, the dazzling Aschanti IV (twenty points).
Race Officer Harold Bennett described the conditions when he was back on dry land at prize-giving –
"Well, it was pretty challenging day all round, but we got them away when I thought it was pretty good. They sailed off the first half of the beat very well and then it was obvious that we were losing the breeze, so we decided to shorten the course and stop them at the first mark which I think was the right thing to do. They were sailing for two and a half hours to get there and it's interesting to see that the results aren't that far apart. All in all it was a difficult day, very challenging, but have a look around, everyone's pretty happy that they've had a race and they're back early and can look forward to tomorrow."
Tomorrow's Race Day Three is sponsored by Doyle Sails, and with two races scheduled for the day, all crews will be hoping for a bit more breeze in Tamaki Makaurau.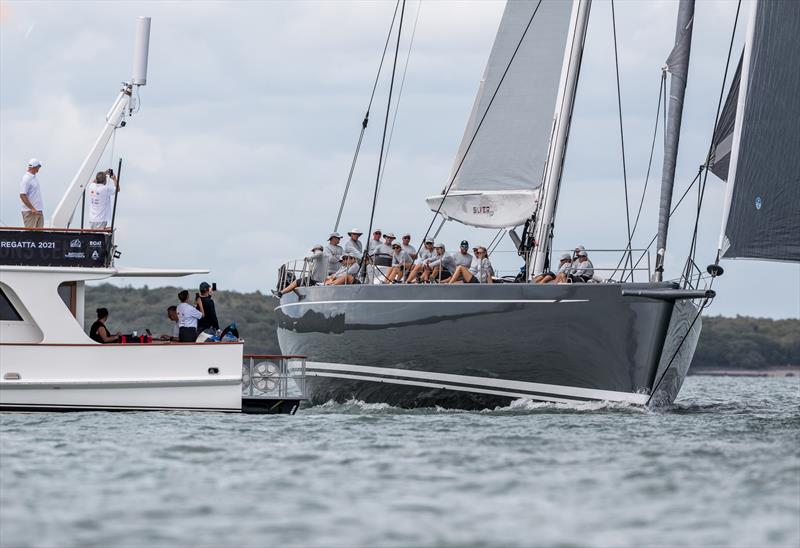 Silvertip – Mastercard Superyacht Regatta – Day 2, February 24, 2021 – photo © Jeff Brown
by Andrew Delves – RNZYS PR & Communications Manager