The Sunshine Coast Yacht Club will again be conducting the popular Sunshine Coast Ocean Regatta (SCOR 2021) on 17 and 18 July in the sparkling coastal waters between Noosa and Caloundra, with a feeder race from Brisbane on 16 July.
Registrations are open for boats in divisions IRC/ORCi, AMS and PHS – Monohulls and Multihulls. The Sunshine Coast Ocean Regatta (SCOR. 2021) offers an alternative to the regattas in Airlie and Hamilton Island and further north in August, for sailors wanting to do a shorter regatta this year. Save on the expensive entry fees and HF's or satellite phones!
IRC / ORCi, AMS and PHS racing for Monos and Multis will be a series of up to 6 races conducted over two days; Sat 17th to Sun 18th July, 2021.
The races will remain within sight of the beautiful Sunshine Coast with views to well known landmarks such as Mudjimba Island, the Point Cartwright Lighthouse, Glasshouse Mountains, Mount Coolum and Mount Ninderry. In addition to windward/leeward races, there will be longer races which will make use of fixed navigation marks such as the Gneerings cardinal mark and the Mooloolaba Waverider Buoy.
The Regatta is open to owners of suitable racing and cruising yachts and multihulls. Berths for visiting competing boats at Mooloolaba Marina will be available for 16 and 17 July for early entries at no charge, dependant on availability.
This year there will a feeder race on Friday 16 July from QCYC (Queensland Cruising Yacht Club at Shorncliffe) to SCYC (Sunshine Coast Yacht Club at Mooloolaba). The B2SC 2021 (Brisbane to Sunshine Coast) will include IRC, AMS and PHS divisions and also, for the first time, will feature a short handed division (2 sailors per boat) to cater for this format which is becoming increasingly popular, nationally and globally. Entry fee of $20; with trophies and prizes to a value of $1,000.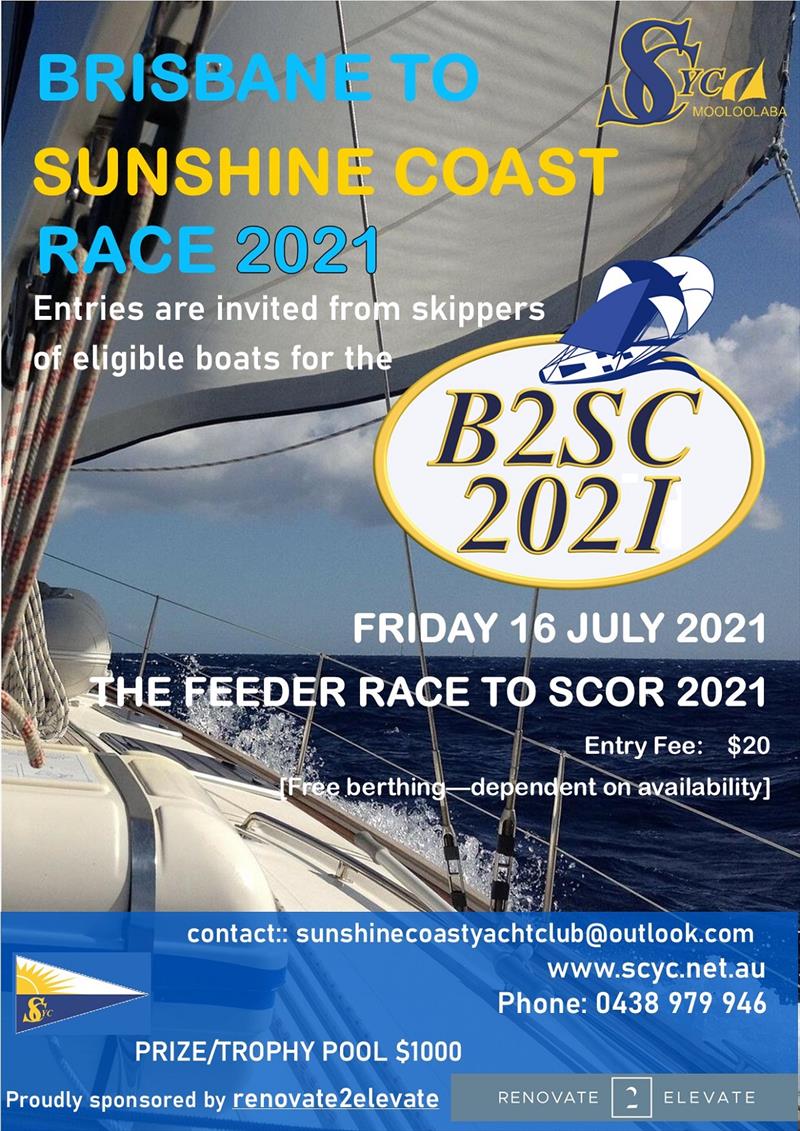 B2SC 2021 (Brisbane to Sunshine Coast) – photo © Sunshine Coast Yacht Club
The original Sunshine Coast Ocean Regatta ran for 20 years through the 80s and 90s. It attracted huge names within the yachting industry, such as Hugh Treharne – the tactician of Australia's winning America's Cup team. In its prime, the prestigious event would host up to 60 boats.
Notice of Race and entry forms for both events can be found at www.scor.com.au. Entries can be sent to the SCYC Regatta Office, together with the entry fee of $100.00 for SCOR and/or $20 for B2SC.
Come and enjoy a more relaxed pace of sailing on the beautiful Sunshine Coast at SCOR 2021.
by Sunshine Coast Yacht Club