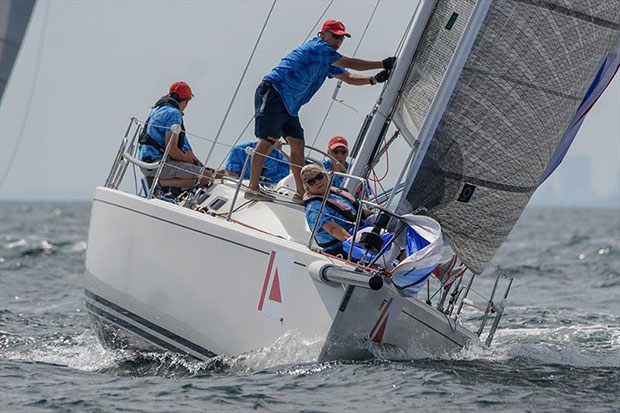 An interview with Clarke Smith on the 2020 Ted Hood Regatta
When it comes to iconic New England sailing towns, few areas have turned out as many racecourse winners as Marblehead, Massachusetts. And amongst this who's-who list of great sailors, precious few rival the legacy of naval architect and sailing phenom Ted Hood (1927-2013), who won the 1974 America's Cup as the helmsman of Courageous and founded Hood Sails, Little Harbor Marine, and Ted Hood Yachts. Additionally, Hood earned an impeccable reputation for himself as the skipper of a series of boats named Robin, which he designed himself, and he also earned (and won) his way into the prestigious National Sailing Hall of Fame. So, when the Storm Trysail Club (of which Hood was a member) decided to host an annual regatta (established 2017) on the waters off of Marblehead, it made sense that the regatta would be called the Ted Hood Regatta (August 21-23, 2020).
Some backstory. The annual PHRF New England Championships began in the early 1990s and were hosted on a rotating basis by Marblehead's three famous yacht clubs—the Eastern Yacht Club, the Corinthian Yacht Club, and the Boston Yacht Club—and held on the waters off of this sailing-obsessed town. Over time, the "PHRF New Englands" became known as the One Regatta before the Storm Trysail Club took over in 2017.
While the moniker might have morphed, the annual Ted Hood Regatta (THR) is still contested on these same historic waters during its traditional late-August time frame, and it is still hosted on a rotating basis by these same three clubs. The 2020 edition will be hosted by Boston Yacht Club and will be raced under two handicap rules—PHRF and ORR/EZ—and it will feature round-the-buoy racing as well as a doublehanded and fully crewed overnight race.
I checked in with Clarke Smith, chairman of the 2020 Ted Hood Regatta, via email, to learn more about this now-classic three-day race weekend.
What kind of entry numbers are you seeing this year? Also, how do these stack up to previous editions of the regatta?
As of today, we have 30 boats registered for the regatta. We hope to have a minimum of 40 boats.
Historically, we have had 60-70 boats participate. In the past we have benefited from some large national regattas in our area near the same time as the Ted Hood Regatta.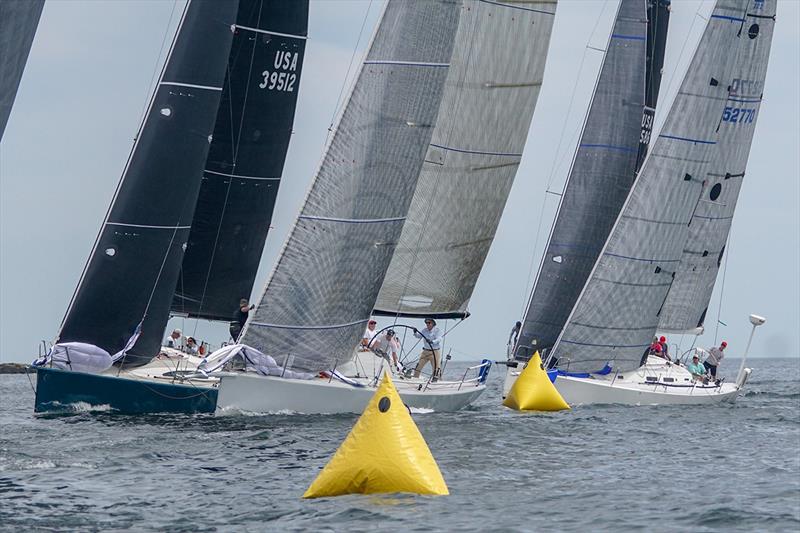 Looking at the entry list, what classes do you expect to be the most competitive this year? Also, what makes these classes hot?
The PHRF class and ORRez class will be the large keelboats racing. Both [of] these classes have some long-time rivalries that really sail hard to win.
Can you tell us about the doublehanded and fully crewed overnight race? How many miles is this event, where will it go, and what kinds of tactical challenges will it offer participating crews?
The Friday night distance race is scheduled for 90 miles that takes the boats south, then north to create the loop.
The course that is selected is flexible and if the wind disappears then we can shorten the course to 60 miles.
There is a navigational challenge as well as picking inshore versus offshore. The race normally has very talented sailors/navigators.
Do you have any Marblehead-specific advice or insider tips that you'd like to share with first-time racers? What about returning racecourse veterans?
Due to Covid-19 challenges, a majority of the sailors will be Massachusetts Bay boats that have participated in this regatta for over seven years. They know the local waters very well. No advice necessary from the [Organizing Authority].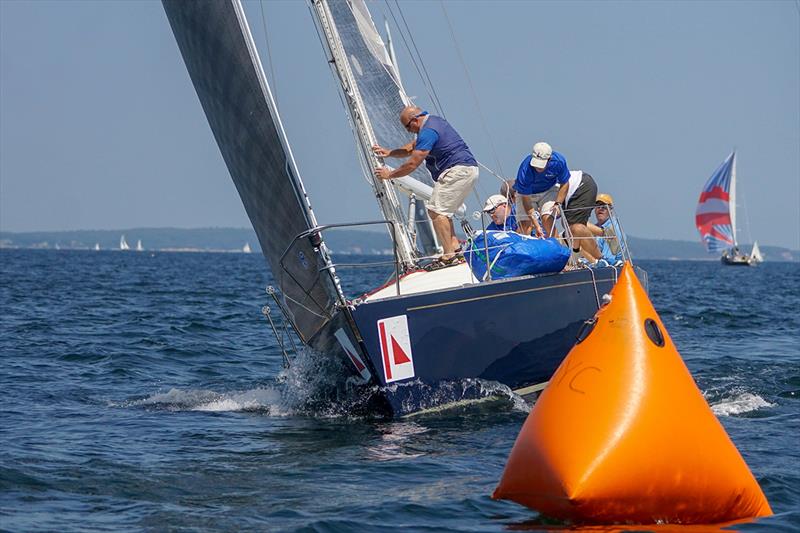 Storm Trysail Club Ted Hood Regatta – photo © Philip Smith
Weather-wise, what kind conditions can sailors expect to encounter off of Marblehead in late August?
The weather can be hot and humid with a drifting race, or we can get a sea breeze that fills in and makes for good racing with wind 10-15 knots.
What kinds of safe-play pandemic tactics are you expecting from the racers on the water? Are we talking about standard-issue things like face masks and hand sanitizer, or will the doublehanded crews also be expected to self-quarantine ahead of the race? Also, do you expect that this will be a highly competitive event, or—given the pandemic—is the spirit of this year's THR more about getting out on the water for some friendly racing?
The THR will have a safety officer and a safety plan. All crews will be checked for temperatures prior to boarding any launch. Any crew member with a temperature will not be allowed to sail. All yacht clubs have local, state and federal guidelines that they are following including face masks on the launches and restricted capacity on launches, etc.
Due to the pandemic shore activities are not finalized yet and will be dependent on the latest guidance from Massachusetts. The main focus of the regatta is to get people out on the water to enjoy some racing against friends.
Are you seeing more entries that are being crewed by family members or members of the same household this year, given the pandemic?
The THR will have mixed crews of both family, and regular crew members.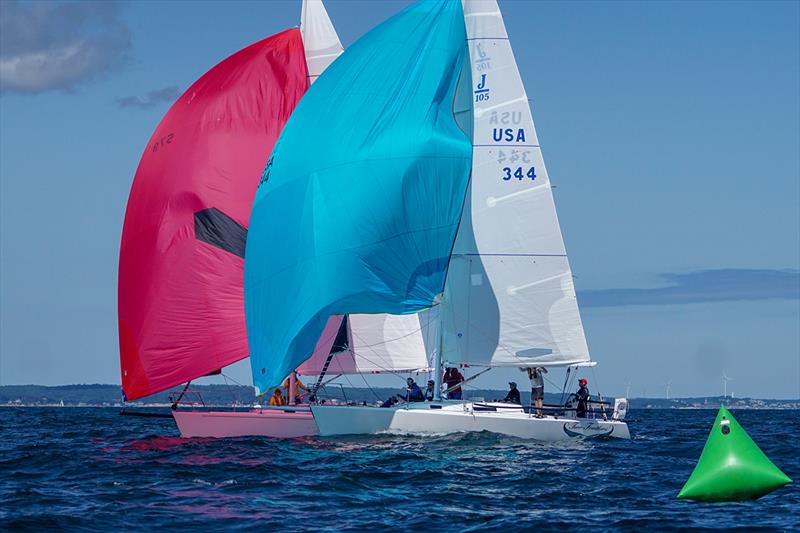 Storm Trysail Club Ted Hood Regatta – photo © Philip Smith
Can you tell us about any efforts that you and the other regatta organizers have made to try to lower the regatta's environmental footprint or otherwise green-up the regatta?
The THR has discussed becoming a Green Regatta, we just have not gotten there yet. To become a Green Regatta does require additional expense and sponsorship partners that this year is not in the cards.
We hope to get there within the next couple of years.
Anything else that you'd like to add, for the record?
I would like to add our key sponsors—in a challenging year they are very important. Goslings Rum, East Regiment Beer Company, and SafeWaters Underwriting Managers. Without the support of these sponsors, plus many more we would not have a regatta this year.
by David Schmidt