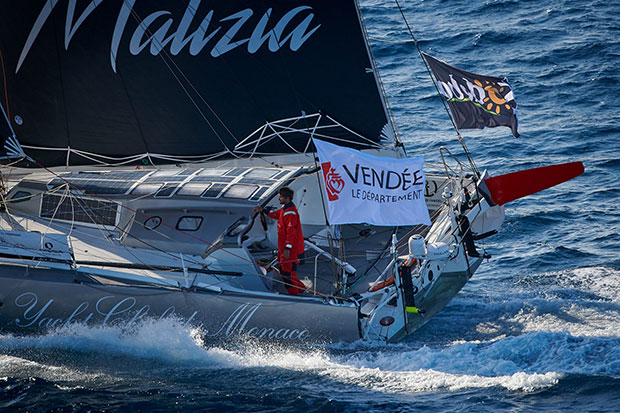 Boris Herrmann (Seaexplorer-Yacht Club de Monaco) sent this message this morning talking about the milestones he is looking forwards to, not least finally getting into a spell of lighter winds to repair his J2 jib
"I kept an eye on the weather this morning to see if it would be light enough wind for my j2 repair. But no. It wasn't just quite right. Still 20 knots every few minutes. Drops to 13 but very short. Now we are back in accelerating breeze stable 20-22.  
Boat speeds1 11 to 32 sometimes. (Which is not intended as it was lots of stress for man and Maschine for no gains – taming the beast …! Somehow next will be to go back to j3)
At night i had to furl the headsail twice. Take a reef. Squalls. So fragmented sleep but still a good night after all.
From now on the wind will increase and only ease off in 48 hours 800 miles east from here then. It will be the strongest low so far. I am fine with it.
My next inner milestone is the gybe Thursday – then I know I made it through the worst and have easier conditions for the next 1600 mikes to cape lieuween where i expect to be on the 13th.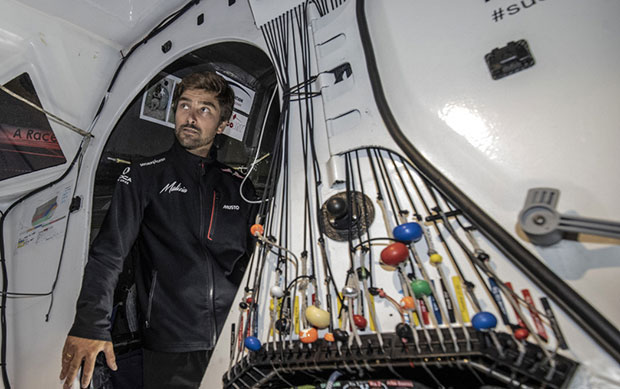 The other major milestone will be this Friday the 11th when does the first time since entering the southern ocean the wind should drop below 15 knots and i can tick off my j2 and other repairs. Gaining the j2 back will be a boost in confidence as I am lacking the sail for an entire ocean. It had made live more difficult and cost lots of miles.
Something really to look forward to.
After that I will close my navigation program and restart it in anti meridian view – with nzl in the center of the chart and the pacific to the right of it. Europe at the border of the chart then ….
I didn't look on the tracker in quite a while I was fearing it could demotivate me. Anyway i ll do my best and my focus is 100% on the race."
by admin